What can you find in the range of XYZ Homework services? 
As you may have already understood, XYZ Homework is oriented at students who want to practice math and boost their own skills in this subject. Moreover, it focuses on teachers who are not indifferent about how well their students understand math. So, below is an overview of the main tools XYZ Homework has crafted for both students and instructors. 
Communication with students 
As long as online classes become more and more popular, XYZ Homework tries to take advantage of it. So, the company has created an easy to use email system and a discussion board to help students better communicate with teachers outside of the class. Instructors can use the tool to send emails to particular students or inform the entire class. Besides, teachers may attach their handouts and other useful resources, thereby saving a great deal of time. 
Collaboration with other Faculty Members 
XYZ Homework also supports a platform for maintaining sound communication between colleagues and other faculty members. In particular, XYZ Homework helps to share assignments, questions, or even entire courses with other members of the faculty.
Ready-to-use Assignments 
Ready-to-use assignments imply 4500 different random math tasks, organized beforehand. Such math exercises are continuously helpful for those who want to understand math algorithms and to boost the chances of scoring high during tests and examinations.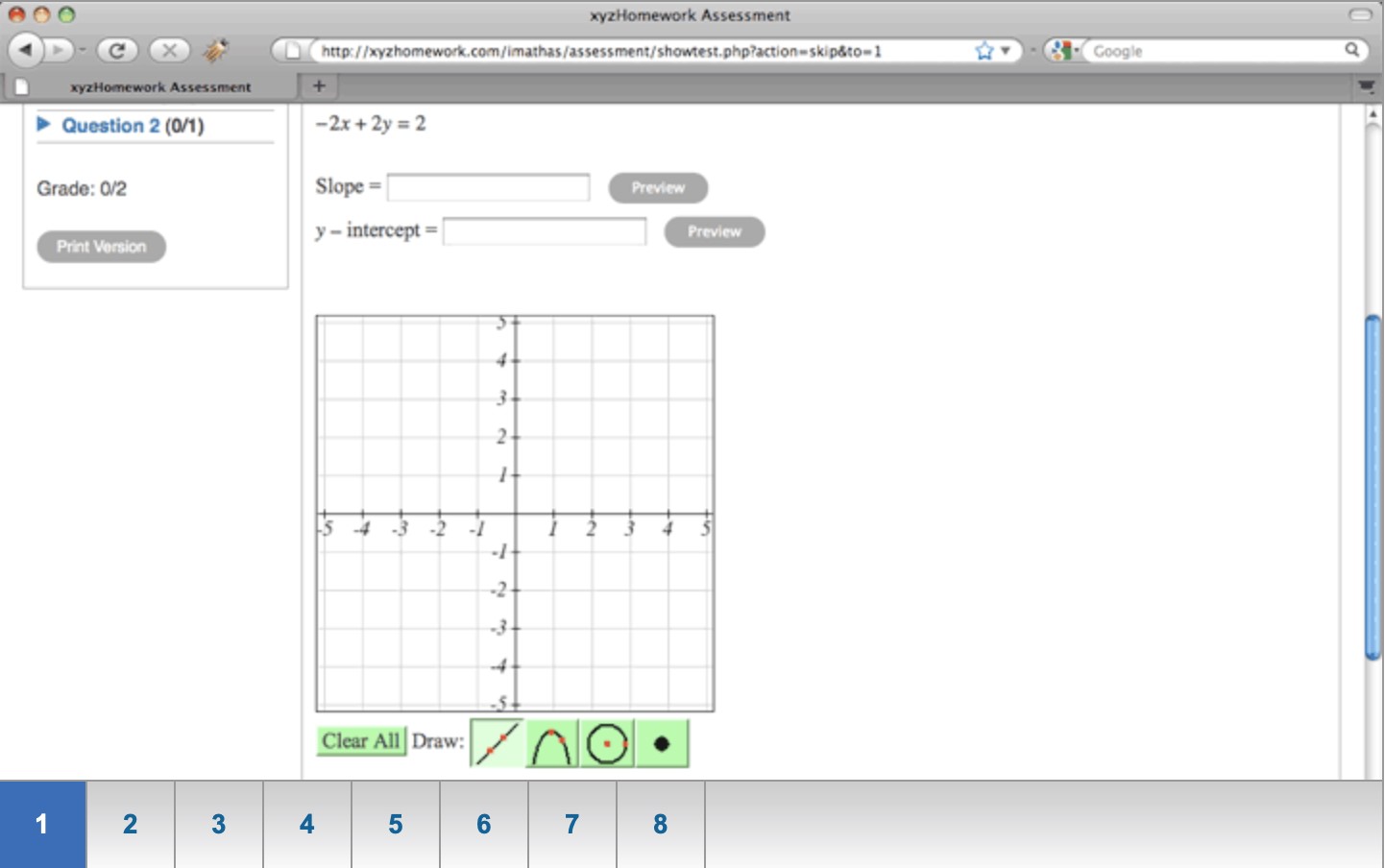 Video Lessons
Video lessons make it easier to create class vibes and easily understand the main concepts. Such sessions provide for good practice through randomized questions. The latter are useful for practicing and obtaining sufficient feedback from an instructor. 
Automated Grading System
This system is represented by a gradebook that allows students to track their progress in real time. What is more, it turns out to be a flexible solution for teachers who want to keep a record of all the grades. The system instantly grades the results, thus facilitating the instructors' workload. However, an automated grading feature is somewhat a dubious feature, since it grades only final results, preventing students from getting sufficient feedback and analyzing their own mistakes. 
Compliance with Accessibility Standards 
The XYZ Homework developers make every effort to make sure that disabled students or instructors can use the platform as well. The service uses the MathJax JavaScript display engine so that users can better see mathematical tasks and terms. Additionally, XYZ Homework uses MathPlayer to turn the data into spoken language. Thus, math becomes accessible for all students, including those with disabilities.