Timely Delivery and Turnarounds
Being a student, you may have lots of urgent academic assignments daily. Thus, urgency is the most common requirement customers have for writing services. Depending on the type of your paper, there are a few deadlines you can choose from on Scribendi. The more words are in your document, the fewer options you will get. For example, if you need to proofread a 1000-words paper, you could get it completed in 4 hours. While editing a 10,000 words document will take much more time, and the earliest time you can receive it back is 24 hours.  

 Of course, you can pick up three-days or one-week turnaround time when placing the order on Scribendi. But the point is, no one realizes they are out of time before the task submission. So these options are picked up quite rarely.Referring to our experience, we received our paper back on time. Yet, that does not indicate the high quality of the service as it may take much longer to re-edit your document and fix errors that were missed by the Scribendi expert. 
What are Scribendi guarantees? 
Unlike other services in the writing industry, Scribendi does not have any regular guarantees, such as money-back or 100% customer satisfaction. Scribendi offers customers hazy promises rather than explicit warranties. They claim all papers are proofread according to Scribendi's own standards, which are not explained anywhere. But what if you will not be satisfied with the final result? Well, in this case, Scribendi recommends customers to contact the support team so that they will analyze your issue. Yet, that gives you no warranties that your problem will be resolved. Thus, there is a considerable gap in the Scribendi guarantees, which are not customer-oriented yet. 
Customer Support 
As always, the best way to ensure the reliability of the service is to check how its customer support works. There are three ways to can get in touch with the Scribendi support representative, which are the following:
Phone number
There are toll-free numbers available for the USA and Canada so that you can call for help. Yet, there is no way to talk to the support representative via phone if you are located somewhere else. Besides, lines are open from 7am to 10pm EST. So if you are out of working hours, you will reach the voicemail.
Online chat
Although online chat is the fastest way to receive help, it does not work like this on Scribendi. Chat representatives have limited resources and can answer only general questions about the service. So do not expect them to be very helpful if you have a specific problematic issue.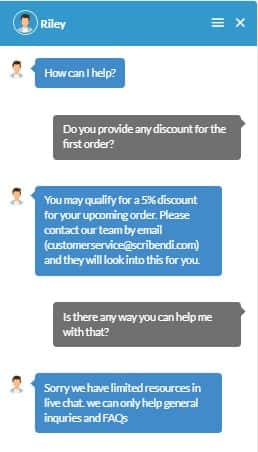 Email
Although there is an online chat available on the webpage, most of the problematic issues you may have with Scribendi will be fixed through email only. For instance, if you request a discount for the first order, a chat representative will not be able to help you. That makes live chat entirely unhelpful, so there is no sense to talk to the support team there.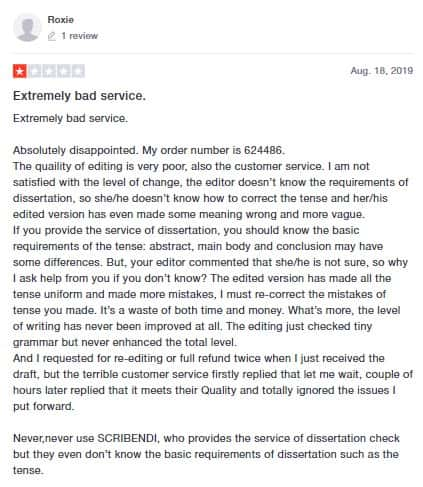 If you're still uncertain about your decision, consider reading the PaperHelp Review for additional information.