Introduction to Scribendi
Along with the rapid development of the writing industry, it could be challenging to find a trustworthy service. A lot of online writing platforms suggest a wide variety of services, including academic writing, editing, and proofreading, plagiarism check, etc. So, it is easy to get lost while choosing the best one. If you are stuck coping with endless home tasks and look for reliable writing service, we are here to help you make the right decision. Our team has conducted a set of reviews of the top-rated writing services, so you can explore their pros and cons and choose the best one. Today, we are ready to introduce you to Scribendi – Canadian proofreading and editing service. Scribendi was founded in 1997. For over 20 years, it has completed more than 400 000 orders and become one of the leading services in the proofreading and editing niche. However, dozens of Scribendi reviews claim it to be unprofessional and low-quality service. The most common question of students remains constant, "Is it worth using it?". We have done an in-depth check of the quality of the service, pricing, warranties, and security, and hope our Scribendi review will lead you in the right direction. 
Scribendi webpage: user-friendly or unhandy?
Once you go to the official page of the service, the first thing you will notice is its interface. The good news is that you will not find there any excessive or cluttered content. The landing page contains short details about the primary services, benefits, awards, and accomplishments of Scribendi. Down at the bottom, you can find references to the remaining information, including contact details, news, and FAQ. The page is colored in blue and has a few interactive captions and pictures. The overall design of the webpage is relatively simple, so if you are a newbie to the service, you will likely find it user-friendly.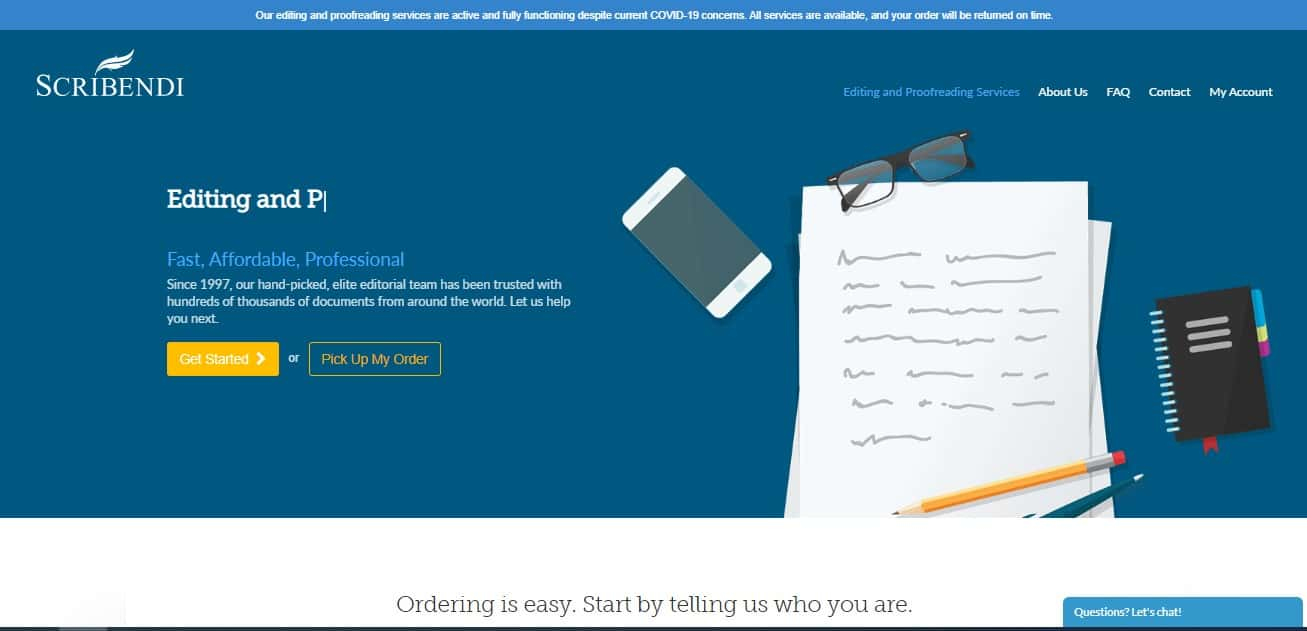 Yet, the situation is different when it comes to placing an order. You would have to go through hundreds of needless pages to complete it. The service has no separate page explaining the prices, so it makes it hard to compare ones with other services at the market. So despite the well-designed homepage, the prices look poorly stated and require improvement. 
Are Scribendi editors as good as the website claims?
What is the first thing you think about when it comes to the quality of the service? In our opinion, it is the experts' pool. The qualification and background experience of the editors are the core indicators of the quality level of service. According to the Scribendi website, they select only educated and experienced editors to work with. Many of them have Ph.Ds and are published authors and writers. Besides, editors cover any formatting style, including APA, MLA, and Chicago, and efficiently work with a wide variety of subjects. The overall number of English speaking experts on Scribendi is more than 400 for now. Although the service represents available experts as real pros, you will not find any list of editors as well as their portfolios with professional accomplishments. Moreover, there is no chance to choose the expert you prefer or check if he or she has enough knowledge base and experience to edit your paper. The service will match you with the first available editor to work on your document. Scribendi offers editing and proofreading services not only to students but also to book authors, businesses, corporations, and people that have English as a second language. Thus, the company has to hire only advanced and top specialists to cover different work complexity. We believe that as a user, you should be able to choose the expert you like on your own or have access to qualifications and professional background of editors' pool to ensure they can deal with all your requirements.To evaluate the quality of the service, we sent a 3-pages correspondence paper for proofreading. The collaboration with the editor was relatively pleasant and easy-going. We have received the finished work on time. Although the expert improved the overall clarity of the document, they missed plenty of significant grammar and structure mistakes. Our experience is not the only occurrence of poor quality editing. We've checked customers' feedback on third party sites while working on Scribendi review and figured out that other clients had the same problematic issues. Here is one of the testimonials: 
Best Alternative:
HandMadeWriting

Visit site
Scribendi services
Online writing services are in high demand nowadays. Instead of spending one more sleepless night, students will more likely get professional help with their home tasks nowadays. And most of them prefer using a universal tool that can deal with any kind of academic assignments.Although Scribendi is more than 20 years on the market, they still have a limited number of services. It could be used only if you are confident in your creativity and writing skills, but need to review your paper for grammar, structure, and other sorts of errors. Scribendi specializes in editing and proofreading. The website offers professional assistance for the five main categories of clients, including students, businesses, corporations, authors, and individuals. Thus, it suggests the following services:
ELS services

Scribendi provides help for everyone who has English as a second language. Within ELS service, you can get English academic, business, or proposal editing.
Academic editing and proofreading

According to the official webpage, Scribendi editors cover over ten fields of study within academic editing, including medicine, engineering, computer science, literature, and biology.
Authors assistance

Book, novel, manuscript, or play authors can also get their works edited on Scribendi.
Editing and proofreading services for businesses

Scribendi provides editing and proofreading services to corporations and startups. With this option, you can get your business website or blog proofread.
Essay editing and proofreading

Students who are out of time and miss the deadline can also get their academic papers or admission essay checked by Scribendi experts.
Personal help

Personal help includes an overview of a resume, email, or official document for grammar, spelling, structure, and other mistakes.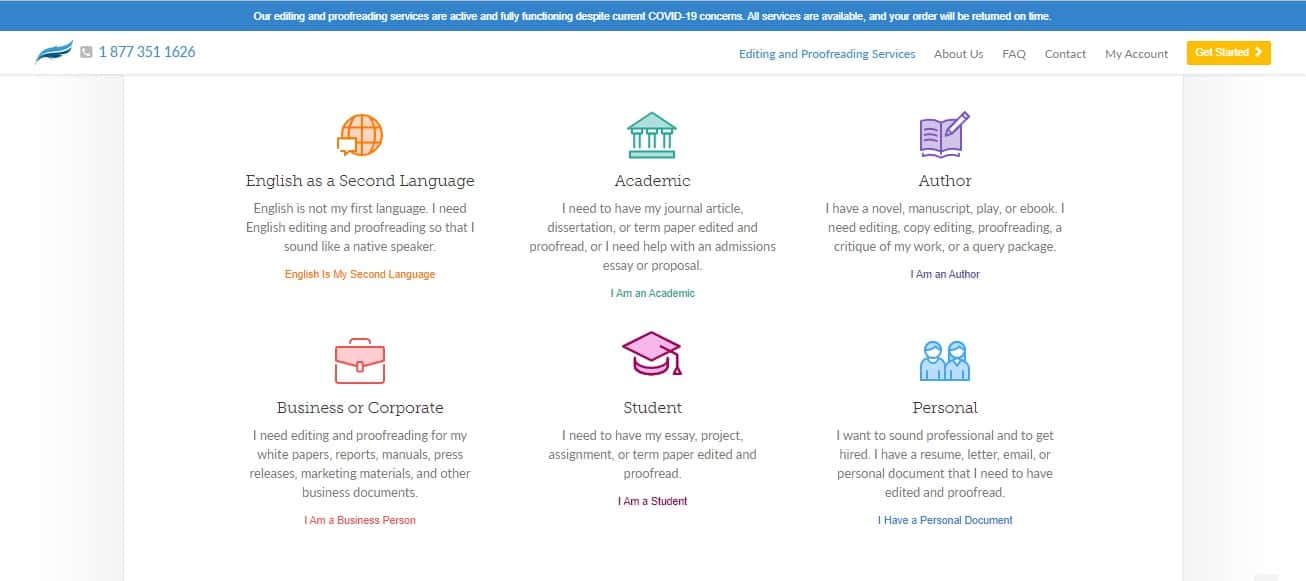 Even though it may seem there is a wide variety of services offered by Scribendi, they all come down to one thing – editing. So if you are looking for an expert that can write your paper from scratch, the service is not the one you need. 
Assignment ordering process
Whenever you decide to place an order on Scribendi, there are four steps to complete:
Instant quote
Once you choose the service needed, you will get the short form asking to complete the word count, currency, and deadline.
Instructions
At this stage, you would have to fill in some additional details about your document, such as title and your major purpose for editing.
Secure checkout
Once both forms are completed, you can move forward and proceed with the checkout. There are three payment options available: credit card, PayPal, and Alipay. If you prefer using a card, Scribendi accepts Visa, Mastercard, Amex, Discover, American Express, Diners, Union Pay, and JCB. Sales tax will also be added in case you are located in Australia or Canada. The Norton SSL certificate secures all payments, so your credit card info will be encrypted.

Complete order
When you are done with the payment, you will get a confirmation of your purchase, and the editor will start working on your assignment. It will take up to 15 minutes to place an order on Scribendi. You don't have to create an account to get assistance with your paper. Yet, ensure you put all the specific requirements while providing instructions to an editor to get the expected results.
Scribendi prices
There is no way you can check Scribendi prices in advance to compare them with other services. And this makes it extremely inconvenient to upload your files and put the required deadlines just to check how much it will cost you to edit your paper with Scribendi. Scribendi prices depend on two factors: paper volume and turnaround time. Yet, there is no place where they mention the rate per word. For instance, if you need to edit a 1000 word paper, prices start at $31.68 and go up to $70.95. And it seems quite affordable as long as you don't have a dissertation and manuscript for a proofread. In this case, the total cost may rise to several hundreds of dollars.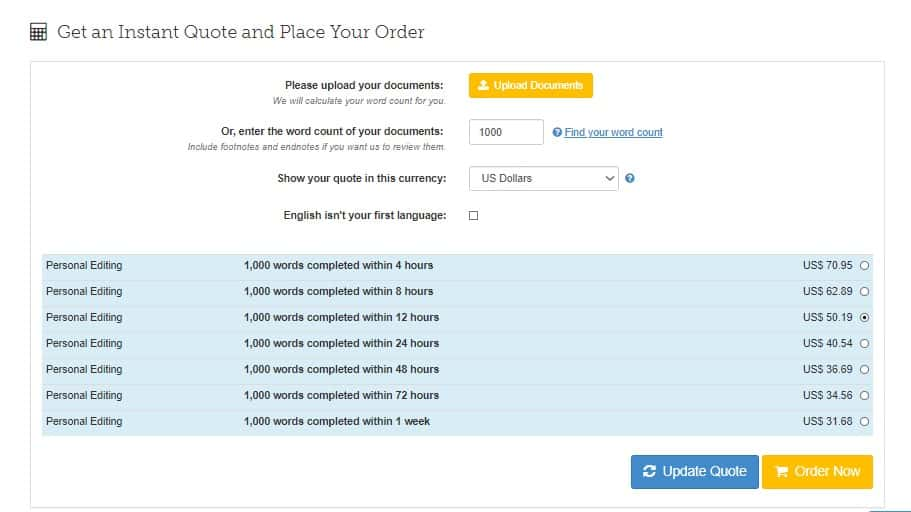 Around 70% of Scribendi reviews claim it to be expensive and unaffordable. Considering that the majority of the audience of editing and proofreading services are students, there are a lot of cheaper options on the market than Scribendi service. Besides, there are rarely any discounts available, so the prices remain unchanged almost all year round. 
Timely Delivery and Turnarounds
Being a student, you may have lots of urgent academic assignments daily. Thus, urgency is the most common requirement customers have for writing services. Depending on the type of your paper, there are a few deadlines you can choose from on Scribendi. The more words are in your document, the fewer options you will get. For example, if you need to proofread a 1000-words paper, you could get it completed in 4 hours. While editing a 10,000 words document will take much more time, and the earliest time you can receive it back is 24 hours.  

 Of course, you can pick up three-days or one-week turnaround time when placing the order on Scribendi. But the point is, no one realizes they are out of time before the task submission. So these options are picked up quite rarely.Referring to our experience, we received our paper back on time. Yet, that does not indicate the high quality of the service as it may take much longer to re-edit your document and fix errors that were missed by the Scribendi expert. 
What are Scribendi guarantees? 
Unlike other services in the writing industry, Scribendi does not have any regular guarantees, such as money-back or 100% customer satisfaction. Scribendi offers customers hazy promises rather than explicit warranties. They claim all papers are proofread according to Scribendi's own standards, which are not explained anywhere. But what if you will not be satisfied with the final result? Well, in this case, Scribendi recommends customers to contact the support team so that they will analyze your issue. Yet, that gives you no warranties that your problem will be resolved. Thus, there is a considerable gap in the Scribendi guarantees, which are not customer-oriented yet. 
Customer Support 
As always, the best way to ensure the reliability of the service is to check how its customer support works. There are three ways to can get in touch with the Scribendi support representative, which are the following:
Phone number
There are toll-free numbers available for the USA and Canada so that you can call for help. Yet, there is no way to talk to the support representative via phone if you are located somewhere else. Besides, lines are open from 7am to 10pm EST. So if you are out of working hours, you will reach the voicemail.
Online chat
Although online chat is the fastest way to receive help, it does not work like this on Scribendi. Chat representatives have limited resources and can answer only general questions about the service. So do not expect them to be very helpful if you have a specific problematic issue.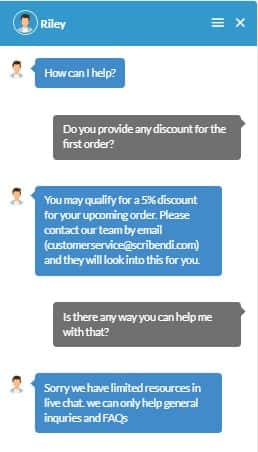 Email
Although there is an online chat available on the webpage, most of the problematic issues you may have with Scribendi will be fixed through email only. For instance, if you request a discount for the first order, a chat representative will not be able to help you. That makes live chat entirely unhelpful, so there is no sense to talk to the support team there.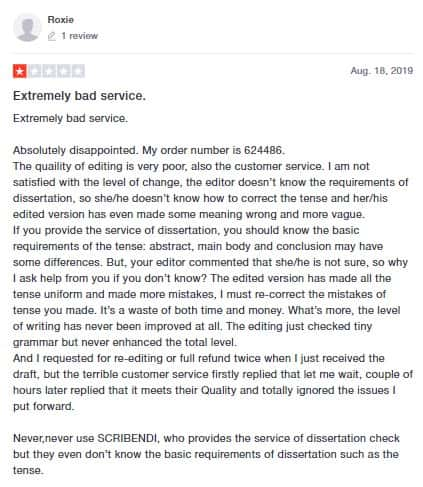 Pros and Cons
Before wrapping up our Scribendi experience, let's put all the pros and cons of the service together:
Pros
Over 20 years of experience in the writing niche

A wide variety of deadlines

Quick assignment ordering process which does not require registration

Timely delivery
Cons
High prices

A limited number of services

No revisions 

Very poor guarantees

No info about editors' qualifications and professional experience

Low quality of the service
FAQ 
What is Scribendi?
Scribendi is an online editing and proofreading service which is based in Canada. 
Is Scribendi legit?
Yes, the service uses a 256-bit SSL encryption, which makes the use of the webpage secure. Yet, there is neither Privacy policy nor Terms and conditions on the Scribendi site, that casts doubt on the security level of the service. 
How much does Scribendi cost?
Scribendi prices depend on paper volume and turnaround time. Yet, they do not inform customers what a fixed rate per word is. So you would have to check the total cost of the service manually. For example, proofreading of a 1000 words document with a 24-hours deadline will cost you $40.34.
Is Scribendi scam?
Scribendi offers editing and proofreading services for over 20 years now. But its quality remains poor and editors are unprofessional. The company doesn't indicate refund policy and other core warranties. It is not a scam, but rather a low-quality service. 
Is Scribendi safe?
Yes, the service has a 256-bit SSL encryption, which makes it safe using the website and placing an order there. Yet, there could be other problematic issues from time to time. 
Is Scribendi plagiarism-free?
Scribendi does not offer writing from scratch, so this is a question with no answer. They do not check papers for plagiarism before editing and proofreading. 
Are there Scribendi discounts?
Scribendi prices remain unchanged almost all the time. You can request 5% off for your first order via email, but there are no guarantees that you will get it.