When I was searching for reputable writing services to try, I often came across the AcademCore.com website, the agency that claims to deliver the original papers that perfectly fit your specific needs. These guys can get the work done from scratch in as fast as 1 hour, which made me really curious about the quality of those assignments: are they really plagiarism-free, or is it just a scam to get more customers engaged?
In this AcademCore review, I'll have this service tested to check whether this service can come in handy not only in word but also in action.
Let's get it started!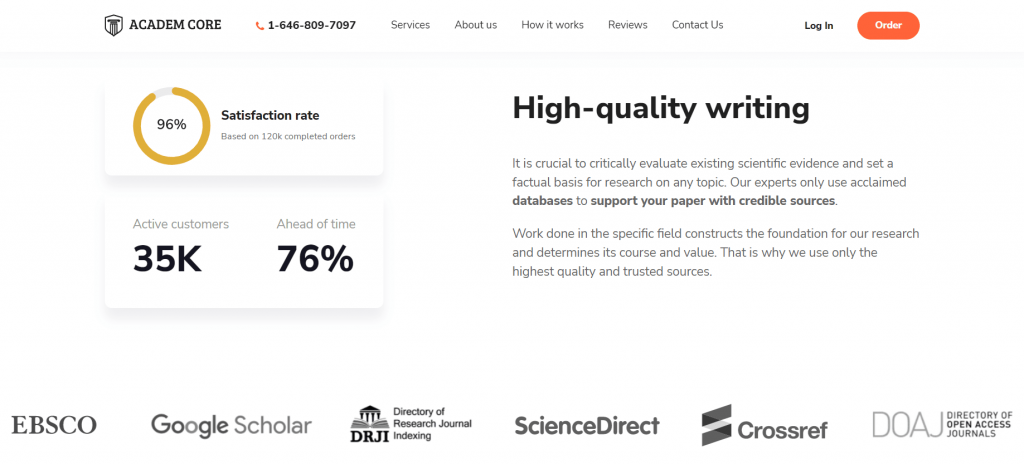 About The AcademCore Service
Before you place an order, it's essential to find out some more details about the service you're going to use. This will help you to get a better idea about the writing agency in general, as well as whether or not it's really worth your trust. So, the first step I want to uncover in my Academ Core review is some details about the company itself.
Company Details
According to AcademCore's Terms & Conditions, effective on January 19, 2021, the website is owned and operated by BrainUp Limited (#120371), registered at 5-9 Main Street, Gibraltar. I haven't found too many details about the company's establishment date, as well as the number of writers they have. Nevertheless, the service claims to deliver the assignments in as fast as 1 hour, so I am pretty confident that it's a large platform with hundreds of professional, multi-skilled writers with the highest educational level. So, they're always ready to write any type of work you need, from a high school essay to a Ph. D. research paper.
Academ Core Specialization
According to AcademCore reviews, the service offers hundreds of writing experts in multiple scopes, from the popular like English, Literature, and Philology, History, and Education to more specific, including Business and Management, Finance and Accounting, Psychology, Health Science and Nursing, Politics, and many more. So, this proves that the service can come in handy for different subjects and ideally fit the client's educational level.
The Business Model of AcademCore.com
The business model of this writing agency is pretty similar to those traditionally offered on the market: once you've landed on the site's homepage, you're offered to calculate the price for your specific order individually. That provides you with a clear understanding of how much you'll pay for the work and compare it to other rates from competitors.
Next, you need to fill in the order details and complete the payment. After that, you'll get the login credentials to your personal account. No registration is required: the website handles it for you and all AcademCore reviews positively highlight this moment.
But what makes them different from hundreds of other services that appear on the search results page? There are three major principles these guys are focused on:
Select the professional writers with the advanced AI system – to make the work look genuine and fully meet the expectations.
Get started writing your assignment in just 15 minutes – that means the service takes all the tasks seriously and can deliver on the promises they claim.
Provide complete security to personal data, meeting all the CCPA & GDPR standards – personally, for me, it's always a good sign that a company cares about the reputation and security of their clients, and the fact that they don't collect my personal data also makes me more confident about the service.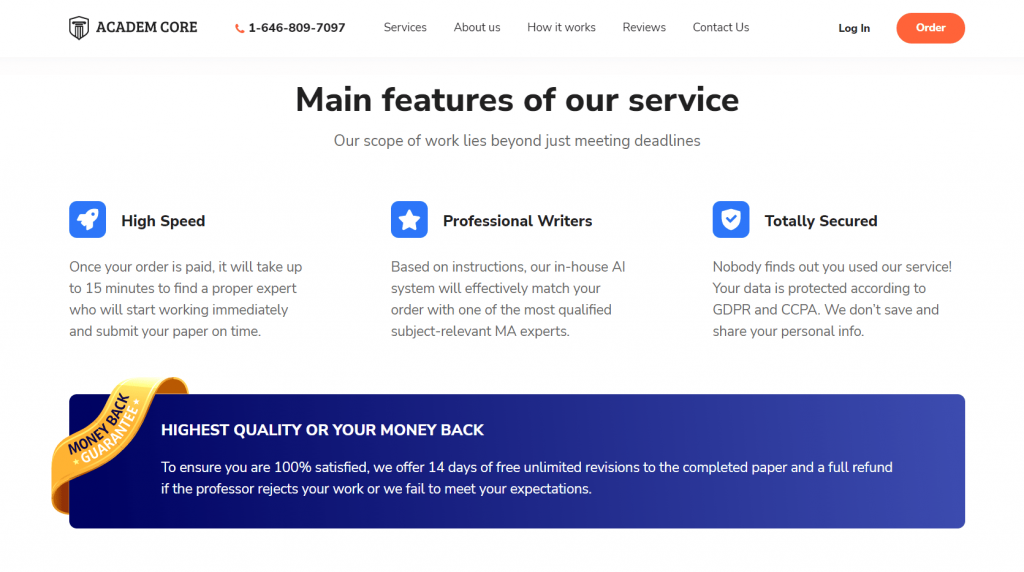 As we can see, this is more than enough to convince the potential clients to give it a try. Of course, I won't miss that chance either!
Academ Core's Prices and Discount System
The next essential aspect you'd definitely want to know before ordering any type of work is the price. Frankly speaking, that's one of the most critical things I check once I land on any site like this: I want to get the work done at a reasonable cost and not be broke, and all AcademCore reviews highlight the platform's affordability.
Available Discounts
According to the loyalty program introduced on their website, clients earn back 10% of their total bill in Points (1 USD, EUR, or GBP = 1 Point) right after they make the first order (which also comes with a 15% welcome discount with a promo code for the new clients). All the Points are accumulated on a personal Credit Balance and can be used for future in-site purchases exclusively.
Additionally, there is a bunch of free services offered by Academore, which can also come in handy:
Hiring a preferred expert.
Making a bibliography and cover page.
Formatting in a hosen style.
Free of charge revisions within 14-30 days.
Direct chat with writers.
24/7 customer support.
How Much Did My Assignment Cost?
Just like many other academic writing agencies, here you'll calculate the order price individually. As a rule, it's based on the type of your work, the number of pages, your academic level, and the deadline you'll set.
My 1-page college essay with a deadline of 24 hours cost $20.62 (without the first-order discount, I would pay $24.26 for this assignment). That's not the lowest rate on the Internet (if compared to Edugenie, for instance), but it is still a fair price for the original, plagiarism-free work written by professionals.
Does Academ Core Provide Any Guarantees?
Now that you know all about the charges and the company details, does this platform provide real guarantees to you as a client? According to my Academ Core review, it does!
Revision Guarantee
AcademCore.com provides free unlimited revisions from 14 to 30 days to its clients. So, depending on the scope of work, you can get a free-of-charge revision of your work, add more details or change the format according to your expectations. The writer can be easily reached out through your personal account, and the customer support team is working 24/7 to keep you always updated about the order delivery process.
Money-Back Guarantee
According to Academ Core reviews, another thing that makes it a first-class writing service is the money-back guarantee. A reputable writing agency that is confident with the services it delivers will always provide the option to provide a full refund in the case when the final paper doesn't meet your requirements or even if the professor rejects your work! That's a great sign that is proving their credibility!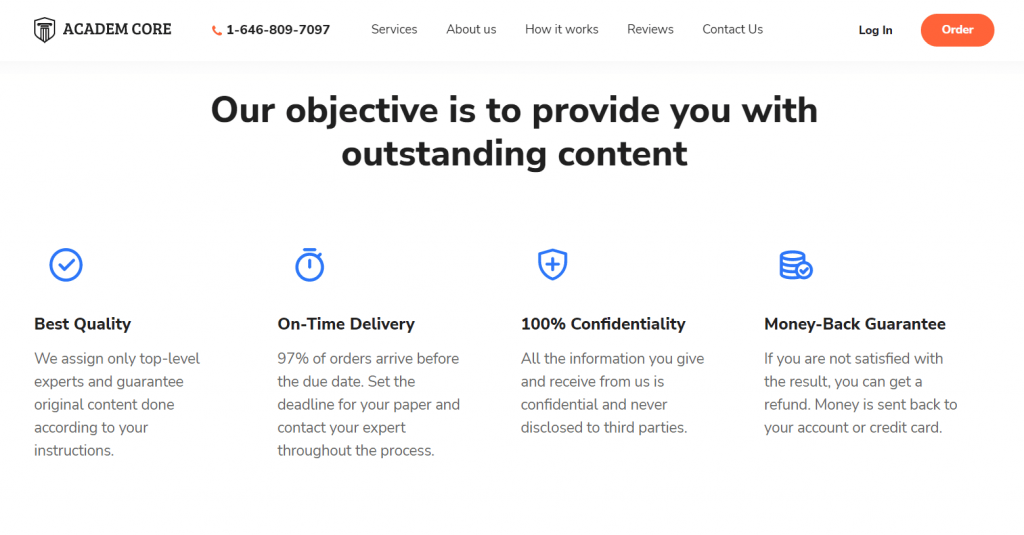 Plagiarism-Free Zone
According to the information posted on their website, all the papers are created from scratch and fully original. The writers use only credible resources while preparing any order, ensuring you're getting the accurately written work. Moreover, once the assignment is submitted by an expert, it'll be automatically checked for plagiarism with the powerful detection software and manually double-checked for errors by QA managers.
This indicates the writing service takes seriously every task they've been entrusted with, proves the high level of professionalism, and again shows that these guys know how to do their work properly.
Privacy Policy
The privacy policy is described pretty straightforwardly on the website, listing all the protection standards used within the platform. As all Academ Core reviews state, the connections to a website are encrypted, and the Academore uses the services that comply with the international data security standards, including ISO 27001. Also, the platform provides full CCPA & GDPR compliance, which is a great sign that it cares about the client's privacy and the security of their entire agency as well.
My Experience with AcademCore.com
None of my examinations are completed without a personal testimonial, and AcademCore review won't be an exception. So, let's now analyze what the entire ordering process looks like in detail, so you don't have to read numerous other Academ Core reviews.
Contacting the Support Team
As a newbie, I've decided to contact a customer support service and was connected to the support manager in just a minute of time. The manager was patient and polite and explained to me all the processes step by step: from the very first steps of filling in the order form to the endpoint of how to get it downloaded. The only disadvantage is that you might be transferred to another expert, but I am not certain whether it was a common practice or an accidental thing.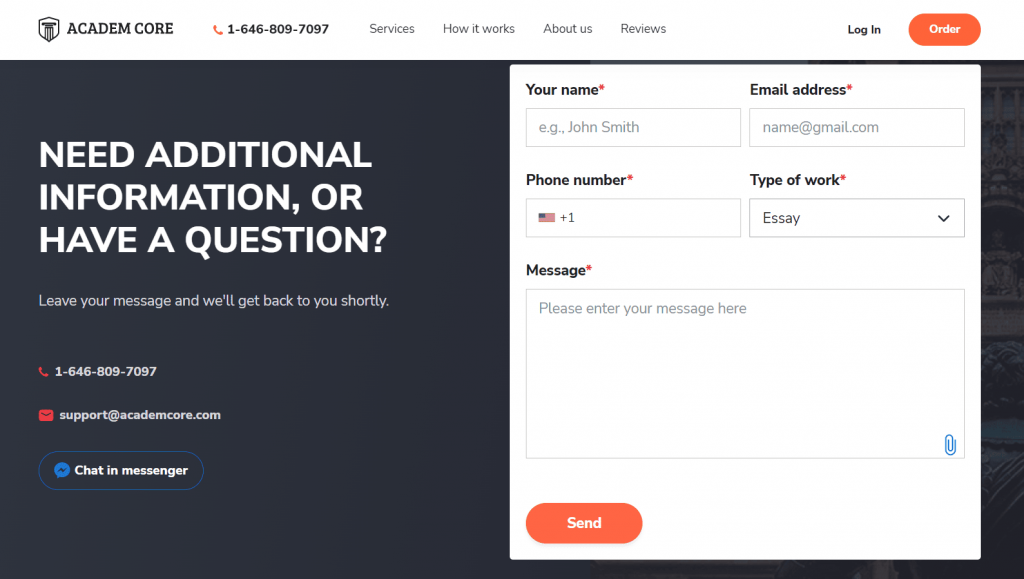 Registering an Account
Nevertheless, it's not obligatory to contact the support to make an order: the process is explained on their homepage too! Unlike in the other services, you don't need to care about the registration procedure and can start filling in the order details within a single click!
Placing an Order
Once you've selected the type of work, target subject, academic level, spacing, deadline, and other required details, you'll be invited to make a transaction with a credit or debit card. Once the payment is completed, the platform will send you the AcademCore review to your email, which is extremely secure. What is more, that doesn't require entering any personal data except the email – that's a great feature that not every writing service cares about.
Communicating with My Writer
I have a pretty straightforward task of writing an argumentative essay on the topic "Do we need to track sugar consumption?" but the writer has double-checked whether I have some aspects, ideas, or requirements for the target assignment. It was pretty easy to contact my writer through a live chat, and the communication was really professional-like.
How I Got the Paper
As soon as the order was completed, I received an email notification concerning this and signed in to my personal account, and downloaded the work directly from the platform. Academ Core also provides the free revisions option, but I wasn't using this feature – my essay was done really nicely!
Quality of the Received Paper
The essay I ordered was really nice, especially assuming that they had made it from scratch in less than a day. I haven't detected any issues with the structure, grammar, or spelling, but just in case, I decided to double-check whether the work is really plagiarism-free. It wasn't surprising for me to receive 100% originality, as I wasn't expected to see any other results.
My Summary of the Quality of My Assignment
The customer service was excellent, and the support team patiently helped me to set up my first order. The writer was attentive to every single detail I wanted to include in my assignment and delivered the paper much faster than I expected, without overlooking its quality. The teacher didn't have a shadow of a doubt that the work was ordered, which is usually a common problem of typical low-cost services! Overall, I have to get my essay done without putting too much effort into it, so I'm now considering setting up my next order here again.
Price-Quality Match
Having compared it to other academic writing agencies, I agree that this service doesn't relate to those low-cost sites you'll typically find on the Internet. In this AcademCore review, you won't find too many "sweet words" saying that the essay was done almost free of charge – the price tag for my essay was basically the average offered for the original paper.
Nevertheless, the writers in Academ Core know how to do their work great, so the price perfectly matches the value.
AcademCore Rating and Reputation on the Internet
Finally, I've decided to check the online performance of the AcademCore platform, as it helps to get some more details on this agency, its target audience, and many more.
Review Platforms
According to the information published on their official website, the platform is highly-rated on multiple authoritative platforms, including:
BBB Accredited Business (A+ rating).
Trustpilot (5-star rating).
Sitejabber (4,8 / 5 stars).
On-site rating (4,7 / 5 stars).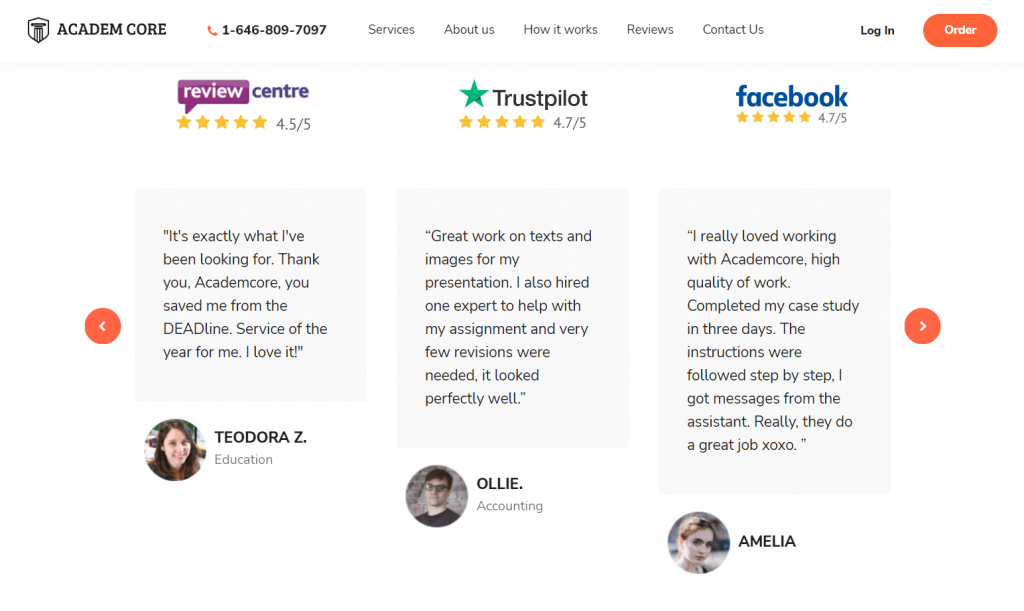 Social Media Presence
Unlike other competitors within the industry, ademcore.com had an official account on Facebook, but it seems to be removed recently and is no longer available. Probably, this social platform wasn't popular among their target audience. Or else, the clients too care about their privacy and reputation, so there was no activity in that community (which I believe was the major reason for its removal).
Concluding My AcademCore Review
To sum up, I am really delighted with the performance and outcomes of the AcademCore writing agency. Though the price tag was slightly higher than those of similar platforms within the scope, Academ Core delivered a high-quality, original paper within the shortest time possible.
In general, this Academ Core review has proven that these guys surely know how to make first-class papers in the most reasonable time, and I really enjoyed my customer experience using their service. If you're searching for a professional agency for academic writing where you will surely get what you've paid for, AcademCore is definitely worth your attention.