My Experience with Unemployed Professors
Okay, perhaps I'm just biased about these guys, and they might be great writers in practice. So I ordered a short task. Here is a bit of context: I was assigned a 250-word discussion post.
I had no time to do the assignment myself, so I decided to delegate it to professionals. I registered at Unemployed Professors, placed an order, and selected the top expert writer (based on their ratings). Well, saying that I was disappointed is an understatement. Want to know why? Read up.
Registering an Account
I will start with the registration process. First and foremost, this service wants you to jump through so many hoods that you will begin sweating. Why so? To register an account on their site, you have to indicate your country, state/province (why do they need this info in the first place?) and go further through a lengthy sign-up process.
By the way, you can input an Unemployed Professors promo code during the registration process. But the problem is that I had no idea where I could get that bloody promo code. I could not find a single word about coupon codes on the website. So why do they mention promo codes? It's a mystery.
Placing an Order
Placing an order and getting a finished assignment involves a lot of head-scratching. Here are the most critical issues of the Unemployed Professors' order form and the whole process of buying essays there:
Insufficient Order Type Categories
As I mentioned before, I planned to order a discussion post. But there is no such category. Do these people really know what assignments students write? This issue only illustrates the total incompetence of this service.
Writers' Profiles Are Extremely Vague
You are expected to review professors' profiles and choose people with experience that matches your needs, aren't you? That's how a reliable bidding system should work. But Unemployed Professors is a whole different story: the writers' profiles are all fake. These "professors" have generic pictures on their profiles. Butterflies? Are they serious? It smells like a fraud. I want to know who will do the job in the first place.

Professors' Ratings Are Invalid
Each unemployed professor has a performance rating. I stumbled across a top-level writer who has nine stars out of ten. My question is, does this company display any believable customer reviews? If I see a perfect rating, I need to know how it is formed. I highly doubt that these ratings are plausible. Assuming all the weird things I came across before, I suspect that these guys just "painted" those stars, and no real professors stand behind those ratings.

They Provide "VIP Services" That Should be Available by Default
Just take a look at their "VIP" services that include follow-up questions and further assistance. So does this mean that I won't get any help from them without paying an extra price?

I believe assistance and follow-up questions MUST be included in a standard package, as they are in other essay writing companies. It is a well-established practice. But what do Unemployed Professors know about industry standards if they don't know what a discussion post is?
Inconvenient Deadline Selection
This company works from the Eastern time zone, and all deadlines are set accordingly. I have already done so many things just to register an account on this site, but they want me to perform many more time-consuming actions. What else will they want? I think time zone conversion belongs to Unemployed Professors' duties, not mine.

Aggressive Advertising
Fun fact: Unemployed Professors blamed me for buying only one page.

Pay attention to the font color of this message: it's red. I was instinctively embarrassed about my choice because we humans associate the red color with something bad (like errors) within the writing context. So it was nothing but aggressive advertising. Unemployed Professors blatantly demanded more money from me!
Bids Are Tailored to Your Country
You have to reveal your country of residence because bids are tailored to your country. What does that mean? I can't find any reasonable explanation for this except that Unemployed professors decide how much money they can rip off you based on your country.

No Deadline Countdown
Once you accept the bid, your project is listed in progress. But there is no deadline countdown. So do these "experts" really think I have to track my order myself? Okay, I would monitor my order progress anyway, but it would be nice for an essay writing service to make this part of the customer experience convenient.

Website Instability
Oh, here comes my favorite part: lags and log-outs. Each time I tried to request a revision and complain about an incomplete order, I was redirected to the homepage. Whenever I wrote something like "complaint" or "bad," literally anything criticizing in meaning, the system kicked me out five times in a row! It looks like malice rather than a coincidence! Nice try, Unemployed Professors.
No Revision Form
I suppose there is no revision form on the website. So the company's workers are so skilled that they don't even grant their students the possibility of sending papers for revisions.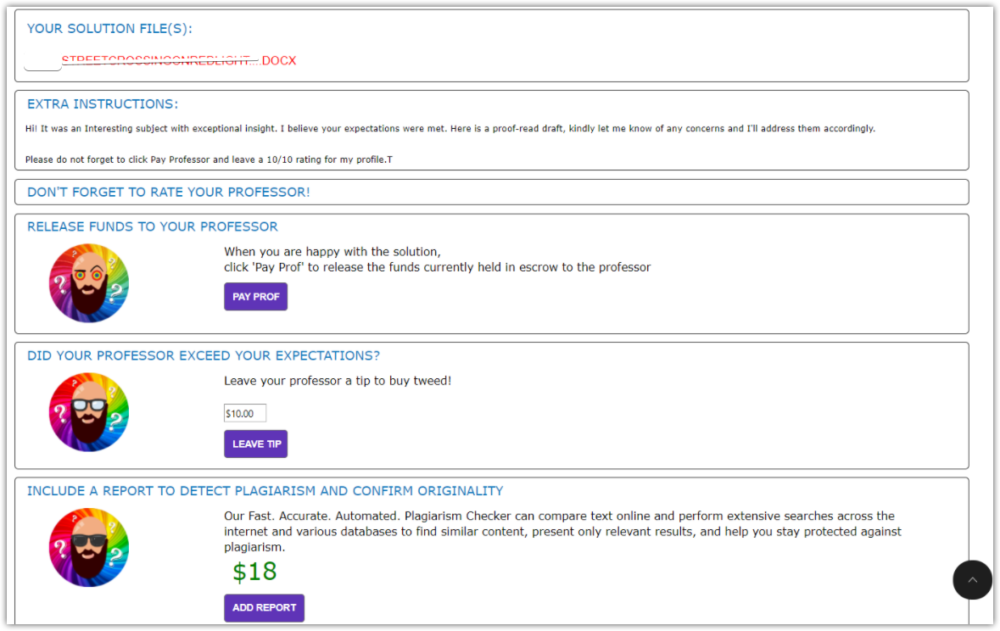 Delivery Grace Period
My paper was delivered severely later than expected. I doubt that anyone would accept it. But it turns out that many Unemployed Professors reviews complain about their assignments being late for exactly three hours. So there might be an unspoken "3-hour grace period."

Chasing the Writer and Having No Idea What's Going On
How much does Unemployed Professors cost in practice? I paid $25 for 225 words, which is roughly $0.11 per word. To put things into perspective, most writing companies, charge $0.07 per word on average for much more professional services.
Things got worse right after I accepted that bid. I reached a writer I thought was capable of doing my assignment (they had a 9.5/10 rating), but they contacted me back in almost an hour! That's how this company strives to help students. If you need an assignment from them, you have to literally chase their "professors."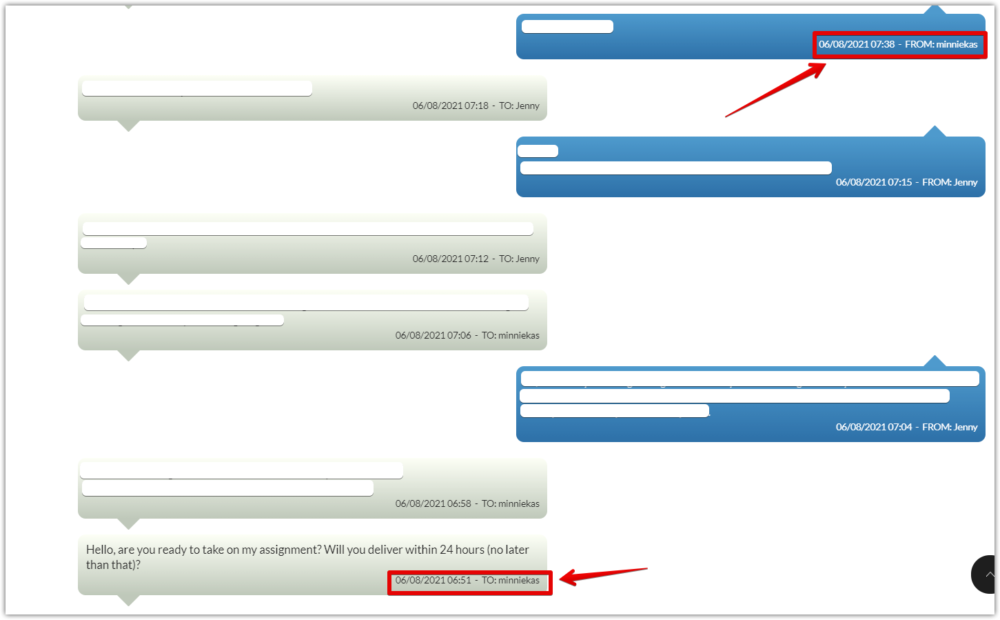 Furthermore, I couldn't even figure out to whom I was talking. So I texted one writer but got a reply from another expert. My question was, "What the heck is going on?" I asked the person about this, but they ignored my question. The "professor" at the other end was hard-selling their writing services instead.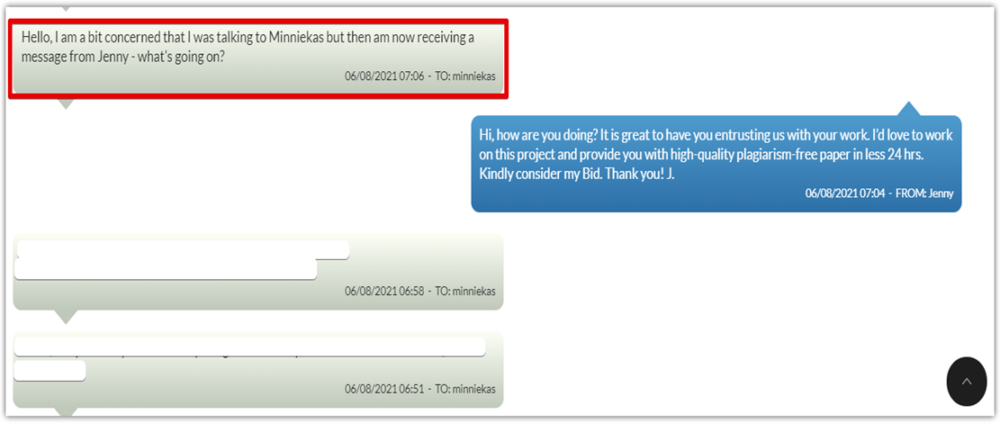 After that, the writer responded in roughly one and a half hours. That's nonsense. It turns out that the unemployed professor whom I paid money to do the job shows less care and interest than a random girl on a dating site.

How I Got My Paper
I received a notification about the delivery of my paper. Once I got to my dashboard, I noticed a bunch of uploaded files. Which one is the finished paper? That's super inconvenient. I had to stare at those files for a while to realize which one I needed.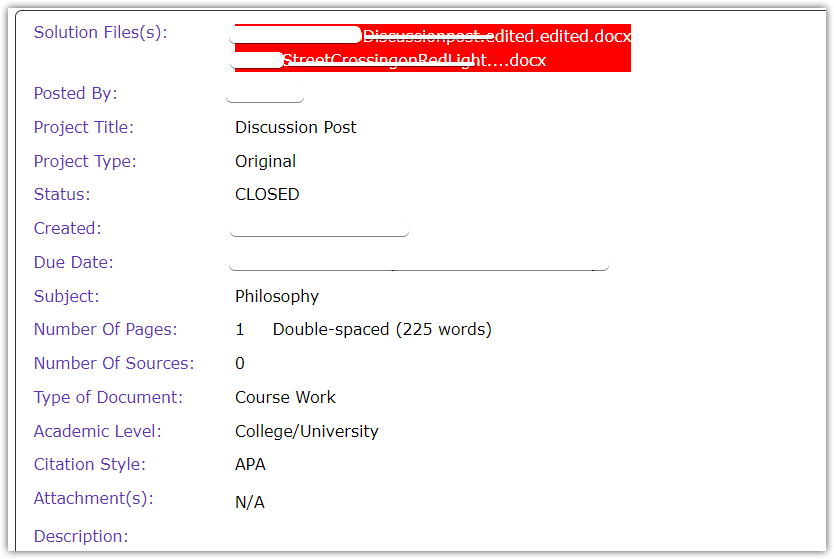 What about the quality of my paper? I was shocked when I opened the document. Read further about this below. Believe me, I have A LOT to say!
User Experience Mark: 2/5