How often do you struggle to edit your papers and have a feeling that you lack proofreading skills? If you are a student, for example, the poorly written essay may lead you to low grades. Even if you have advanced writing skills checking your own work for mistakes is pretty much impossible.Some international students are stuck in poor writing because they are non-English speakers. And it ends up with awkward sentences or missing words throughout their writings. Yet, they underestimate the need for a proofreader that can review the work and make it delightfully written. But there is always room for improvement. For most people – not only students – the proofreading is a must-have. The good news is that editing services are widespread online from now on. We are going to check one of the top proofreading and re-writing services to see if it worth spending money. Meet Wordy. Wordy is a human proofreading and copy-editing service based in London, UK. Thanks to native English speakers, it has become trendy in recent years. The service is used not only by students but also by book authors, businesses, and journalists from all over the globe. What is the secret of Wordy phenomena, and if it as good as people say about it? We have carried out the detailed Wordy review and are about to start revealing the truth. 
Website design
Once you upload the wordy.com page, you will be surprised by the modern and minimalist design. The page is free from dated visual design and irrelevant content, which makes it easy to use. It is colored in grey, except for the top and bottom corners, which are white with black captions. So if you are not computer savvy, you will find the interface unique and eye-catching.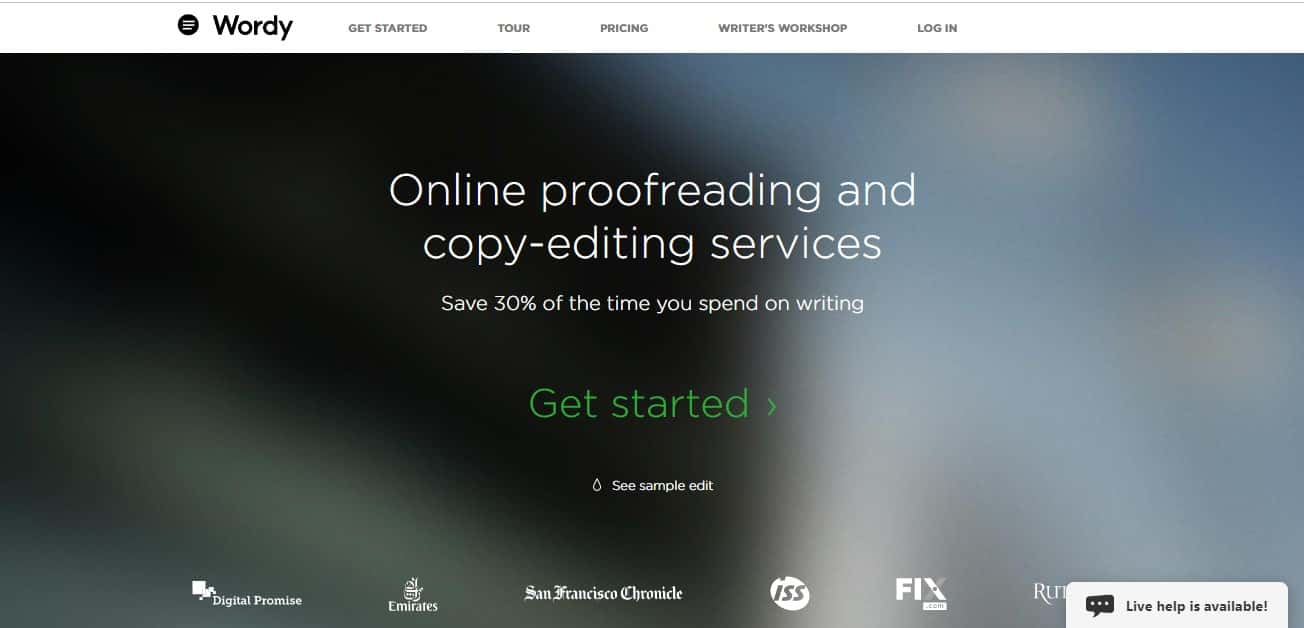 The landing page contains a short video-introduction form the Wordy founder, benefits of the service, and references to the rest info at the bottom. Wordy is also adapted to different operating systems, such as Windows, iOS, Linux, etc. It does not have a mobile app, however, which could be an issue for smartphone fans. Although there are no pop-ups and ads on the page, it uploads quite long. And we all know how annoying it is to sit and wait for the page to come up. Surprisingly, Wordy is badly integrated with any other platforms, such as Facebook or Instagram. Anyway, the interface overview is not enough to evaluate the quality of the service, so let's proceed with an inside check.
Wordy editors: how professional are they?
If you are looking for a universal writing tool, Wordy is not the one you need. It specializes only in editing and proofreading, so don't expects to get your papers written from scratch. According to the official page, the experts' pool contains first-language editors based in the United Kingdom, the US, Canada, and Australia. All of them have comprehensive profiles that provide information about their language, educational level, professional background, and exact location. But the tricky thing is that you cannot review them until you place an order. So that looks no more than just regular commercials. Wordy pays much attention to the education of editors. Here is the statistic took from the official page:
11% of editors hold PhDs;

25% of editors hold MAs and MScs;

64% of editors hold BAs and BScs.
Yet, there are no documents attached, which can prove that. Referring to our experience, we have sent a newsletter for editing with a standard delivery time, which is an hour. However, the proofreaders jumped on jobs the moment we posted it. And the worst thing is that it was sitting on a board for an hour before a proofreader claimed it. We were hoping that our experience is just a one-time occasion unless we found the customer having the same issue. And here is her feedback on Trustpilot: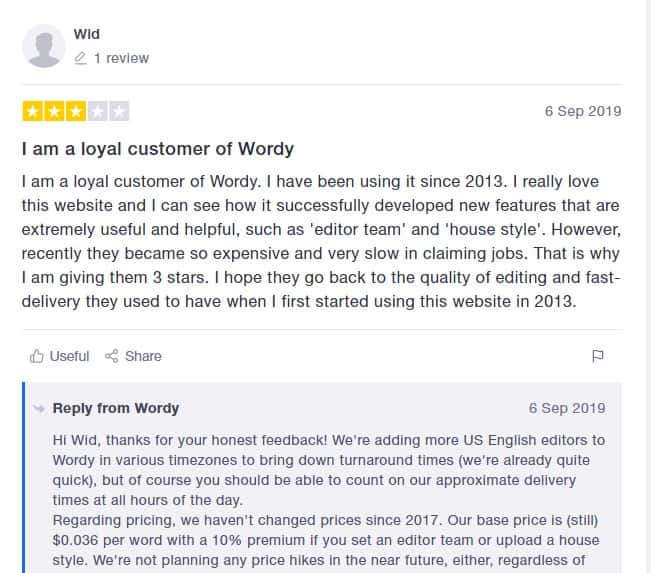 So if you have a deadline to meet, think twice before using the Wordy as you may simply miss it. 
What are the services you can use on Wordy?
Although the Wordy service is fairy popular online, there is a limited number of services available. Wordy was founded in 2009, but it still specializes in copy-editing. And it seems like the service does not plan to extend the scope. Here is the list of services they suggest:
Re-writing
If you lack creativity and writing skills, Wordy experts will never write your paper from scratch. The only thing they can do is to re-write your draft. The service covers 56 subject fields and eleven major file formats, such as MS Word, PDF, PowerPoint, and Google Docs.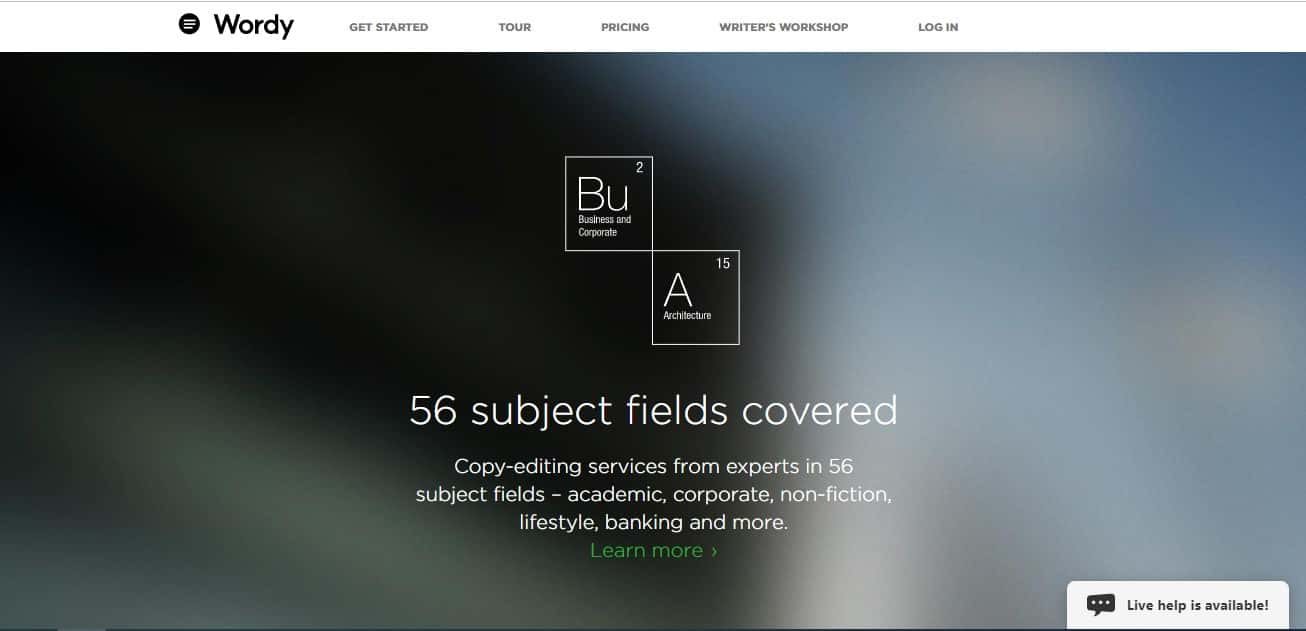 Proofreading
Wordy proofreading service is available around the clock so that you can get help anytime. The delivery time starts at 40 minutes per 400 words. Within this option, Wordy expert will:
Double-check your text for errors in grammar, spelling, and punctuation.

Grasp the text and its cultural context.

Ensure there are no mistakes within images, inconsistencies in page layout, and other subtle writing issues.
Copy-editing
As a primary Wordy product, copy-editing is a more detailed and comprehensive process than proofreading. Its aim is not only to clear your text from mistakes but also to check it for logical structure and correctly crafted sentences. The goal of a copy-editor is to make your content more readable and easier to understand.
Best Alternative:
HandMadeWriting

Visit site
Word count tool
The word count tool, which was designed by Wordy, is one more service you can use. Yet, it is not worth spending money as long as there are lots of free tools on the net that have the same functionality.
Writer's workshop
Writer's workshop was designed for those who want to enrich their writing skills. This is a number of articles on different subjects that are available for free. In other words, Wordy specialists share their experience and useful tips with writers, authors, editors, students, copywriters, content managers, and everyone who wants to boost their writing competencies. You can choose any of the following categories:
Writing basics

Academic writing

Business writing

Government writing

Personal writing

Web writing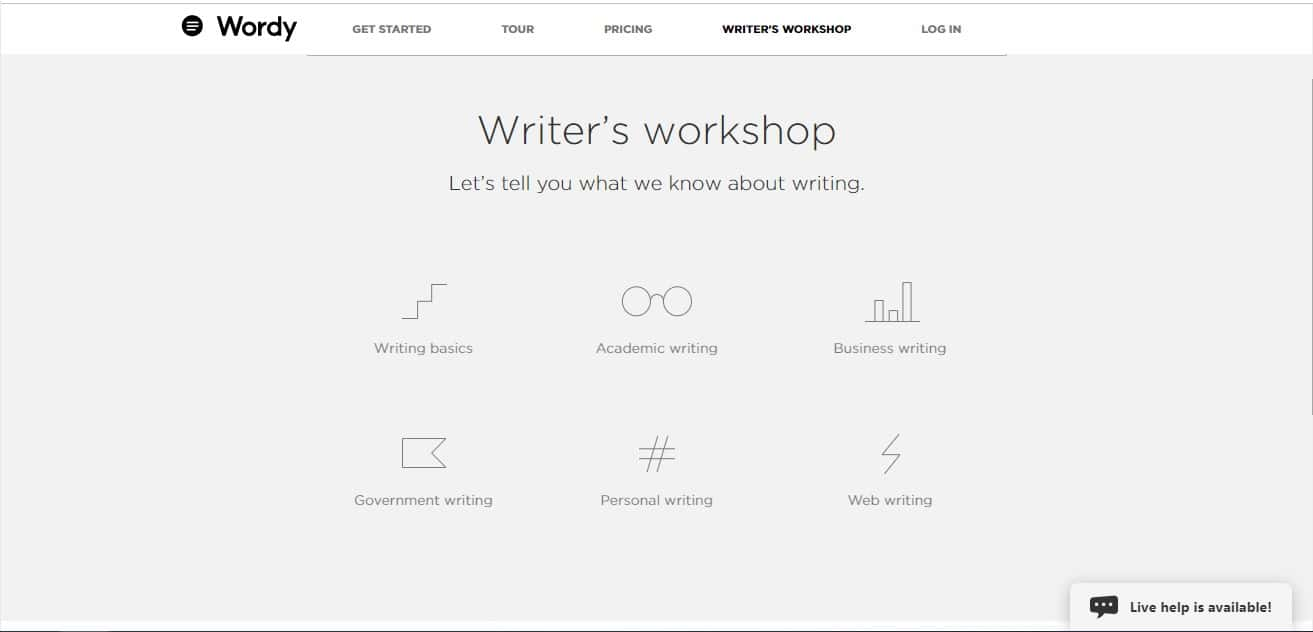 Assignment ordering process
If you are a newbie to the Wordy service, you would have to create a profile first. This is how you will track your jobs, other users, set a team of editors with a specific qualifications or background, upload your house style document, etc. Here is a short guideline on how to get registered on the Wordy website:
Go on

www.wordy.c

o

m

and click on the "Log in" button on the top right corner.

Fill in your email and password to create an account. You can also sign up with Google, Facebook, or Twitter to make it faster.

Once you get registered, you can proceed with the payment. Wordy accepts both credit card and Paypal. If you have no Paypal account, you can use Visa, Mastercard, Amex, Discover, and Maestro card to submit your order.
Wordy prices 
As a paid service, Wordy has a fixed rate per word. There are two options you can choose from: Standard and Express. The main difference is the turnaround time, which is tripled if you go with the Standard package. The prices start at $0.036/word. You can review Wordy package details down below: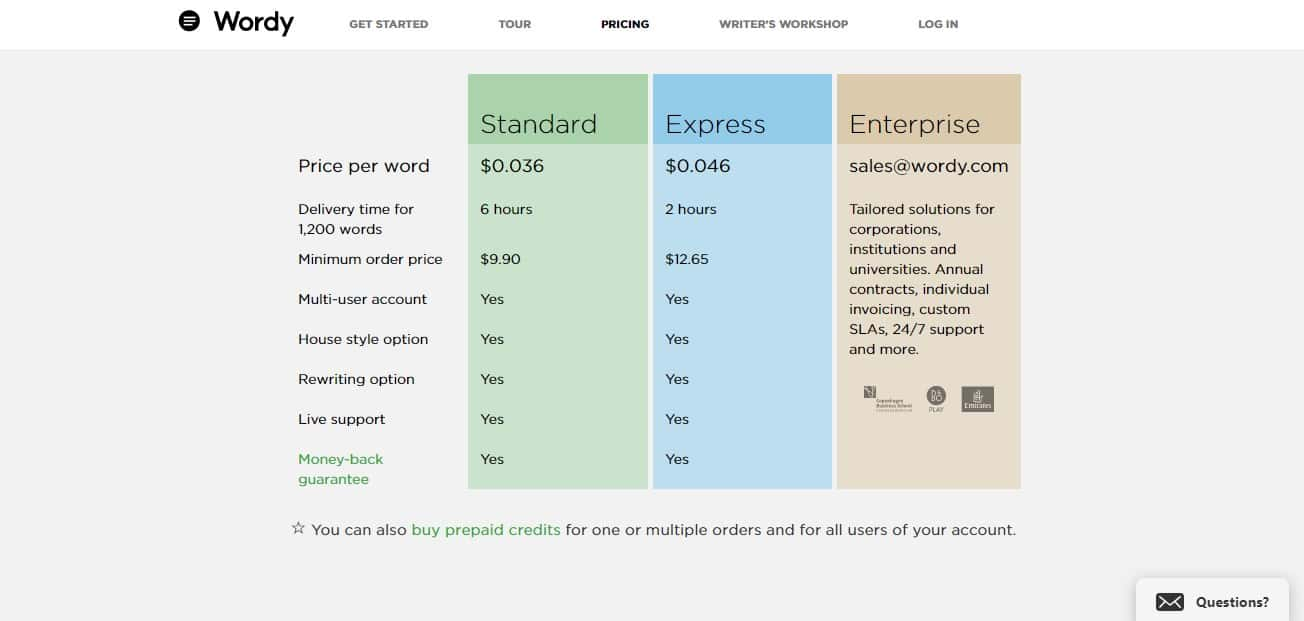 The total cost also depends on paper volume, advanced options included, and whether you need to re-write your text. For example, if your text has 1000 words, the initial price will be $36 with 5 hours delivery time.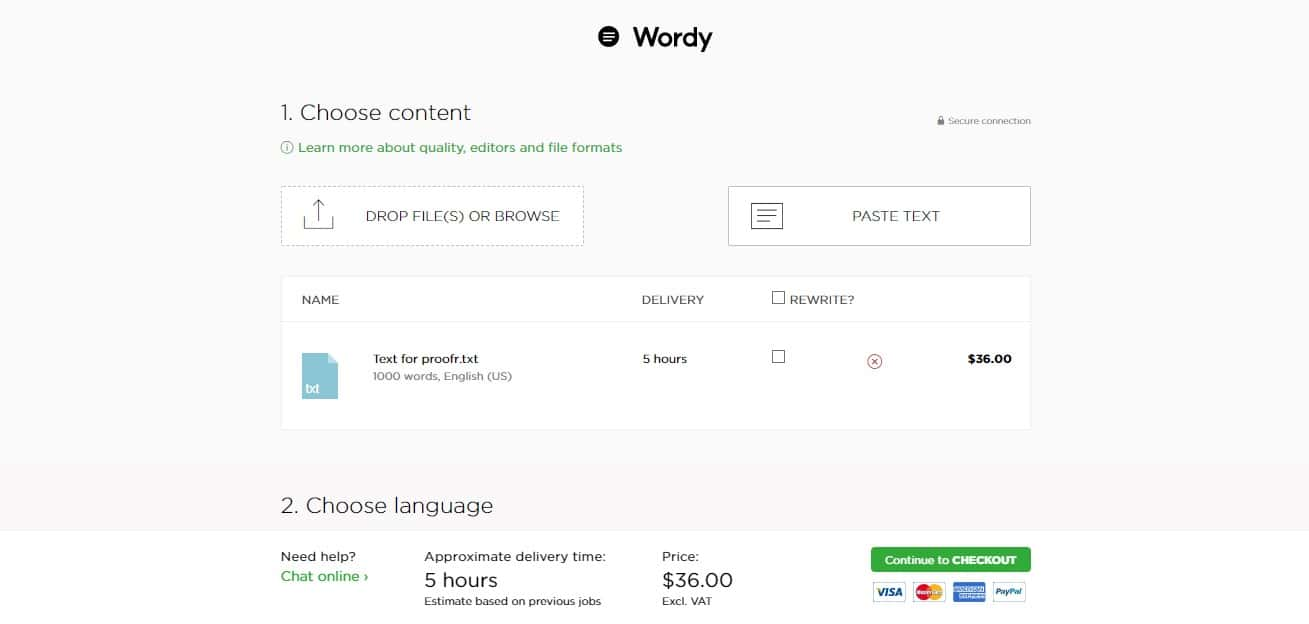 You can receive the paper earlier – in 3 hours – for $46, or get in rewrited for $72. Keep in mind, the re-write option doubles the price in comparison to an editing one.As a business owner or educational institution, you can pick up an Enterprise package to sign annual contracts and get access to individual invoicing and custom SLAs. You can also buy credits for one or multiple jobs. The prices are the following:

They also provide you with an automatic discount of 5–20% for papers of between 5 000 and 300 000 words.According to some Wordy reviews, the pricing went up in recent years, which makes the service less affordable than it was before. Moreover, the turnaround time went down. Thus, the company is at risk of losing their loyal customers. 
Delivery time issues
Unlike other editing services, you cannot choose the turnaround needed on Wordy. The service determines it based on the text volume of your paper. Yet, it may not meet your deadline, so make sure you have enough time available. Although there is an Express package, they can hardly ever complete your job ASAP. For instance, 1000-word paper you can receive in 5 hours with a Standard package or in 3 hours with an Express one. In case you need to re-write your text, it will take twice as long.Moreover, they mention the approximate delivery time but not the exact. What an odd warranty is it? According to the official page, 80% of papers are returned within fixed turnaround time. So 20% of customers receive their documents later on. That does not characterize Wordy as a reliable editing service. We received the edited paper on time. However, there are still complaints about timely delivery from other customers. 
What are the Wordy warranties?
Re-edits
If you are not satisfied with the job, you can force your editor to re-edit a paper for free up to three times. Yet, a request has to be made within 72-hours after you received it until it is automatically closed.
Money-back guarantee
There might be an occurrence when a customer is not satisfied with a received paper and used three attempts to re-write a text. In this case, you can apply for a refund within 72-hours so that a Head editor will review the final paper. For example, if your editor corrected 90 % of mistakes, you will get a 10% refund. You can also apply for a refund for unused credits minus a 20% handling fee. 
Confidentiality
By joining the Wordy team, each of the editors agrees to work under a non-disclosure agreement. That means that your personal information will be held and maintained by strict confidentiality as soon as you use the Wordy service. 
Wordy customer support 
Technical support is a core part of any online service. It indicated the reliability of the service. There are two ways to collaborate with Wordy customer support: though live chat or email [email protected] There is no way to contact the support representative or editor via phone.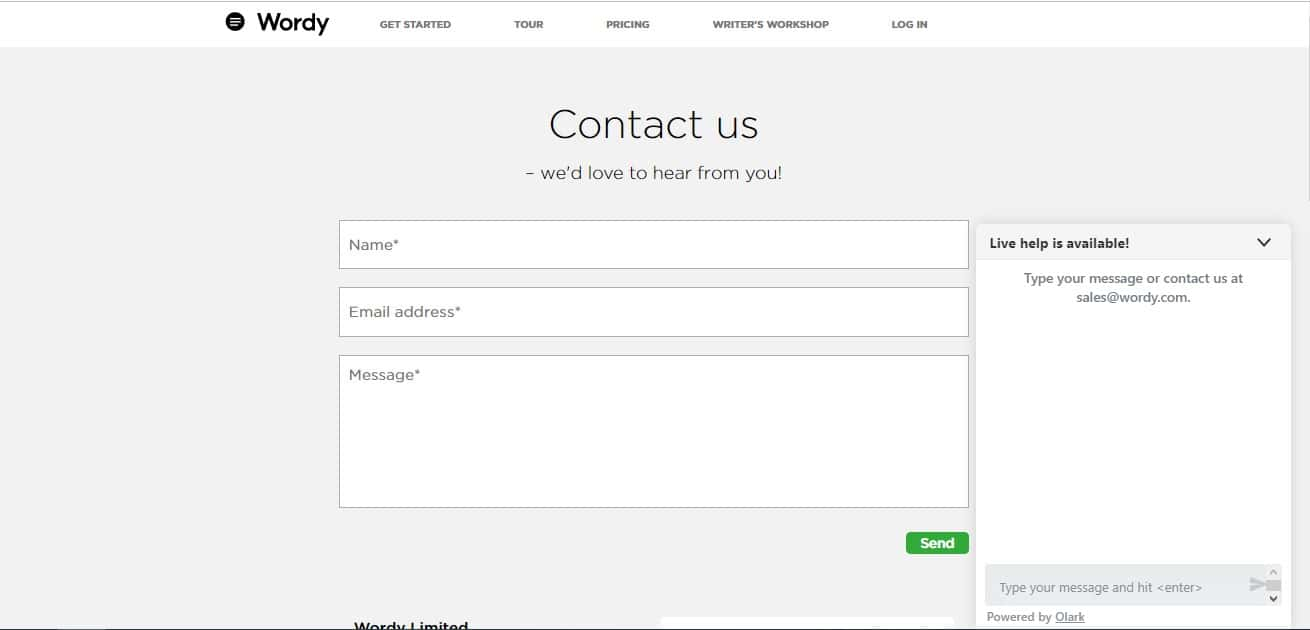 Referring to our experience, we did not get any apparent intrusion on the problematic issue we had. Besides, other customers had the same problem:
Pros and cons
Before making a final verdict, it is worth underlining all pros and cons of the service. 
Pros
Strong confidentiality

User-friendly and stylish interface 

Free writer's workshop

Convenient dashboard
Cons
No mobile app

A limited number of services

High prices in comparison to the same services on the market 

Only 3 free revisions 

No official information on qualifications and professional experience of the editors

Unreliable delivery time

You cannot get a full refund if you are unsatisfied with the paper
FAQ
What is Wordy?
Wordy is an online proofreading and copy-editing service.
Is Wordy legit?
Yes, the service has a robust Privacy policy, Terms and Conditions. All Wordy editors work under a non-disclosure agreement. 
How much does Wordy cost?
There is a fixed price per word, which is $0.036 for the Standard package and $0.046 for Express one. Yet, the total cost depends not only on paper volume but on whether you need to re-write your paper. Enterprises can use the separate option to get a package for a year. 
Is Wordy scam?
No, Wordy is a legit editing service. But there might occur problematic issues with delivery from time to time. 
Is Wordy safe?
Yes, the service stores all customers' files behind 256-bit security, which guarantees full confidentiality. Private details are encrypted during the payment process. 
Is Wordy plagiarism-free?
Wordy specializes in editing and proofreading services and does not check if your content is unique.
Are there Wordy discounts?
Yes, Wordy provides you with an automatic discount of 5–20% for papers of between 5 000 and 300 000 words.