Design and Usability: Will a User Enjoy Navigating the iWriter Website?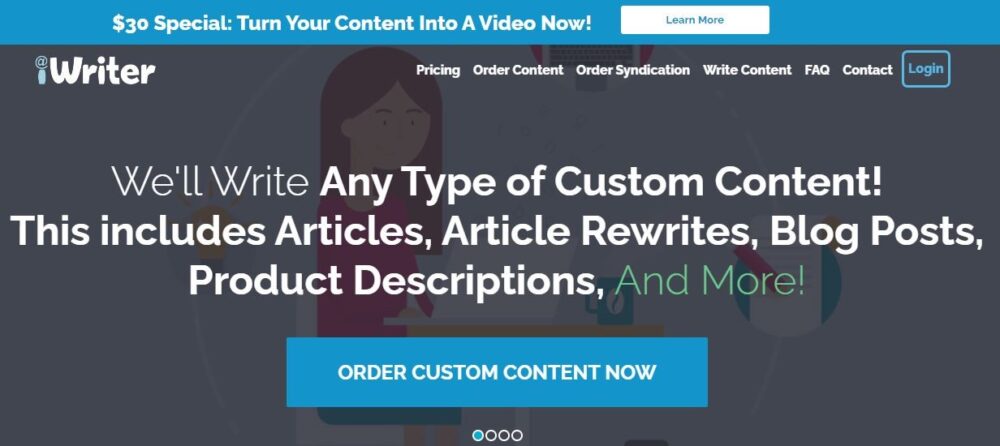 The iWriter website looks pretty nice in comparison with sites of many other writing services. Text blocks are placed on blue, deep blue, and white backgrounds, so the user's eyes won't have to suffer from bright neon shades. Although the main page's colors and icons are rather attractive, it's hard to say that iWriter provides enough information. There's no service description, guarantees, or online calculator on the main page. That's why a user has to spend some time searching for necessary information. Everything you'll find on the home page is the order button, information for writers, steps to take to place an order, stats, samples, and a list of top writers. They don't have the "About Us" page, and it's unclear which paper types they work with. Besides, it seems like iWriter is mainly focused on creating articles for bloggers and brands, not students.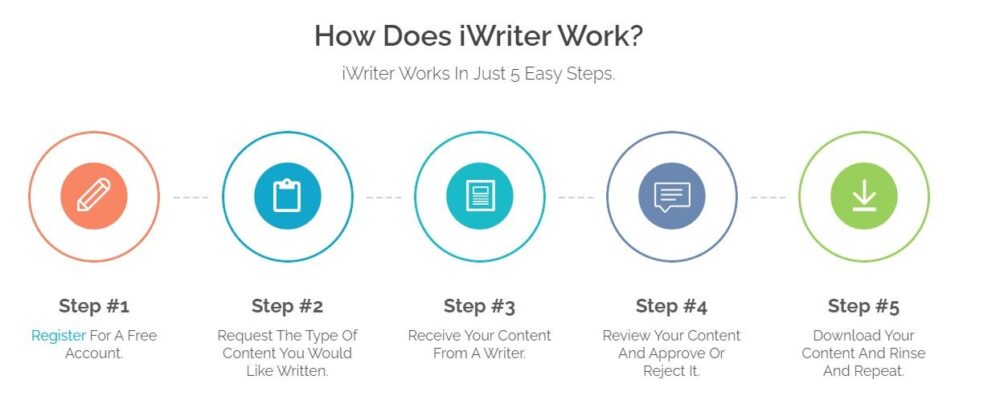 Will You Recieve a High-Quality Paper From iWriters?
According to iWriter reviews, this service is a platform for connecting writers and customers. When ordering an article, you can pick a writer's level. If you want to save some money, you can choose the cheapest Standard one. However, you have to understand that you risk losing a chance to get a top-notch paper. If you decide to pick this service, it's better to consider Elite or Elite Plus writers because this way, your order will be completed by a professional content creator. 
Even though prices might be lower than anywhere on the market, you have to remember that iWriter doesn't provide editing and proofreading services. Only two options are available for you in case you don't like the result – you can reject a paper or request rewriting. Even if these options might be Ok for bloggers or brands, a student can miss a deadline and get an unsatisfactory grade.
It remains unknown whether iWriter picks writers carefully. Of course, they have to send an application and write two test tasks, but there are no strict requirements for freelancers. Chances are your order will be fulfilled by a student or a person who isn't a native speaker. While reliable writing services hire native English speakers holding Ph.D. or Master's degrees.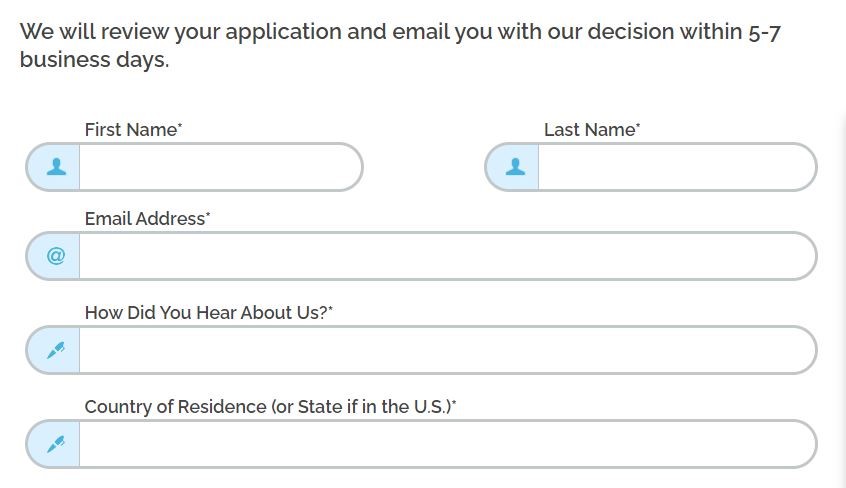 Does iWriter Offer Any Extra Services?
As we've mentioned in our iWriter review earlier, this service allows writers and clients to connect with each other. Your paper won't be professionally edited, so you can only hope that a writer assigned to your order is responsible enough to check an article for grammar and spelling mistakes. Besides, iWriter doesn't offer a variety of paper types, and you can only order an article on different subjects, content rewriting, eBooks, and Kindle books.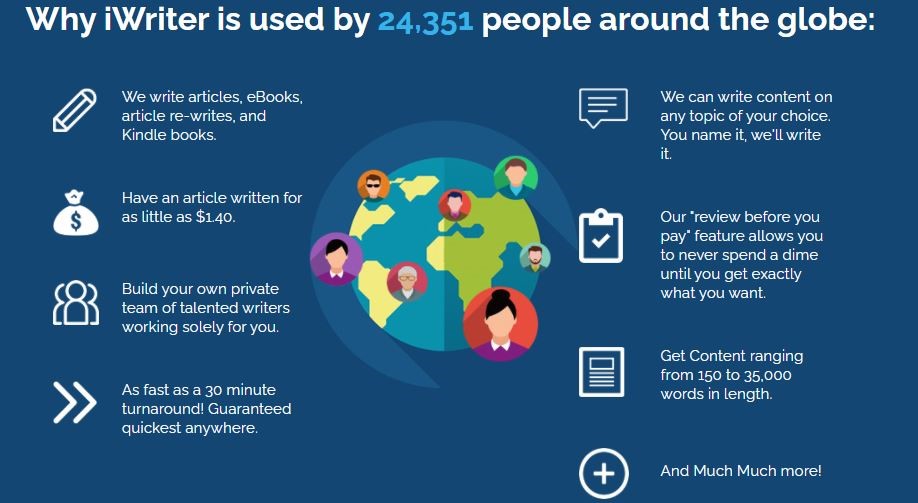 Brand owners are offered to use the Content Syndication Service. If a customer wants to attract a huge audience to their new content, they have to provide iWriter with the URL to this article. The service will publish this link on hundreds of major US news media websites. Although it's a good chance to get numerous backlinks, this option is expensive. A client has to pay $50 per distribution. 
Financial Matters: Does iWriter Offer Safe Payment Methods?
You don't have to buy a subscription and pay any fee for using the iWriter service. You only have to pay for the completed order. The good news is that your money isn't charged from your account until you approve an article. 
The only payment option available for users is PayPal. Even though it's one of the safest payment systems, the iWriter team could have thought about people who don't have a PayPal account. Many users prefer to use Visa or Mastercard, but this option isn't available on this platform. However, even this information is obviously hidden from customers. Payment methods aren't mentioned anywhere on the site. So, you won't find out how to pay for papers at iWriter until you register on the platform and place an order. If a user doesn't have a PayPal account, they'll find out that they just can't pay for their order. They'll only waste their time signing up and filling an order form. Yet, trusted writing services place necessary payment information on their sites. Besides, they offer more than one payment method to transfer your money. That's why it's necessary to read iWriter reviews before wasting your time with the platform.
Best Alternative:
HandMadeWriting

Visit site
How Much Money Will You Have to Pay for Papers at iWriter?
You may think that iWriter is the cheapest writing service ever, but in fact, low prices are only a hook. As we've mentioned in our iWriter review before, you can choose from several options to order papers here. The Standard option is the cheapest one as you can order an article containing 150 words and pay only $1.40. It's an attractive offer, isn't it? However, you have to remember that a Standard option is created not only for those searching for the lowest prices but also for inexperienced writers. Chances are your article will be written by a person who doesn't know a specific subject well or has just started their writing path. Of course, you can reject the received paper and wait until someone else will write a better article, but you'll waste a lot of time. 
If you want to have a guarantee that you'll receive a flawless paper, you can choose one of the top writers. A user having a long journey with iWriter can create a list of favorite writers. Next time they'll place an order, they can choose one of them to complete this particular task. Basically, it's a convenient feature, but you'll have to kiss a lot of frogs to find the best writers.
Here are iWriter's minimal prices for articles containing 150 words:
Standart –

$1.40

Premium –

$3

Elite –

$4.7

Elite Plus – $13
What About the Order Completion Deadlines on iWriter?
The service doesn't specify a minimal deadline. It may be rather convenient if you need your article to be written in less than 3 hours. When placing an order on the iWriter platform, you have to add your instructions and set the preferred deadline. If you don't pick a writer on your own, your request will appear among other requests. Writers will read your requirements and figure out whether they have enough time to work on your task. Your paper can be written even within one hour, depending on the size and complexity. 
The absence of strict requirements concerning deadlines is risky because you don't have a guarantee that your paper will be written within a timeframe you'll set. Professional writing services specify the minimum and maximum deadlines to help you control the writing progress and feel confident that you'll receive an article on time. If a writer from the iWriter platform oversteps a deadline, you can receive your order too late. A low rating won't allow their writers to enter Elite or Elite Plus categories. However, you won't feel better because you'll miss a deadline and lose a chance to present an article in time.
Does the iWriter Service Have any Revision and Money Refund Policies?
Since iWriter isn't an average writing service with a team of professional writers and editors, you don't have to expect revision or money refund. However, the service has replaced these options with other convenient features. If you don't like the result, you can reject a paper, and your request will become available for other writers. The best thing about it is that you don't have to pay for a paper of poor quality. Money will be charged from your account only if you approve a received article. It means that you don't have to pay in advance before an order is completed. But remember that you have only three days to approve or reject an article. If you forget about your paper, money will be charged automatically.
A user can also use another option if the result doesn't meet their expectations. The service offers you to request rewriting of unsatisfactory content. The same writer will work on the issues and improve their text. 
Can You Rely on the Customer Support Team Whenever You Need Help at iWriter?
Although iWriter has a live chat, you still have to complete a form to send a message to a manager. You can also use an email form to ask a question, but it's available only for registered users. Since iWriter doesn't provide any phone number, chances are you'll wait for ages to get an answer from a manager via online chat. The best writing services make communication with them convenient – a user can quickly contact a support manager via a live chat or phone at any hour of the day. Of course, you can use the iWriter social media pages to contact them, but it remains unknown how long you will have to wait for a response. 
What are the Main Advantages and Disadvantages of the iWriter Platform?
A lack of iWriter reviews on the Web is the reason why it may be hard for you to figure out whether this service is the right choice. We've explored the main pros and cons of this platform to help you. Here are the details you have to keep in mind when picking this writing service:
Pros:
iWriter offers low prices.

You can choose a writer on your own or pick the Elite or Elite Plus option to make your request visible for the best authors.

iWriter allows users to create a group of favorite writers to work with them in the future.

Your paper can be written in a variety of languages.

You have three days to approve your order. Money won't be charged from your account during that period.
Cons:
If you choose a Standard option, your paper will be written by an inexperienced writer.

iWriter is mainly focused on bloggers and brand owners rather than students.

There are no strict requirements for writers.

Lack of information about the service.

iWriter doesn't offer a professional editing service.

A user can contact customer support only via live chat or email form. The second variant is available only for registered users.

iWriter doesn't specify any deadlines.
Should You Use the iWriter Service or is it Better to Look for Another Service?
As you can see, iWriter isn't an ordinary writing service – rather, it's a platform connecting writers and clients. iWriter can be a good choice if you want to save money and pay only after approving your order. But you should consider that paper quality can be poor because of the absence of the editing service. So, it's better to think twice before preferring this platform to professional writing services.
FAQ
What is iWriter?
iWriter is a platform designed for writers and clients searching for someone to write articles for them. The service is mostly focused on bloggers and brand owners. iWriter offers low prices and thousands of available writers ready to start working on your order.
Is iWriter legit?
There are no reasons to think that iWriter breaks the law somehow. This service offers users to transfer their money via a safe payment system. Besides, iWriter has all necessary documentation, including Data Processing Agreement, Data Security Policy, and Privacy Policy on the website.
How much does iWriter cost?
The platform has four options to choose from. The Standard one is the cheapest, while Elite Plus is created for the best writers and is rather costly. Here's the pricing scheme for the minimal word count under the terms of each option:
Standart –

$1.40

Premium –

$3

Elite –

$4.7

Elite Plus –

$13

 
Is iWriter safe?
iWriter is a safe platform for both writers and customers. Their data isn't shared with third parties. Besides, iWriter uses PayPal for money transactions – it's one of the safest payment systems.
Is iWriter plagiarism-free?
All papers are automatically checked by Copyscape, an online plagiarism checker. Yet, there's no guarantee of 100% uniqueness from writers.
Are there iWriter discounts?
iWriter presents new special offers every month, so it's necessary to track their latest discounts and deals. You'll only need to complete an appropriate form on the site to claim a discount.