Hi guys! Today, I'm going to share a story of a lifetime – my experience with a popular essay writing service called EssayPro.
Usually, I would find a way to blitz through my essay, but once I got another important task to work on, I wasn't in the right frame of mind to do the paper justice. So, I pulled out my laptop and decided to search for last-minute essay writing solutions.
I found several options but still decided to go with this catchy name — EssayPro. Who wouldn't want essay specialists to work on their paper, right?
So, here is my detailed EssayPro review based on my experience with this writing service. Let's get down to brass tacks.
About EssayPro
EssayPro is an academic paper writing service operated by a Ukrainian company Devellux that promises to connect "talented specialist writers" with students in need of urgent academic assistance. Notably, the company's physical address displayed on their website is Dover, Delaware, but it is actually a Ukrainian-held business. The platform provides essay writing services globally but focuses primarily on the US, UK, UAE, Australian, and Canadian audiences.
The company claims to have worked with over 200k students during its 10+ years of existence. Based on the data I saw on their site, they have over 400 Essaypro writers on standby.
The company also states to have completed over 900 000 academic papers in 2020 alone. For context, that's six essays per day for every writer (about 2470 orders over 365 days for 400 writers). That's one heck of a completion rate! Most people would struggle with such a workload. 
Essay Pro covers the following services:
Custom essay writing

Dissertation writing

Research paper writing

Term paper writing

Admission essay writing

Essay writing help

Essay editing
Another distinguishing factor is the bidding system they use as a business model, which I found quite interesting at first. I didn't go through the Terms and Conditions of this service initially because I didn't have time to waste. But at least the page was there, alongside the 'Privacy and Refund Policy' one.
My Experience with EssayPro
Context
I was assigned a pretty urgent discussion post in which I was supposed to answer a question based on some readings. It was clearly stated in the prompt that there was a correct answer which was to be derived from class discussions and readings. So I decided to let professionals handle this task, hoping I would get a decent quality level and timely delivery.   
User Experience: Working with the writer
Unfortunately, the way communication turned out was nothing like the picture that I painted in my head. First off, my writer has completely ignored the paper instructions, even though they were detailed enough. Instead, he posed a hardly understandable question, and when I asked for clarifications, he simply chose the best way to complete the assignment without my input. Besides, my writer couldn't even write in English properly.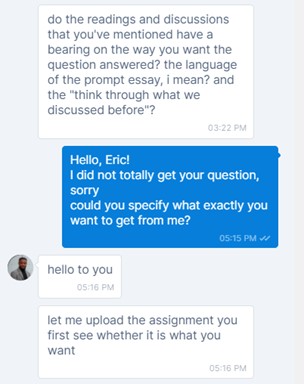 Secondly, users have zero knowledge of their paper's status. I wanted to see the order's status change to Revision or something, but instead, I just wrote to them in a chat, and that's it. No updates and notifications seen on the horizon. 
Paper quality
In terms of quality, it was quite visible that the writer conducted some research for the paper. However, I discovered that he mixed up MLA and APA formatting guidelines for in-text citations. Plus, nobody was interested in the number of sources. The writer decided to insert one source intuitively, although there were three to be added. 
Moreover, I was shocked to discover that the writer left a URL to their local folder on the Works Cited page. To me, that is not appropriate. 


The grammar and text structure were just merely acceptable. It was pretty evident that some writers are not native English speakers. At least the person that worked on my paper definitely wasn't. Since I paid close to 60$ for this 3-page paper, I had to place two revisions to get the optimal quality level.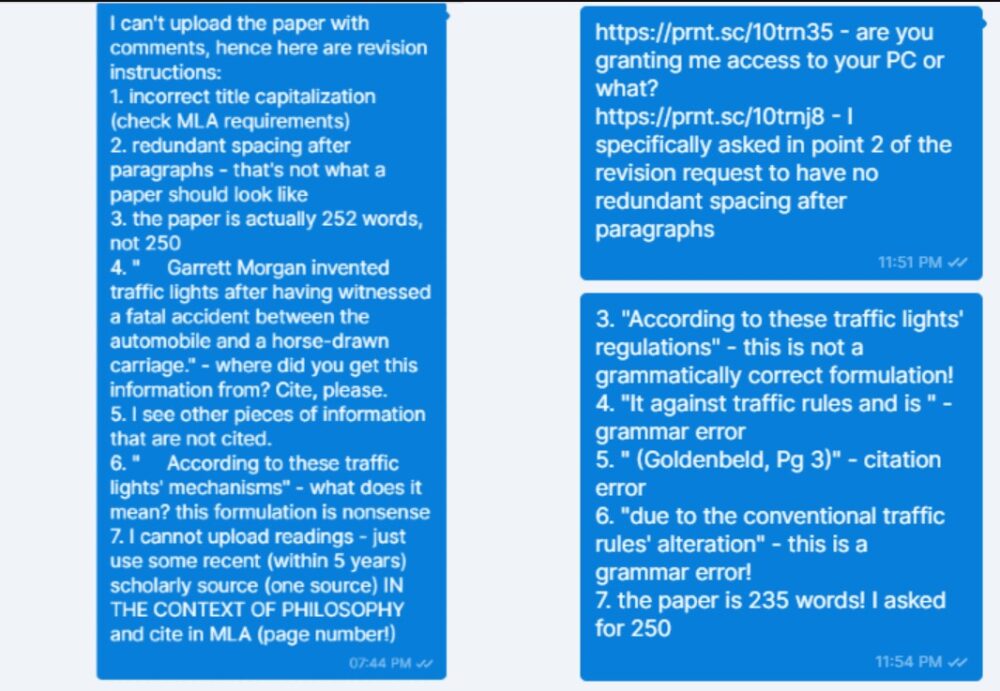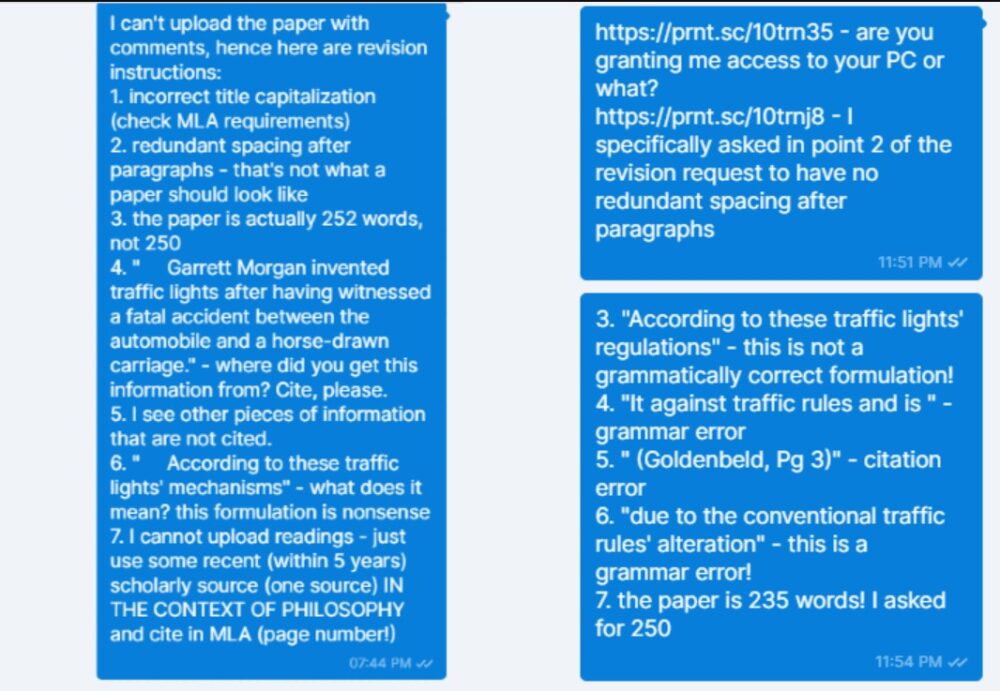 On top of that, I received my paper later than expected, after my deadline was due. And to completely spoil the day, the writer sent me a wrong paper that was supposed to be someone else's. How cool is that?
When I complained about this blunder, I got the following response: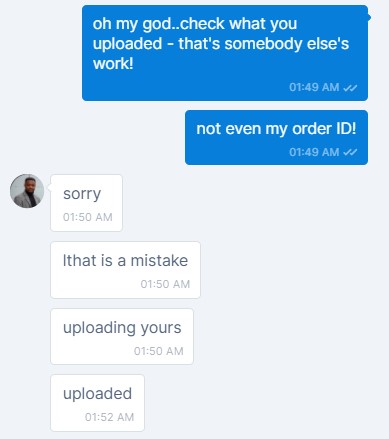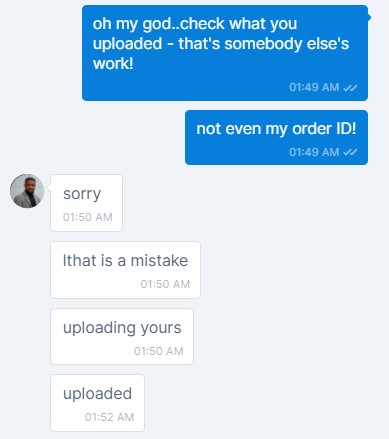 Well, it seems like the most critical factor of excellent paper writing, which is quality, creates a huge gap between what they deliver and what is expected of them. 
Quality Mark: 1/5
Customer support
Communication channels
All EssayPro reviews on the Internet indicate that the company provides only one major communication channel – the chat box, which is true as I discovered. Customers can also intuitively understand how to use their profiles, which is a plus for user experience. Also, you can discuss order details with the writer before they start working on the paper.
But here's the catch: you'll need to play hide and seek before reaching out to the writer; one can easily assume that the right window is meant for direct communication with the writer, but not a bot and support staff. While in fact, it's vice versa.
Even chatting with customer support is a challenge here. First, you need to hit "Help Center," send a message in a chat window, go through a blockade of annoying AI-generated messages, then wait for several minutes to get a response, and only after that get a real human being to chat with you.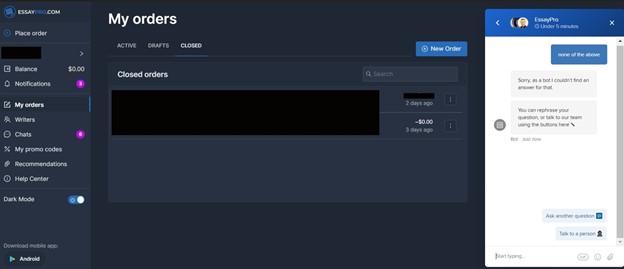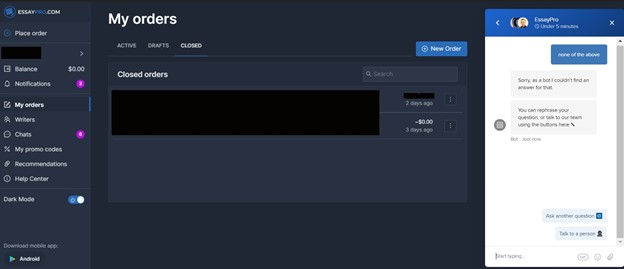 Availability
When I finally got in touch with the customer support specialist to clarify some order details, I was expecting to get responses right away. To my surprise, I waited three minutes to get the answer to a simple question. What seems to be like no big deal at first turned into a slippery slope of impatience (I got further messages with delays too).

Answering the questions, politeness, speed
If anything else is more important than quality for customers using essay writing services, it is the rules of personal information disclosure. Once I inquired customer support about this sensitive matter, they sort of tried to get away with the answer and kept on asking me about my order details. This puts the company in a position of pure money-makers who don't pay much attention to users' privacy. Yet, after my second attempt to find out the truth, they responded to me with a relieving message. 
Customer service mark: 2/5
Best Alternative:
HandMadeWriting

Visit site
Order form/usability at EssayPro
Placing the order
As the chat box is the only communication channel provided by this service, I had to place my order there. I provided the prompt, and the support agent asked me about my academic level and deadline, but nobody inquired about my discipline or the number of sources to be used. 
Nevertheless, I felt relieved once the support cropped my instructions. I logged in and checked on that to make sure all is fine:

But I also felt like a supervisor trying to monitor the support agent's work just to sleep better, knowing that I got what I needed. They canceled the initial order and placed a new one with full instructions. 
Receiving the order
I left my email in the profile and waited for any sign of life from EssayPro to ensure I could stay tuned on the important order updates, but nothing showed up. So, I decided to visit my dashboard and contact the support staff. As it turned out, the paper was already waiting for me on my dashboard. So, why not send a notification? The company only sent me their promo ad. Thanks, but I need my paper!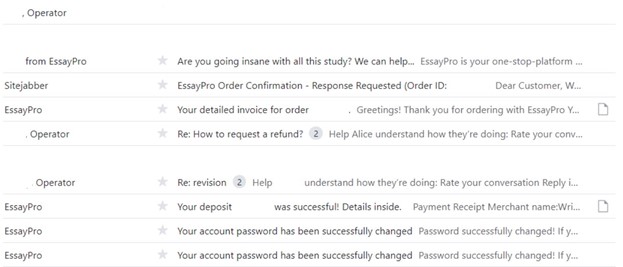 I think EssayPro should focus more on making the customer journey comfy instead of just promoting their services.
Flaws and technical issues
The client cabinet appears to have been developed in haste – that's what any EssayPro review will tell you, including this one. For example, when you enter the "Chats" section, you see a list of chats with your writer, but you cannot access your conversations with support. For the latter to happen, you need to go to a separate tab, which is not very convenient.

In essence, I could not even figure out how to pay for the order without assistance. 
Usability mark: 3/5
Prices and Discounts
Market comparison
The overall EssayPro cost is in the "above average" bracket when it comes to pricing. The flat fee for any paper is $12, even though the site says "Essay Writing Service at $7/page" upon Google search. This discrepancy in prices is also mentioned in most EssayPro reviews.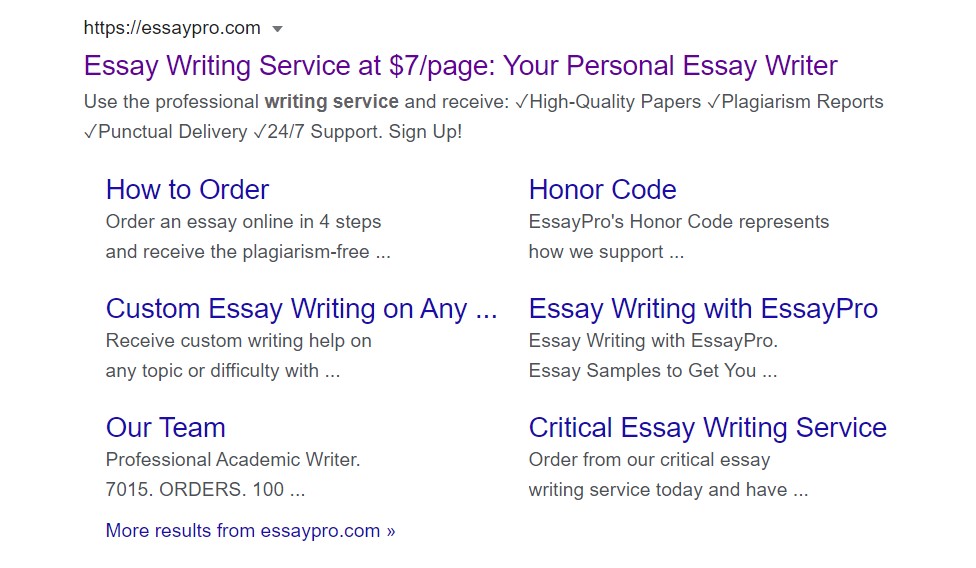 I couldn't find a pricing table, but they have a price calculator right on the homepage. Essentially, the cost of ordering a paper depends on the following factors:
Number of pages (words)

Academic level

Deadline

Essay type

Additional instructions
As I mentioned earlier, EssayPro has a bidding business model. You need to choose among hundreds of offers before landing on a decent writer. However, writers offering relatively low prices usually lack expertise and deliver subpar quality. I got into this trap by opting for such a writer, and the price I paid was a half-baked order. Frankly, I'd rather pay a fixed cost that would be close or even identical to the money I forked out here.
Available discounts
As a student, I started checking out discounts, expecting to get some perks out of this experience. Luckily, the company offers an initial 25% Essaypro discount on orders larger than one page. 
Interestingly though, after I received my paper, I decided to check the actual pricing using their online form on the main page, and it was lower compared to the overall sum I paid. 
Price/Quality Match
Before placing my order at EssayPro, I saw moderate prices on their website and was pretty sure I would pay no more than that. But eventually, I had to pay a much higher sum thanks to their bidding system. And even though my final paper was satisfactory in terms of quality, the struggle I had to go through to get my paper done the way it should have been was not worth it moneywise.
Pricing Mark: 3/5
Guarantees
Revisions 
The first confusing thing I noticed about revision requests is the way customer support processes them. I was asked to write in chat in case I have any complaints, but that's quite an unprofessional approach to handling things. I'd better prefer to have my request left on the customer dashboard with live updates on my order status. Yet, it is what it is. 
Overall, I had to place two revisions since the writer didn't get my instructions in the first place. Luckily, users can place as many revisions as they want until they are content with the quality. 
Money-back
EssayPro has a refund policy that takes effect when the customer is displeased with the paper's final quality. Here are the scenarios when you can apply for a refund:
No assigned writers

Late delivery

Disputed claims

Duplicate orders

Plagiarized content
Sounds good, but the trick is that they require users to leave up to 30% to the writer for the work done in case of refund. To me, this sounds unfair because I obviously expect all my money back for their fiasco, not just 70%. 
Other Policies (plagiarism, privacy, refunds)
It is important to note that EssayPro processes refund requests within 48 hours. And most importantly, their internal dispute resolution team will review your application. This means that you are not assured of a refund or revision within the desired deadline.
In terms of plagiarism, the paper I ordered had over 90% of uniqueness. But after taking a closer look, I noticed obvious attempts to game the algorithms with paraphrasing. To my dismay, my 'paraphrasing' claim didn't meet their refund criteria because Turnitin showed a high uniqueness level. Who am I to argue with AI, huh? Eventually, I had to make some final edits on my own and hope the teacher wouldn't penalize me. 
When it comes to privacy issues though, the situation is a bit better. The good thing is that I was assured my personal information won't be disclosed, and I only had to leave my email. Nonetheless, customer support initially ignored my question related to private data.  
Guarantees Mark: 4/5
Online Reputation
Review platforms
On the company's website, you'll find mostly positive feedback, which is no surprise at all since most services feature only positive comments. But I was shocked when I found out that I couldn't leave a testimonial on the EssayPro Reviews page. So, I visited other independent review platforms like Trustpilot and Sitejabber. 
I discovered that EssayPro reviews on these sites were mixed: some clients praised the service, while others complained about gross incompetence. The main concerns had to do with paper quality and plagiarism issues.
Social media
Most EssayPro reviews express dismay when it comes to the company's 'active' social media presence. Their Facebook account features just five posts that date back to 2019, while the Instagram account has 9 posts and 35 followers in total. For now, it seems like they don't really bother about brand promotion through social media platforms.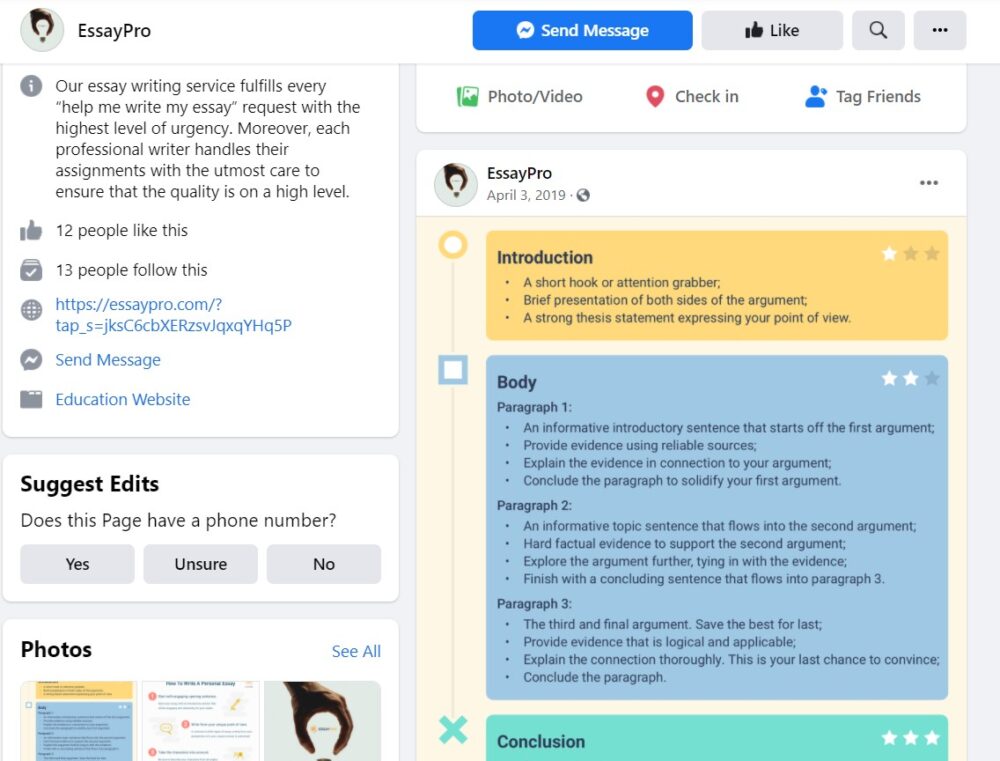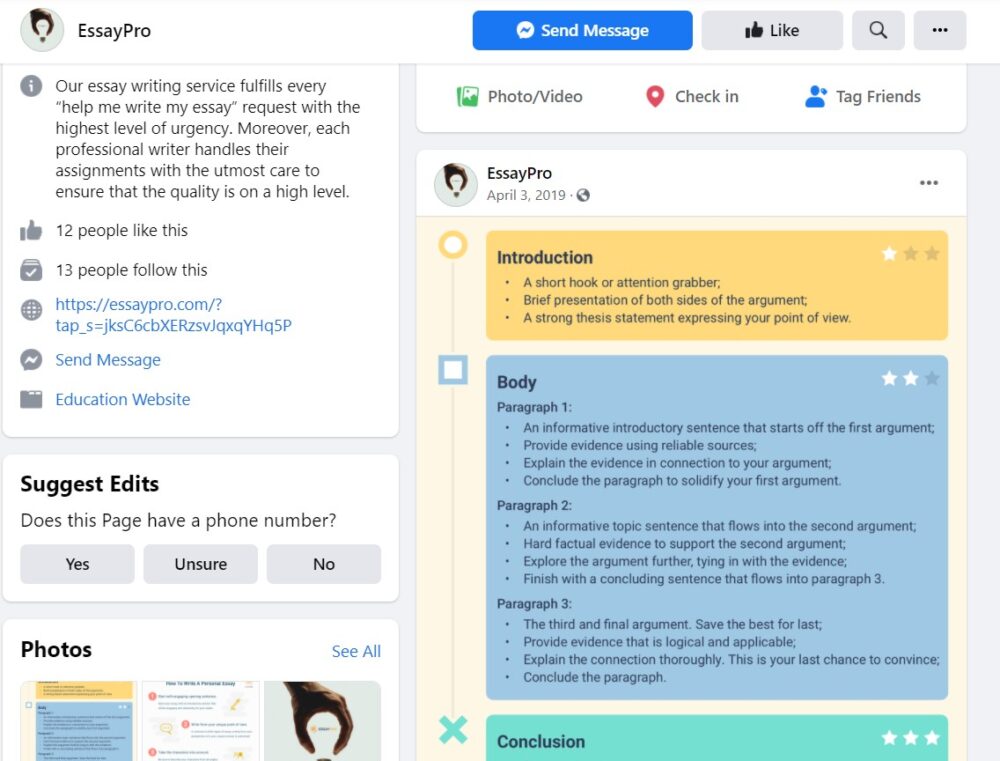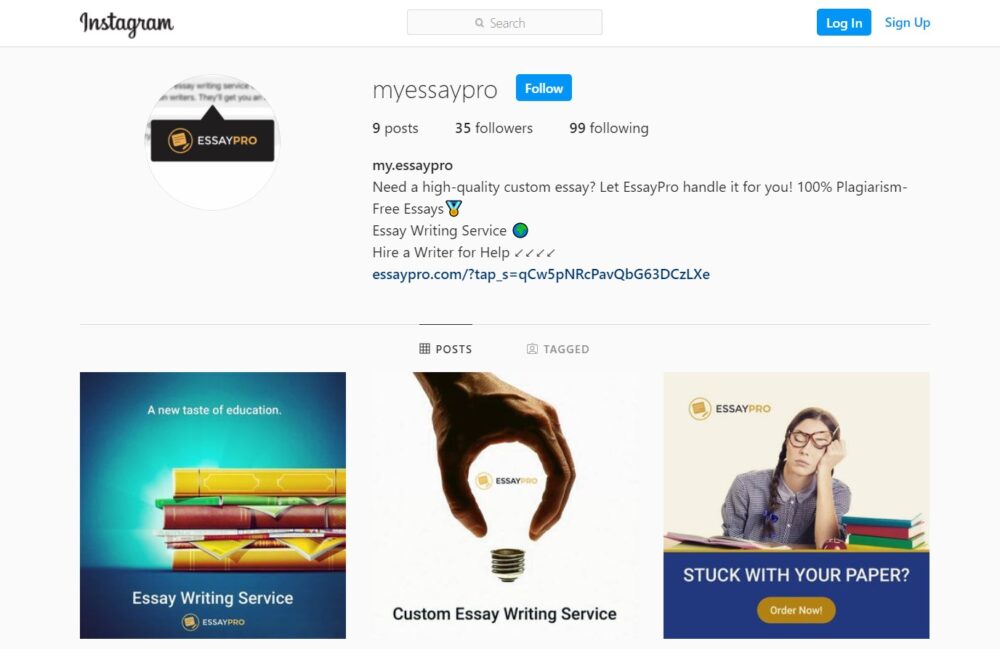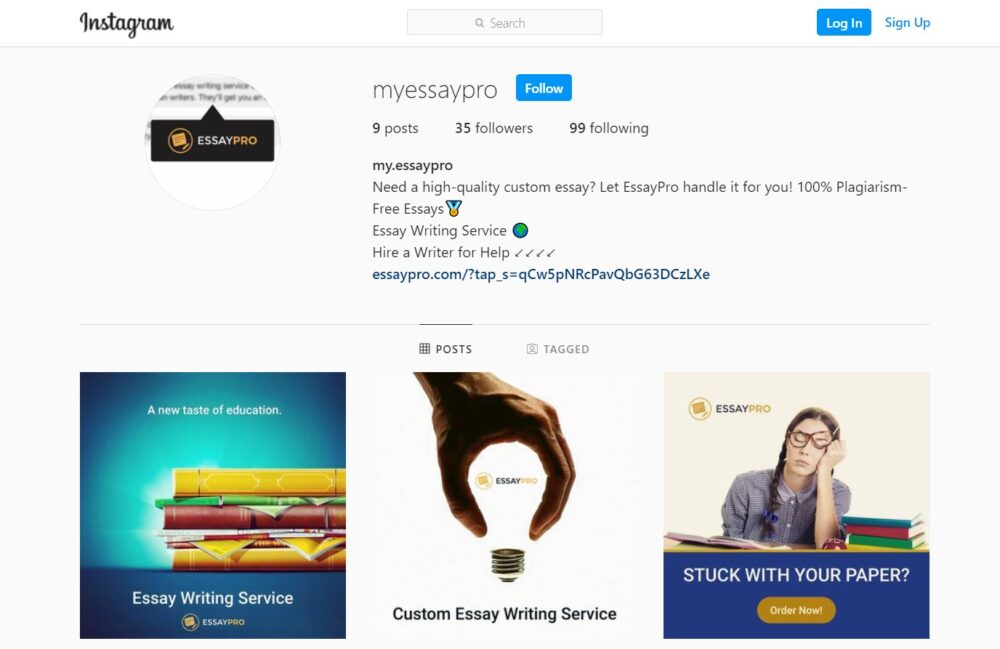 I also tried to find reviews on Reddit because Reddit forums don't pull punches. Unfortunately, EssayPro doesn't have a community on the platform.
Final verdict on EssayPro
To sum up this EssayPro review and somehow justify my decision making process, I will say that I chose this service at random to meet my deadline. But on any other day, I wouldn't recommend their services to anybody. Is Essaypro Legal? Yes, they do everything above board. Does Essaypro work as a fully-functional service? Not really. They are like a chair without one leg: basic internal processes are set, but one essential element is missing: excellent quality paired with timely delivery and care for customers.    
Overall, if you are still on the fence about EssayPro, you don't need to take my word for it. Read an independent EssayPro review, or better a dozen of them, and see for yourself.