Essay Bot positions itself as an AI-based technology for creating original papers within a short period of time. In fact, it looks better than it is. The content produced by Essay Bot is the most questionable aspect of the service. Being a rephrased medley of articles taken from other online sources, it won't be able to pass a plagiarism check. After spending some time on EssayBot.com, you realize that it has been developed as a fun technology rather than a serious tool for educational purposes. Having no human writers, it just guides you through the writing process and does not produce unique content for you. Essay Bot reviews will give you the insight into what to expect from this AI tool.
Design and Interface of Essay Bot's Website
The design of the EssayBot website is easy to navigate, as there are not many things you can click on. At the same time, you may find yourself lost without knowing where to go and what to do next. Unfortunately, the website doesn't have any people involved. Let's say, if you have a problem there and want to report it to an editor or customer support representative, you won't be able to do so. The use of the EssayBot homepage is based on more automatic processes.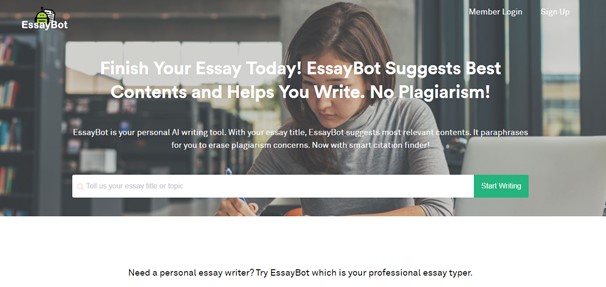 The main feature of this online tool is a bot located in the middle of the homepage. As soon as you enter your topic, the system will generate the related information to the screen, so you can proceed with writing. It then rewrites the paragraph to make it undetectable for plagiarism checking software. You keep doing the same thing for the remaining paragraphs, or can just start writing yourself. The bot will offer you the possible final sentence, also taken from other online sources.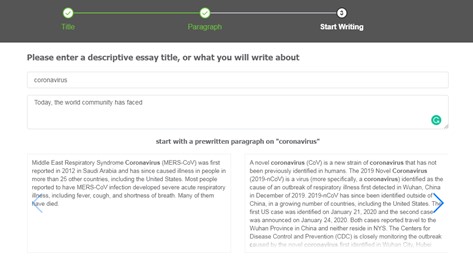 Once your paper is completed, you can download it. Actually, you will be able to download it if you pay for a subscription first.
Writers and Quality of Work Execution
According to the EssayBot rating on the Internet, the quality of work is the most significant aspect to consider. Can this online tool actually deliver quality content? When it comes to the qualitative aspect, things are quite hit and miss. The offered text is hardly readable grammar and structure-wise. This is because the AI bot just extracts data from Google and then paraphrases it. With this approach, you cannot hope for any positive grade. And if you spend hours editing, it goes against the concept of the given service, which is to help you with your academic routine. As long as there are no live writers, there is literally no one to blame for poor quality. Apart from the main services, you can pay attention to free article samples, which might provide you with some mind-boggling power. A completely free essay aims to serve as an inspiration for you while you are writing an academic paper yourself. Before you start using this source of inspiration, you should take much effort to find a suitable topic. Considering the chaotic organization of content, it is not an easy job to do.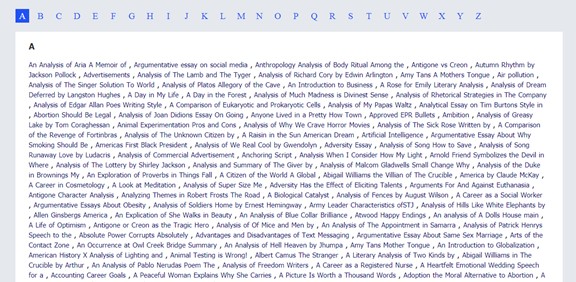 The quality of each article sample is another topic for discussion. Even if it is written well, its authenticity will be very doubtful. So, you should be careful if you try to borrow some ideas from it.
Types of services Offered by Essay Bot
The main reason for using EssayBot is to provide you a guide on how to lead your narrative, but not to exactly craft an interesting and engaging academic essay for you. Since there are no live writers involved, you will have to adjust the automatically generated text to your needs. So, you will have to enter a topic in Google search, and the EssayBot will do the job for you. At least, that's what they say. Also, you can pick up a particular source so the EssayBot could paraphrase and edit the essay for you. EssayBot will make your paper plagiarism-free, but one of the negative aspects of such assistance may be the fact that the text won't be cohesive and easily readable. By entering the words or sentences in this online tool, you will receive the possible introduction for your paper since EssayBot has access to a great database, so your paper will have accurate and trustworthy sources. In addition, there is a grammar checker and plagiarism tool on the website. But you shouldn't wait for the plagiarism-software's proper functioning. The grammar checker is more or less fine, but it will not provide you with a 100% accurate result. There is also an option to download a Word file on the website. These are the basic services offered by the EssayBot website and you might not need something extra using this application.
Best Alternative:
HandMadeWriting

Visit site
Payment Methods Offered by Essay Bot
If you make up your mind to join EssayBot, even despite all the negative reviews and warnings, you should be ready to pay for a membership. There are two available payment options you can choose from: PayPal and Stripe. Even if you don't have a PayPal account, you will still have to register on this online payment platform if you want to make a safe payment. This may turn out to be a problem for you if you have lived without PayPal for all those years. But don't forget that PayPal is one of the best payment methods these days. Alternatively, you can use one of the most popular payment methods, such as Visa, Master Card, American Express, and Discover. Hopefully, they will introduce more payment methods in the future, because not every potential user has a PayPal account or Stripe. Meanwhile, the system asks you to add your valid payment data when you sign in.
Essay Bot's Price Policies
While the efficiency of EssayBot is very doubtful, it doesn't mean that it offers services for free. Compared to essay writing services, EssayBot offers a monthly subscription. Once you subscribe to the website, you will be given unlimited access to their content at a particular price. But even an official registration doesn't guarantee a smooth user's experience. The additional problems pop up due to the fact that they do not provide their users with detailed guidelines. There are two types of subscription, each of which is billed annually. EssayBot gives first-time users one week of free use. After that, you will have to pay $49 for the first month and then $99 for each following month. This is pretty much, especially for students who have just pocket money. In other words, EssayBot prices happen to be high as for something that doesn't work properly. After all, this is not a place where you pay for an academic essay and get high-quality content. Also, it will take much time and energy to find the clear pricing list on the website.
Delivery Time and Deadlines Offered by Essay Bot
The only thing about EssayBot that you might appreciate is time. The program is simple enough to provide you with fast results. In fact, there is literally no actual service they provide you with, except for giving you access to the online tool. Consequently, you can't pick up a deadline or quality option. After all, you're the one who has to create the essay. The tool only aims to make this process easier for you. The use of Essay Bot is all about how quickly you write your paper and how much the tool can help. When the bot offers you the possible text, you can use it or write your own work. All these actions determine the time frames within which your essay can be completed.
Revision and Refund Policies Established by Essay Bot
Since the content from Essay Bot is automatically generated by an AI bot, you can hardly expect any refund from them. As long as you subscribe for a whole month and not on a particular essay, a refund cannot be issued. If you are not happy with their services, you can just cancel your subscription. If your account is terminated, you can keep using the website up until the end of the subscription period for which you have paid. According to the terms and conditions stated on the EssayBot homepage, you are not eligible to receive any refund upon the termination of your account. Also, revision is not available. Even if you apply for it, you will get the same paper. It doesn't make any sense to ask them for revision. Instead, you can try to correct and modify the content to address your needs.
Essay Bot's Customer Support
When it comes to academic routine, it's crucial you pick up a service that can contact you if you need them. In case of EssayBot, this might be easier said than done. On the contact page, you'll see a map with the physical offices located in the US and China. The only contact option for online users is an email address.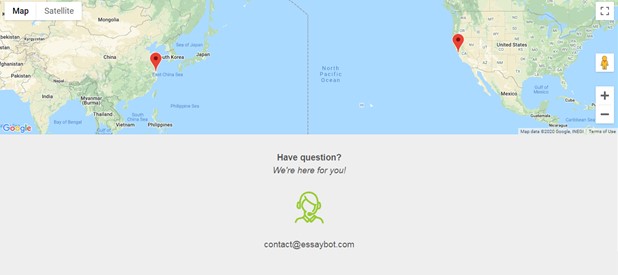 There's no live chat, no phone number, and no social media links, meaning that you have almost no option to reach them. Also, there is no mention of customer support that must be present in such online services. Eventually, it will be hard for customers to get answers to their questions on this website.
Essay Bot's Pros and Cons
Is Essaybot reliable? Yes, it is. Is Essay Bot effective? No, it isn't. The strong and weak sides of this online resource are determined by your academic needs and personal expectations. Below are some of the major pros and cons of the services you should know about:
Pros
It has no competitors on the market.

It takes very little time to get your essay completed.
Cons
No live writer involved in the writing process.

Limited contact options.

Students should subscribe monthly.

The bot misses some plagiarized parts of the texts.

Low-quality content.
FAQ
What is Essay Bot?
Essay Bot is an AI-based technology for creating original papers within a short period of time. In fact, it doesn't produce unique content, but guides you throughout the academic essay writing process.
Is EssayBot legit?
Essay Bot is totally legit. The company operates according to the terms and conditions stated on the official homepage.
How much does Essay Bot cost?
There are two types of subscription, each of which is billed annually. EssayBot gives first time users one week of free use. After that, you will have to pay $49 for the first month and then $99 for each following month.
Is EssayBot scam?
Essay Bot might not be the most reliable tool, but it is definitely not a scam. Its online operations are registered according to the US law. Even if they charge you for something, you are being explained where it comes from.
Is Essay Bot safe?
If you use this AI tool for some simple tasks, it is totally safe. When it comes to serious academic assignments, you should give up on using this tool due to a risk of plagiarism.
Is Essay Bot plagiarism-free?
Essay Bot does not offer unique content that is written from scratch. It uses Google content that is paraphrased by AI. Thus, it is highly not recommended to rely on the quality of the provided texts.
Are there Essay Bot discounts?
You can use EssayBot services only if you are subscribed to them. But one month of use is quite an expensive thing that doesn't always fit your budget. Sadly, EssayBot does not offer any discounts. The maximum benefit you can get from them is a free trial period.
Is Essay Bot legal?
Yes, it is. Essay Bot operates within the established legal frameworks.
Is EssayBot fake?
No, it is not. In general, the eligibility of Essay Bot depends on how you use it. If you use their content as your own, you will be under the risk of being caught with plagiarism. If you use their content as a guideline for writing your own paper, there is nothing illegal about that.