Studying has never been easy for any student in the world. Academic writing has been known as one of the most complicated tasks during high school, college, and university years. It requires lots of time, effort, and attention to complete an essay. That is why lots of students address online educational services to get help on academic writing. In this article, we are going to review AceMyHomework – one of the online writing companies. There is literally no information about AceMyHomework on its official website. However, you can find info on domain history services. AceMyHomework website started in 2017. But is AceMyHomework legit? Let us find out in our review.
AceMyHomework Website Design
Unlike many writing services, AceMyHomework has an incredibly poorly-made design. You cannot find any useful info on the website. You cannot find out anything about the company. There is a brief service explanation only. The site does not feature any kind of price calculator or something that will help you understand what to expect from AceMyHomework too. The website template looks empty and raw. Fortunately, you can create an account here. To set up an account, you should take these steps:
Press either the

Get Help Now

or

Register

button.

A registration menu appears. This menu is the first sign that questions the quality of the service. Many customers use Google and Facebook sign-up since it is fast and straightforward. It does not take too much time. AceMyHomework, on the contrary, cannot provide this option. You should fill the email address, indicate a username, and make up a password. Apart from that, you cannot fill in a username that is more than 8 characters long. After filling out the form, press Register.

Now you get to your dashboard. There is a project section on the left. There, you can monitor your essays, see what is in process, what is done, what requires editing, etc.

There is a tutor chat available below. However, you have to guess what this chat is in the first place since you might think it is customer support-related. There are some people you can chat with, and they speak of themselves as tutors.
AceMyHomework Tutors and Essays Quality
The website does not present relevant information about its writers. There is no extensive info on the company's hiring process either. That is why you cannot be sure of AceMyHomework writers. Lots of scammy online writing websites hire tons of ELS freelances from third-world countries. These people deliver poor quality assignments most of the time. There is no guarantee of meeting an experienced, educated, native English writer on the AceMyHomework website.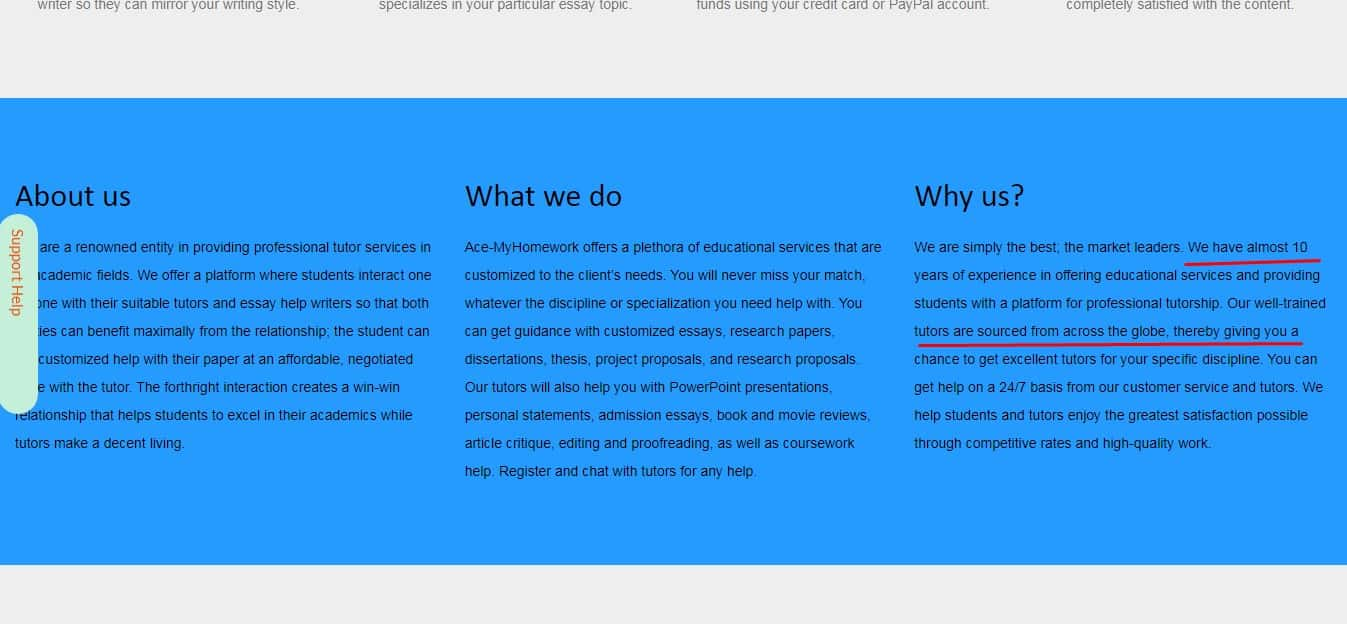 The company states it hires writers from all over the globe. It means you will meet ESL authors most of the time. Also, here you can see that AceMyHomework speaks of its 10-year old experience. However, as we mentioned before, the domain name appeared in 2017. AceMyHomework states you can get help on your specific discipline because the company's authors reside all across the globe. How does the person's country of origin correlate with his or her expertise in a particular discipline? It is unclear.  You cannot browse the writer's profiles before publishing an order. A nickname, rating, and generic reviews are the only accessible information about a particular author after you place a project. 
Best Alternative:
HandMadeWriting

Visit site
Application Process
You can become a tutor on the website. How? Many writing services implement timed tests and sample essays for their applications. AceMyHomework does not. There is no application process. To become a tutor, you need to proceed to your profile and select the Become a Tutor option. And that's it. You will get dozens of bids from students. Is AceMyHomework fake when it claims to hire professionals? Yes, it is. Anyone can start writing essays on this website.
Service Quality Testimonials
You can find several AceMyHomework reviews on the official website.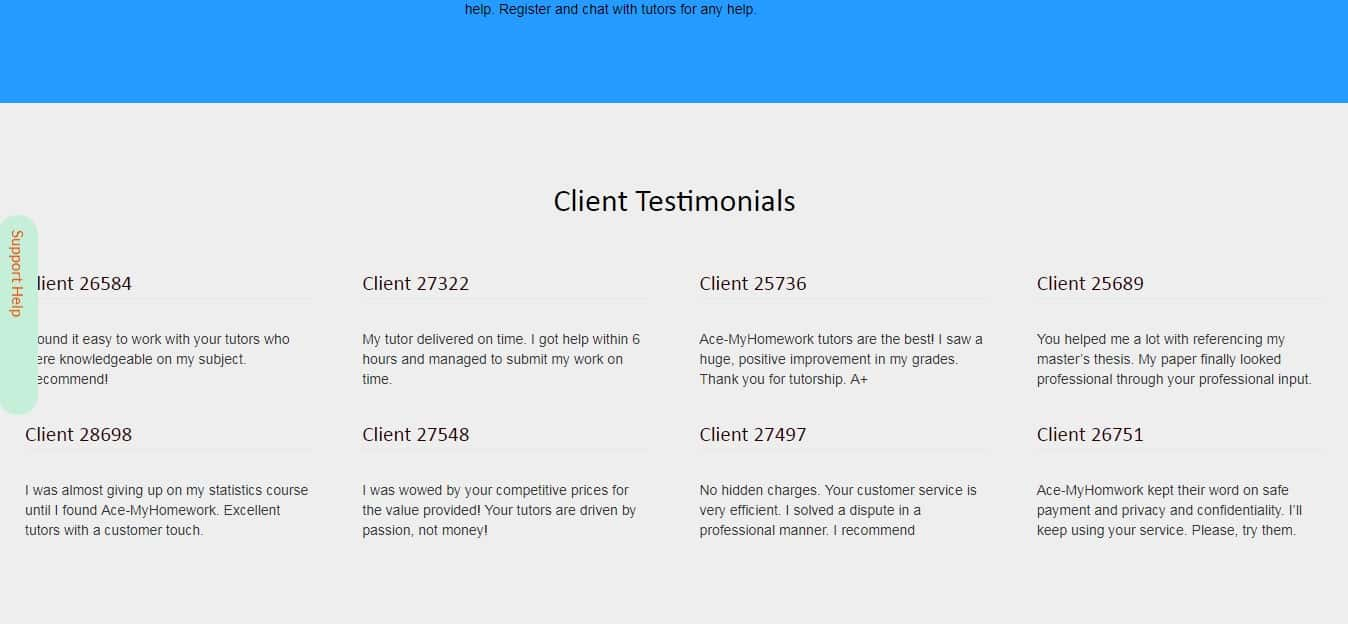 You can see that there are neither review profiles nor publication dates. There is no link to a review platform either. Are these real reviews? Since it is nothing more than a piece of textual information without any source link, the company may include it for promotional purposes. Even if these testimonials are real, you cannot be sure they are relevant since any person registering an account on AceMyHomework has to include a nickname while the reviewers' identifications are generated. On other review platforms, the AceMyHomework rating is never a 5-star one. When it comes to paper quality, AceMyHomework writers cannot deliver satisfactory work most of the time. The essays look generic and contain both grammar and spelling mistakes. The papers can contain plagiarism as well. All in all, the quality is below average. You will have to ask for corrections and alterations or edit your paper on your own.
AceMyHomework Services
The site states you can order the following types of academic writing:
AceMyHomework, therefore, offers an extensive range of writing services. More than that, you can use editing and proofreading services on the website. The company has an advantage over other online writing companies in terms of citation since it offers more options. You can use the following formats:
APA

ASA

MLA

IEEE

Harvard

Chicago

Oxford

Vancouver

OSCOLA

Turabian
The website categorizes assignments as of college, undergraduate, Master's, postgraduate, and Ph.D. levels. There are additional paid services that include:
A Grammarly report. This application is indispensable when it comes to crafting essays. It checks grammar, spelling, style, and originality of your writing.

Plagiarism report.

Guaranteed deadline. Does it mean you should pay an additional charge for the on-time delivery? It turns out that you have to.

Copy of sources.

Top writer. It is weird since you cannot evaluate the authors. How can you feel the difference between the writers? Other services include explanations, at least.

High Priority Project. It makes your order sponsored so that more writers can see it.

How It Works
There is a bidding system on the AceMyHomework website. The main downside of this system is that you cannot predict what money you will spend on the assignment. Once you place an order, it appears in the task pool of the writers' website. They reply to your order and set their price. That is why there is no predetermined fixed cost for your paper. Some writers ask more and some less. It makes it complicated to choose the best writer. The system forces you to select the cheapest one since there is no actual difference in writer profiles. To get essay help, you need to publish an order. You can do it by taking these steps:
Enter your account and proceed to the

Post Project

section.

You will get to the essay project menu. Here, you need to fill out multiple forms, including your essay theme, type of assignment, page count, deadline, citation format, etc. There is an exclusive option that allows you to select the language style too. You can choose from Australian, American, British, and Irish English.

Make sure you fill in your instructions. It is crucial to include all possible requirements. If your professor gives you a document with instructions, you can upload it within the project form.

Post a project and wait for the author to bid.
It can take some time for the bid to appear. If it is an urgent project, you will get in trouble. You will have to wait for a long time for someone to reply to your inquiry. Sometimes it can take half an hour, several hours, and even longer. If you try to contact the tutors, you will not get any response as well. This option does not make any sense. AceMyHomework gives the impression of an incredibly unprofessional service. 
Banking Options at AceMyHomework
The service gives you standard options for making transactions. You can make financial operations via PayPal, debit, and credit cards. 

 Is AceMyHomework reliable in this regard? On the terms and conditions page, the company states that it does not warrant the safety of your information. That is why, while using this service, you can put personal and financial information in danger. More than that, the website does not feature any kind of digital security certificate. You can find lots of other services that ensure a safe digital environment. They can prove it by featuring digital security certificates. A certified website meets digital security standards. AceMyHomework does not display any safety label, which questions its reliability.
AceMyHomework Pricing Policy
Since this service applies a bidding system, there are no predetermined prices for academic writing. The costs depend on many factors, such as:
Deadline. The shorter the period, the more you need to pay.

The number of pages.

The number of additional services. The more services you want to include, the higher the total price.
However, while publishing your order, you can select an acceptable price range for your project. The prices start at $16.66 per page within 7 days. 

 If you include additional services, you will have to pay a lot more. You can see the costs below.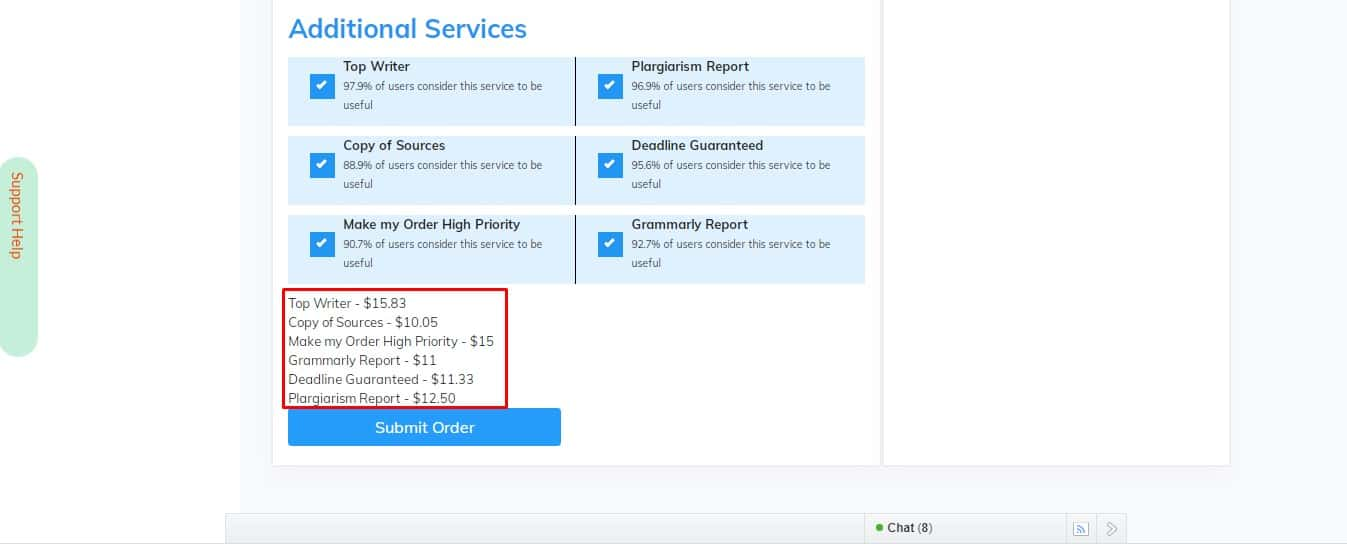 Let us count the price of an average paper, assuming you need exceptional service. $16.66+75.71 (all additional features included) equals $92.37 per page (275 words). It is a very high price. And considering that the average essay is 1,500-2,000 words long, it will cost you from $503 to $671. What about dissertations? This type of work is about 100-200 pages long. Let us assume something in between, such as 150 pages. It is 41,250 words. And it will start at $2,490. If you expect a good-quality dissertation delivered on time with cited sources and a plagiarism report, you will have to pay as much as $13,855. As you see, AceMyHomework prices are unbearable. More than that, the writers' bids usually start at $20 per page for a 7-day deadline.
Can You Expect Papers on Time?
Since you have to pay an additional charge for timely delivery, you cannot expect the on-time papers by default. And it is indeed true. We have found AceMyHomework reviews, occasionally mentioning deadline failures. Anyway, the company cannot ensure consistency in this regard.That is why once you try to use this service, make sure you have plenty of time in case of any possible delays and revisions.
Revisions and Refunds at AceMyHomework
Is AceMyHomework legit in this regard? You can receive up to 50% of the paper price if your tutor submits an assignment. You can also get a 100% money-back in case no task is delivered. You have to provide proof for your refund request to be able to get compensated. However, you should clarify these details. The company does not provide refund policy statements. There are no pre-written money-back sections for the clients. Money-back terms are crucial information that should be clarified 100% on the terms of use page. Since you cannot find any official refund regulations, you will not likely receive any compensation at all. The company can interpret the money-back policy at its own discretion. There is no warranty for getting satisfactory service as well. At AceMyHomework, you can request unlimited corrections for free if they correspond to your initial paper instructions. If you require any additional alterations, you have to pay a certain amount determined by a particular writer.
Customer Service at AceMyHomework
Customer support is one of the service's advantages. It works 24/7 and replies instantly. You can reach the support staff via live chat on your account or by email. The staff is friendly and helps manage the orders.
Advantages and Disadvantages of AceMyHomework
Advantages:
Provides an extensive range of services.

Has a friendly and responsive support team.
Disadvantages:
The prices are incredibly high.

The company does not provide any discounts.

The website does not provide any meaningful information concerning the company's services.

Testimonials published on the website are not relevant. 

There is no certified digital security protection system.

The money-back policy is unclear.

You have to wait a couple of hours for the writers' bids to appear.

There is no mobile application.

User Account interface is complicated.
FAQ 
What is AceMyHomework?
AceMyHomework is a digital education assistance company. It can help you handle academic writing procedures.
Is AceMyHomework Legit?
Yes, it is an officially registered business.
How much does AceMyHomework Cost?
The prices depend heavily on the authors' bids. You can expect to pay from $50 per three pages.
Is AceMyHomework Scam?
There have not been scam reports relating to AceMyHomework.
Is AceMyHomework Safe?
It is not safe for transactions. It does not present proof of meeting digital security standards.
Is AceMyHomework Plagiarism-free?
No, it is not. You have a risk of getting a paper with plagiarism.
Are there AceMyHomework Discounts?
Unfortunately, this service does not provide discounts.