For How Long Should You Wait to Get Your Resume?
'Can I specify a deadline for my resume?' you may ask. No, you can't do so at TopResume, while nearly every writing service on the web allows you to select an appropriate due date. There is no specific information about deadlines (except for FAQs) on the website either. 
Then, perhaps, you will get a resume in a week, which is only about two pages long on average. Hence, this task shouldn't take too much time. Unfortunately, it still takes a lot of time for TopResume writers.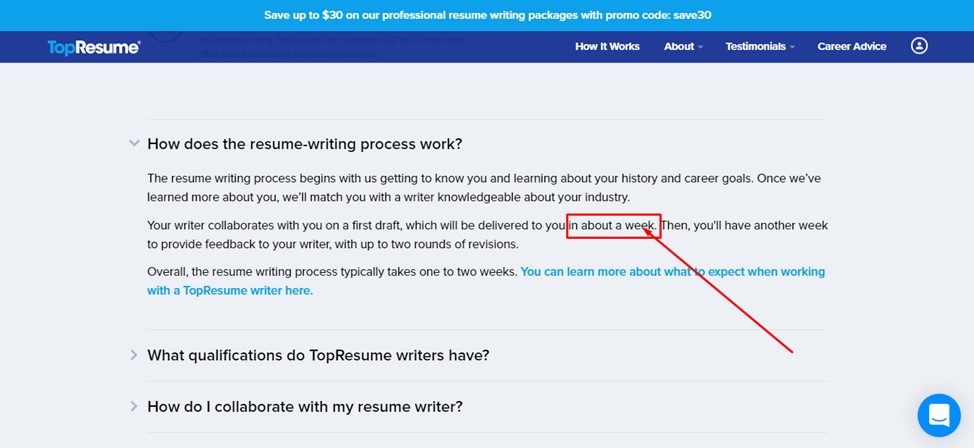 So, the company charges $150 for a basic resume and doesn't even bother informing you about specific deadlines. It's nonsense. But what about TopResume reviews on order delivery? Does TopResume follow vague time frames?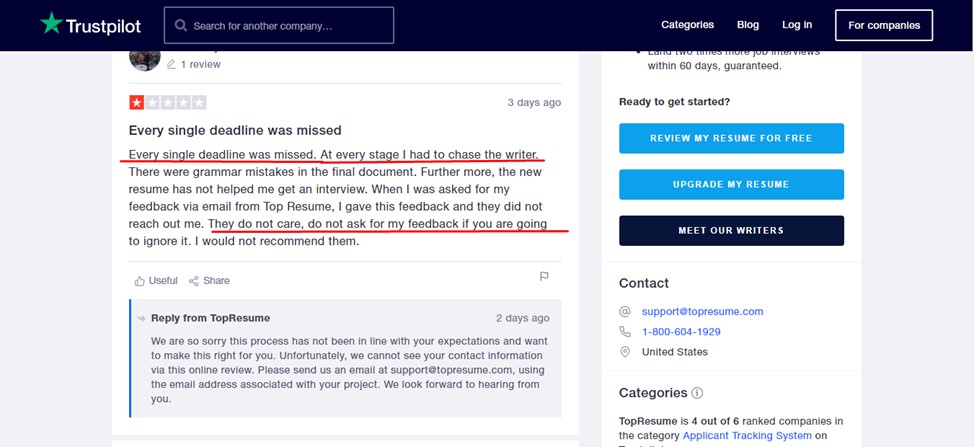 One user said they had to chase the writer who missed all deadlines. So it looks like TopResume writers don't follow the assigned time frames.
Can You Request Revisions and Refunds at TopResume?
At TopResume, you can ask for up to two revision rounds. However, the terms and conditions page states that the writer will do as many revisions as you need. Therefore, the company can't deliver consistent information about its services. This means you will order a resume without any revision guarantees.
To make things worse, TopResume doesn't provide any refunds. All purchases are final. So once you pay $150-350 for a resume, consider that your money is gone forever. It's like gambling: you invest money in something with uncertain results without any considerable chance of getting profit.
On the other side, the best writing services provide their customers with refunds under reasonable refund policies, considering unexpected scenarios. For example, trustworthy writing companies return money to their customers if their work is delayed, contains errors, doesn't match initial requirements, etc.
How can you call TopResume a trustworthy company if it doesn't consider customer satisfaction?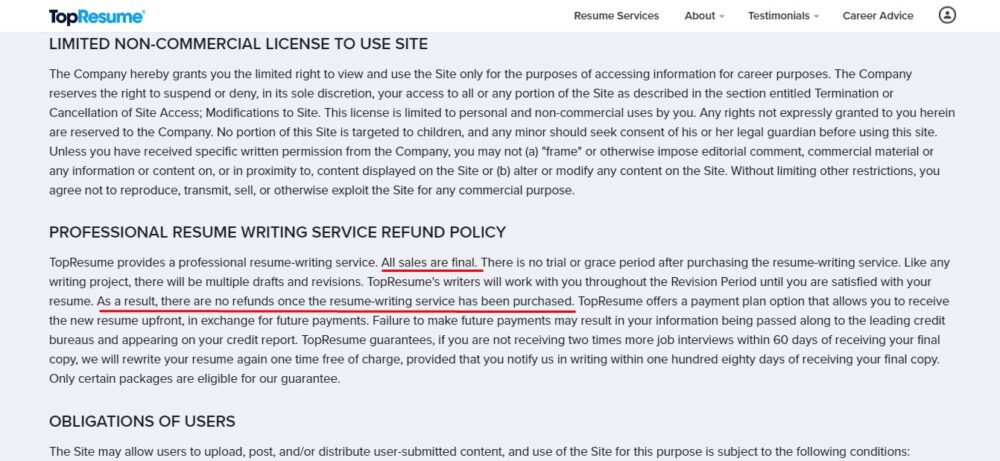 The "Two Times More Interviews" Guarantee
TopResume guarantees that your resume will attract two times more employers. However, it's no more than a weak manipulation that aims to make you feel secure while you're not. The hiring process involves plenty of factors, with the employer's vision being the primary one. Plus, most HRs may never read your resume because they receive thousands of similar emails every day. In most cases, they close job positions before they read all submitted resumes.
It's called a resume black hole. Consequently, a rewritten resume can't magically attract two times more employers. A reputable company mustn't provide such uncertain guarantees. Instead, they must ensure high quality and on-time delivery. If you pay money but don't get a brilliant resume on time, you must be compensated. In other words, a TopResume's "two times more interviews" guarantee has nothing to do with safety and credibility.
Customer Support Quality at TopResume
Customer support is another flaw of TopResume. It meets industry standards regarding communication channel diversity, featuring live chat, email, and phone. But the customer support department works only on weekdays from 9 AM to 7 PM. Therefore, you can't ask for urgent help.
Well, maybe the TopResume customer support team is super-friendly and reliable then. Unfortunately, it's not. Assuming all reviews complaining about TopResume's customer support ignoring people, you can't hope for meaningful assistance. The company's fraudulent nature reflects the way its customer support treats you.