Evaluating TopResume Website Design and Usability
What's the first impression the TopResume website makes? First and foremost, it's well-made in terms of navigation. The website sections are located in the header, while the miscellaneous information is placed within the footer. So, the TopResume site meets all website building standards.
Nonetheless, usability requires many improvements. First, the homepage lacks basic information. What benefits does TopResume bring to a customer? How much does a resume cost? You will not find this information on the homepage, which is a significant flaw. Practically every job seeker would want to check resume prices in the first place while addressing such service.
Secondly, TopResume fails to provide a customer with a convenient way to order a resume. There is no "get resume" button to activate an order menu neither on the homepage nor in the login/registration sections. To order a resume, you need to navigate the Resume Writing Service section and buy a package there, which is inconvenient. This requires you to perform too many actions.
Another thing TopResume may surprise you with is that it doesn't feature the order menu. It means you can't specify your resume requirements, like word count, format, style, etc. All you can do is just select a package with a vague explanation. In other words, you will buy a pig in a poke.
Will TopResume Writers Make Your Resume Shine with Brilliance?
You won't find enough details about TopResume writers or interact with them on the website. Thus, after getting to the Our Writers section, you will notice that this page lacks information about TopResume experts in the first place. It only describes some editorial members and displays a short profile of a single writer.
Also, you can watch a short commercial that tells you about the company values but mentions nothing about its writers' English skills, qualifications, and experience.
You will want to get familiar with the people you will be working with. Yet, TopResume fails to provide its customers with such information.
Best Alternative:
HandMadeWriting

Visit site
What About Resumes' Quality? 
How helpful are TopResume services, and what do the customers think of this company? Something weird happens with TopResume reviews on Trustpilot. It seems that all excellent reviews have the "invited" sign, meaning TopResume invited people to write positive reviews. Furthermore, you will notice that all excellent reviews are labeled like this and written at once. It means TopResume boosts its reputation with fake reviews.
Meanwhile, other customers claimed that TopResume writers had no clue about the difference between "project completing" and "project management." Will you want to hire a writer that confuses such notions? It speaks of TopResume writers' incompetence and unacceptable quality of resumes.
If you visit Quora, you won't find a single positive TopResume review there either. Every popular and influential review platform on the web complains about TopResume in general and the awful quality of its resumes in particular. The company's reputation is unrecoverable at large.
The Range of TopResume Writing Services
TopResume focuses on resumes only. You can't order a CV or purchase a cover letter separately on the site. Overall, the platform features several resume writing services:
Free Resume Critique
If you hesitate to purchase resume packages, you can try a free Resume Critique feature. You can upload your current resume and get a reply from a professional within a day.
They will evaluate your resume and tell you whether it's of sufficient quality and what improvements you can make. This feature sounds helpful but bears no real value in practice.
Why so? It's because Free Resume Critique is a scam. In reality, no professional writer will evaluate your resume. Instead, some robot will scan your document and send you a report telling you that your resume "lacks keywords" and is "visually uneven." Worse yet, you will get the same critique on ANY resume you send.
One user has shared their experience with TopResume on Reddit. You can check the entire piece on Reddit. So, some user sent their resume for a free check. Afterward, they purchased the most expensive package hoping for a brilliant resume that would get them hired.
After receiving a piece of questionable quality, the user sent it for another check and received a reply that copied their original resume evaluation report word-for-word. So, the reviewer's original resume and "professionally made" one both appeared "visually uneven."
We also checked a well-structured, keyword-optimized writer resume containing a complete set of skills and perfectly tailored to a job position. As we expected, this piece also appeared to be "visually uneven" and "lacking keywords" according to TopResume. 
Apparently, the TopResume robot derives some lines from your document and inserts them into prewritten scripts, while the company claims that their experts always carefully read and analyze resumes.
Therefore, Free Resume Critique is 100% opposite to what the company claims about this feature.
Resume Rewriting
It's worth mentioning that TopResume doesn't write original resumes from scratch but edits your existing resume, making it sound "captivating and professional." You can get your resume redone under several packages:
Professional Growth.

This option includes rewriting, formatting, and keyword optimization.

Career Evolution.

You will receive a cover letter in this package.

Executive Priority.

You will get your LinkedIn profile rewritten and adjusted to your resume.
Blog Articles
TopResume features a pack of helpful articles accessible from the Career Advice section. There, you can read about resume writing specifics, job interview suggestions, branding, and more. In general, you may find the TopResume blog helpful if you want to craft a resume yourself.
Available Payment Methods at TopResume
On the TopResume website, you can pay for your order with credit and debit cards. The service doesn't support e-wallets and other popular payment options though. All you can do is input your card information within the checkout page. What card providers are supported?
You can buy a resume via Visa, MasterCard, Discover, and more. However, TopResume doesn't display the entire list of payment options. Perhaps, you will discover whether your card works while filling out the checkout form.
Are Resume Prices at TopResume Justified?
In short, TopResume is ridiculously expensive. We have no idea why the resume price starts at $149, which is nearly $70 per page. Let's check how much you will pay for the remaining two packages:
Meanwhile, other writing companies offer resume and CV services starting at $10 per page.
Nonetheless, TopResume brings some discounts and alternative options to the table. First, you can get $30 off on your first order, which doesn't make a big difference: prices are unimaginably high anyway.
An installment plan is another option. You can split the resume price within several months and pay in several installments:
Professional Growth at $14 per month.

Career Evolution at $20 per month.

Executive Priority at $32 per month.
Well, this feature speaks of itself: if the company offers loans for resume writing, they need to reconsider their pricing policy.
For How Long Should You Wait to Get Your Resume?
'Can I specify a deadline for my resume?' you may ask. No, you can't do so at TopResume, while nearly every writing service on the web allows you to select an appropriate due date. There is no specific information about deadlines (except for FAQs) on the website either. 
Then, perhaps, you will get a resume in a week, which is only about two pages long on average. Hence, this task shouldn't take too much time. Unfortunately, it still takes a lot of time for TopResume writers.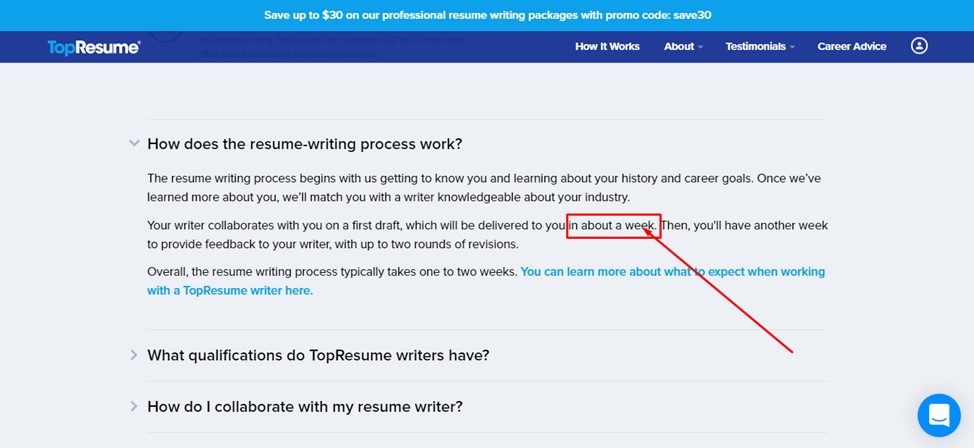 So, the company charges $150 for a basic resume and doesn't even bother informing you about specific deadlines. It's nonsense. But what about TopResume reviews on order delivery? Does TopResume follow vague time frames?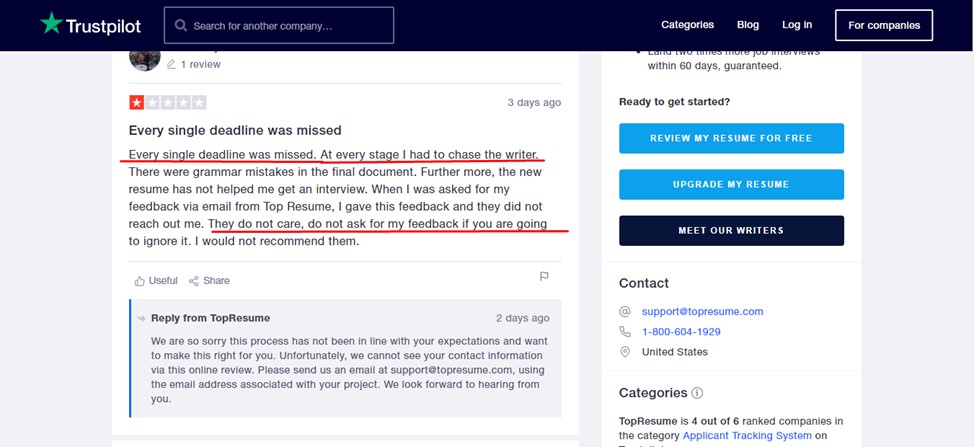 One user said they had to chase the writer who missed all deadlines. So it looks like TopResume writers don't follow the assigned time frames.
Can You Request Revisions and Refunds at TopResume?
At TopResume, you can ask for up to two revision rounds. However, the terms and conditions page states that the writer will do as many revisions as you need. Therefore, the company can't deliver consistent information about its services. This means you will order a resume without any revision guarantees.
To make things worse, TopResume doesn't provide any refunds. All purchases are final. So once you pay $150-350 for a resume, consider that your money is gone forever. It's like gambling: you invest money in something with uncertain results without any considerable chance of getting profit.
On the other side, reliable writing services provide their customers with refunds under reasonable refund policies, considering unexpected scenarios. For example, trustworthy writing companies return money to their customers if their work is delayed, contains errors, doesn't match initial requirements, etc.
How can you call TopResume a trustworthy company if it doesn't consider customer satisfaction?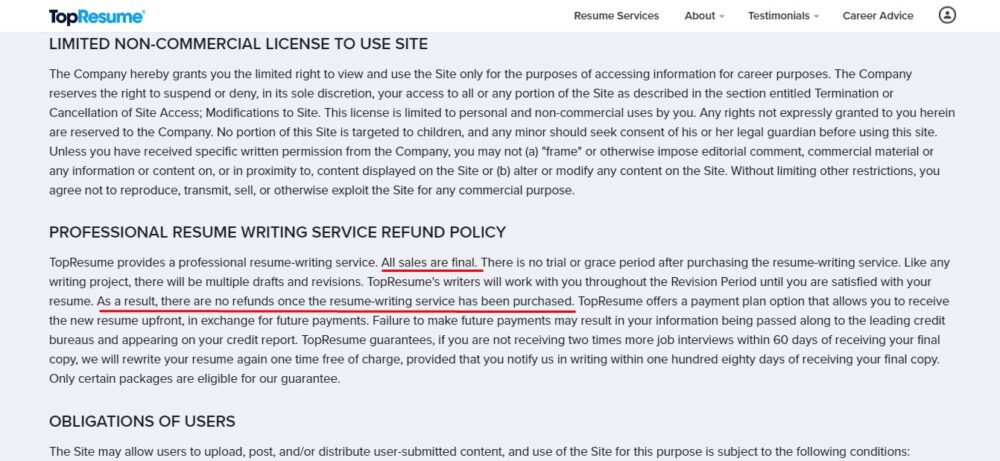 The "Two Times More Interviews" Guarantee
TopResume guarantees that your resume will attract two times more employers. However, it's no more than a weak manipulation that aims to make you feel secure while you're not. The hiring process involves plenty of factors, with the employer's vision being the primary one. Plus, most HRs may never read your resume because they receive thousands of similar emails every day. In most cases, they close job positions before they read all submitted resumes.
It's called a resume black hole. Consequently, a rewritten resume can't magically attract two times more employers. A reputable company mustn't provide such uncertain guarantees. Instead, they must ensure high quality and on-time delivery. If you pay money but don't get a brilliant resume on time, you must be compensated. In other words, a TopResume's "two times more interviews" guarantee has nothing to do with safety and credibility.
Customer Support Quality at TopResume
Customer support is another flaw of TopResume. It meets industry standards regarding communication channel diversity, featuring live chat, email, and phone. But the customer support department works only on weekdays from 9 AM to 7 PM. Therefore, you can't ask for urgent help.
Well, maybe the TopResume customer support team is super-friendly and reliable then. Unfortunately, it's not. Assuming all reviews complaining about TopResume's customer support ignoring people, you can't hope for meaningful assistance. The company's fraudulent nature reflects the way its customer support treats you.
Advantages and Downsides of TopResume
TopResume pros:
TopResume cons:
Wrapping Up Our TopResume Review
TopResume is a fraudulent company you must avoid at all costs. A resume ordered there will cost you an arm and a leg. Furthermore, you will receive a poorly written document. Besides, TopResume won't provide you with a refund if anything wrong happens. So you will pay hundreds of dollars in exchange for uncertain results.
As a result, TopResume shows many scam signs, like fake paid reviews, misleading claims, and blatant lies.
But there is good news for you: you can find another writing service and order a resume that will cost you $20 instead of $150, risk-free.
FAQ
What Is TopResume?
TopResume is a writing service that focuses on resume writing (no CVs) for job hunters.
Is TopResume Legit?
TopResume operates according to the law, primarily because there is no law prohibiting resume writing services. Nonetheless, we don't consider this service legit from a credibility perspective. TopResume delivers low-quality resumes for extremely high prices.
How Much Does TopResume Cost?
You can buy a resume at $150-350 from this service.
Is TopResume a Scam?
TopResume is a scam. The company deceives its customers, buys fake reviews, and charges ten times more money than other writing companies.
Is TopResume Safe?
Ordering a resume at TopResume is a tremendous risk as the company doesn't provide refunds. So if something goes sideways, you will lose your money.
Is TopResume Plagiarism-Free?
The structure and form of a resume don't imply plagiarism checks. Therefore, your resume might contain matching elements if you check it with plagiarism detection software. However, it is going to be original considering your individual skills and abilities.
Are There TopResume Discounts?
TopResume offers a $30 sign-up discount on the $150 resume package.