Checking Payment Methods and Data Safety Features at Academized
Academized accepts all popular payment providers: Visa, MasterCard, Amex, and Discover. But this service doesn't support e-wallets. If your preferred payment option is PayPal, you won't be able to purchase essays at Academized using it.
In general, credit and debit cards make up viable payment options. But the real question is, "will your payment information be kept secure?" Academized claims that it collects and stores personal information and shares it with third parties but for "very specific purposes only." Therefore, this company may sell your information to some advertising companies.
As for digital safety, we have checked the Academized domain using several digital security tools and found nothing that can cause damage to your device. As a result, we can state that the Academized website is secure at the moment of writing this review.
Is Academized Cheap or Overpriced?
Academized introduces a detailed price gradation based on academic levels. Instead of dividing assignment difficulty levels into high school, college, university, master's, and PhD, it offers the following price tiers:
High school

Freshman (the first year)

Sophomore (the second year)

Junior (the third year)

Senior (the fourth year)

Master's

Doctoral
So these Freshman-Senior levels relate to both college and university, which might be beneficial at first sight. However, such price distribution is overcomplicated, and there is no practical reason to distinguish between the first and the fourth year of university or college studies. We also checked all the prices for all academic levels and assignments, so here's the entire pricing scheme:
| | |
| --- | --- |
| Type of Service | Price Range for a 14-Day Deadline |
| Academic Paper Writing | $12.99-$26.99 |
| Rewriting | $9.99-$25.99 |
| Math/Physic/Economic/Statistic Problems | $19.99-$$30.99 |
| Proofreading | $4.99-$18.99 |
| Editing | $5.99-$16.99 |
| Copywriting | $24.99-$33.99 |
| Admission Services | $10.99 (formatting)-$16.99 |
| Dissertation Services | $14.99-$26.99 |
| Resume/CV Services | $39.95-$134.95 |
| Multiple Choice Questions | $3.99-$10.99 |
| Writing Inc. Calculations | $16.99-$30.99 |
As you can see, Academized prices fit into the industry average. However, we can't consider its pricing policy fair and legit since Academized excludes basic features from standard rates and puts them in extras. In other words, you will have to pay an extra price for features that should already be included in the standard $12.99/page rate. It's ridiculous since additional features add 650% to the basic rate. Thus, you will pay $85 instead of $12.99 per page if you aim at the highest quality.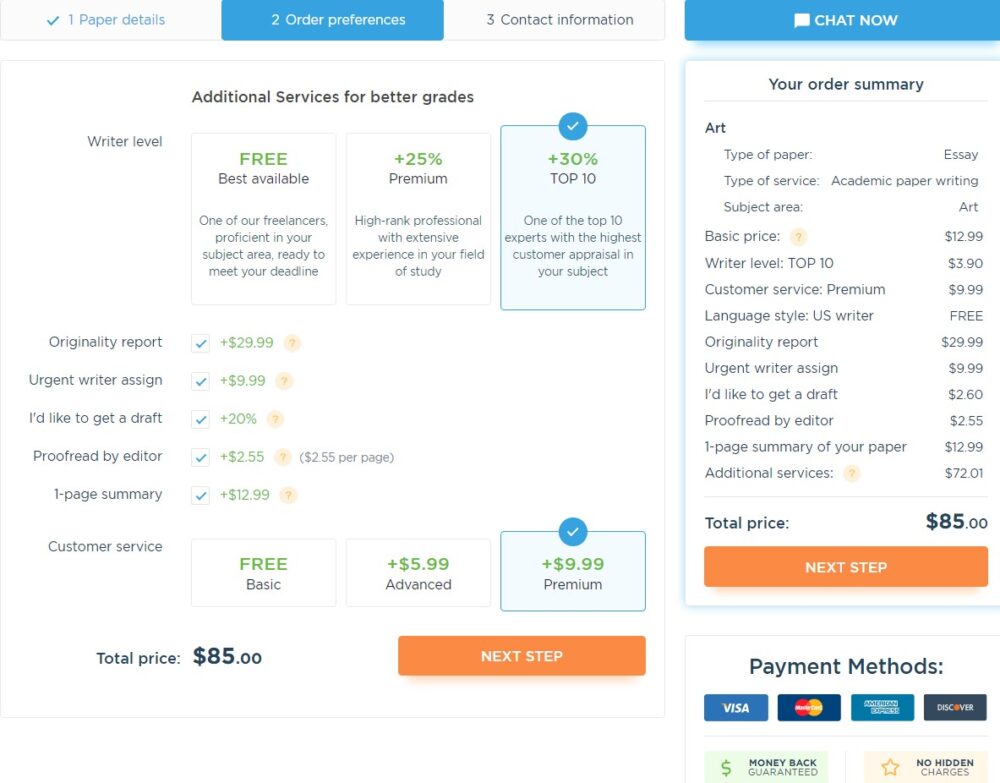 Do Academized Writers Submit Essays On Time?
There is a high chance that Academized writers will be late with your paper. Many former Academized customers complained about delays. Some essays were never delivered at all, despite the extra $9.99 for on-time delivery. It's not legit at all, assuming that urgent tasks cost four times more money than regular ones.

An Overview of Revision and Money-Back Policies at Academized
Academized promises that you will get as many revisions as you need if your work contains any mistakes. The company indeed provides its customers with revisions. But the problem is that you may not get your paper revised on time and thus lose your money and excellent grade. Academized writers tend to submit essays at the last moment or after the deadline, and revisions take too much time. As a result, a mark for a delayed essay will decrease proportionally with each tick of the clock.
As for refunds, you are eligible for them in many instances under the Academized money-back policy. But in reality, you may not get compensation due to Academized's tendency to decline refund requests too.
The company is not liable for bad grades, and you will have a hard time proving that Academized actions lead to the unsatisfactory mark for your essay.
So there is a dim chance that you will ever receive your money back after an awful experience at Academized.
Sharing Our Experience of Communicating with Academized Customer Support Team
The Academized customer support team is flawless regarding responsiveness: you will get an answer within minutes or even seconds. Nevertheless, we would never call this support staff reliable. That's because they don't reply to direct questions of yours, attempting to promote their services aggressively, which will only discourage you from buying essays there.
For example, let's say you try to specify your guarantees, asking something like, "will I get a refund on this specific occasion?" Instead of assertive "Yes, you will" or "Sorry, but you won't," you will get something like this: "we appreciate our customers, and you can rest assured that you will receive 100% the best paper, blah-blah."
Hence, you will never get a sincere answer to critical questions that may determine your final decision at Academized. They know that the truth will give you a reason to search for another company, so they try to deceive you with marketing tricks.