Introduction to AllAssignmentHelp
Being a student might be challenging. You become an independent person, though you have to meet endless academic commitments daily. Hence, most students delegate a part of their home tasks to AllAssignmentHelp professionals. With the higher than average rating in the writing industry, this platform has been gaining hundreds of loyal customers for seven years. Yet, like other newbies to the website, you may have concerns about the papers' quality and security. We have carried out an in-depth research and are going to share how AllAssignmentHelp works from the inside. So if you are stuck with seeking the reliable writing service, our AllAssignmentHelp review will lead you in the right direction.
AllAssignmentHelp Website: Low Responsiveness and Usability
Once you upload the AllAssignmentHelp website, the first thing you will notice is a modern and stylish interface. The main page contains the service rating, benefits, customers' feedback, and recently completed projects. Blue is the primary color of the site. There are references to services, resources, and experts on the top corner. You can also find the contact number and an order form shortcut there. Everything looks discreet and concise until you scroll down the page. At the bottom, there is an excessive volume of irrelevant information. So the website's design does not seem as user-friendly as it looks like initially. You will not find any eye-catching images or videos that draw in your attention there. All areas of the site are overfilled with content, and there is no room to browse it effortlessly.All of that makes the useability quite poor, and it becomes easy to get lost on the AllAssignmentHelp website. Besides, no search function can save time and assist you in finding the information needed. After the website's revision, we cannot claim it has a responsive layout or functional design. There are a lot of items competing with one another and reducing the website's responsiveness. As a user, you would have to do many unnecessary steps to get what you want. 
Should One Rely on AllAssignmentHelp Writers? 
The vital indicator of reliable writing service is a team of qualified experts. Over 2000 writers are working for AllAssignmentHelp and based in English-speaking countries, including the United States, Australia, Canada, and the United Kingdom.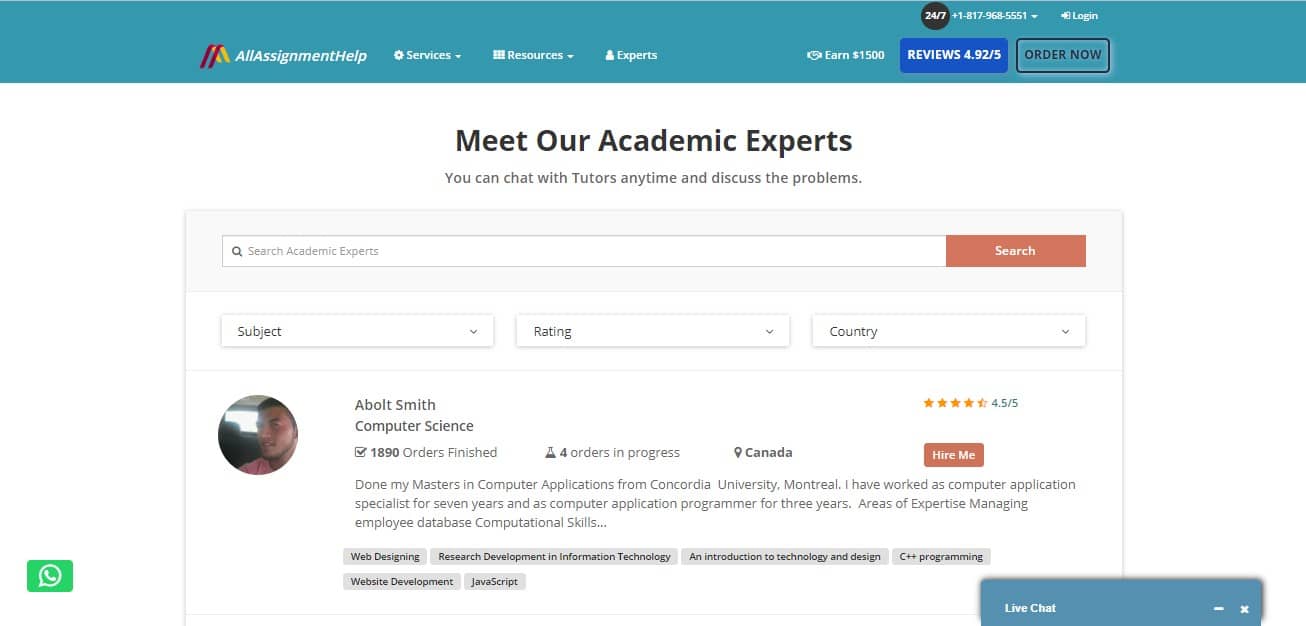 Unlike other writing platforms, you can request any tutor you want from the list available on the official webpage. All of the experts can be sorted by subject, rating, and country. Their profiles contain a general overview, areas of expertise, professional background, and skills. Yet, there are no details about the education and qualifications obtained.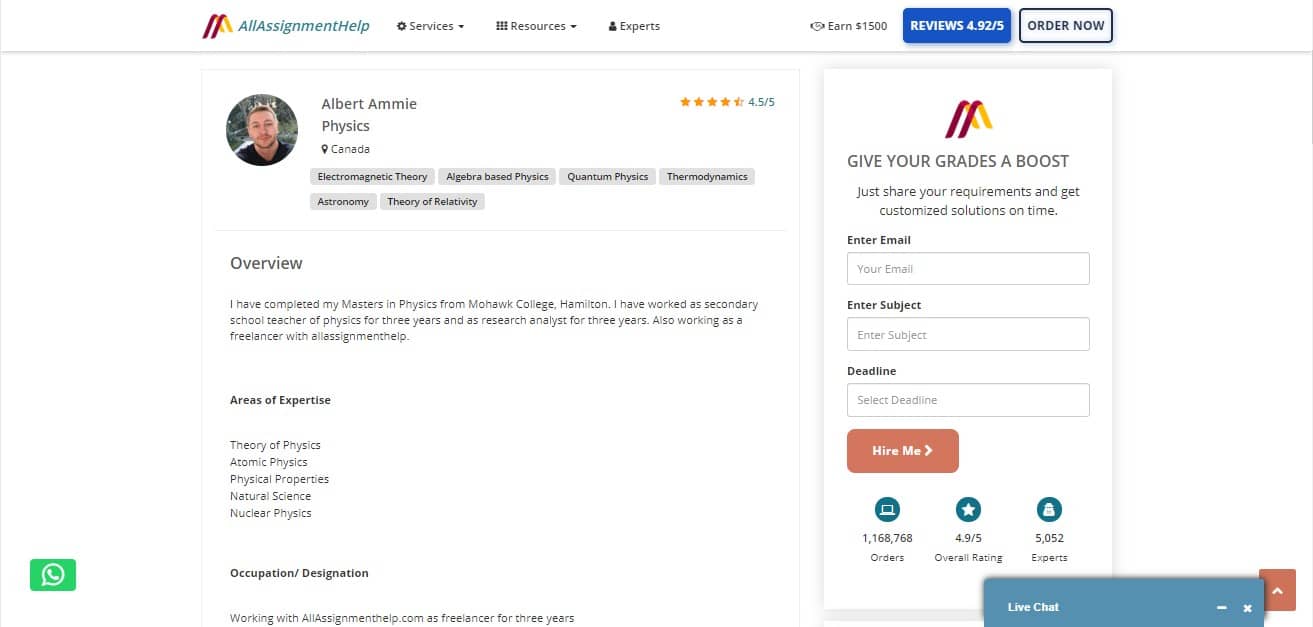 To make our review complete, we have ordered a 5-pages essay on American History. While evaluating the paper quality, our team paid attention to the delivery time, number of mistakes, and matching with all requirements.Although the essay was delivered on time, it was full of structure and grammar errors. The writer also missed the required references. Fortunately, there is a chance to get an assignment reviewed within seven days, which is what we basically did. However, if you are out of time, this option will not work for you. The support ensures the extra editing takes about 2-3 business days, but it may take forever in practice. So ensure you have enough backup time before using AllAssignmentHelp. Since we could not base on a single case while preparing our review, we also checked customers' feedback on third party websites to be entirely objective. Although the AllAssignmentHelp website shows a higher than average rating, it turns out that around 20% of reviewers claim the service is not trustworthy and provides poor quality papers. Here is one of the comments: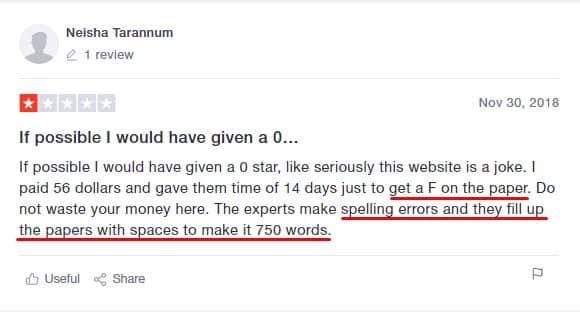 (Source: TrustPilot)
Best Alternative:
HandMadeWriting

Visit site
What Services Does AllAssignmentHelp Offer?
Having a wide variety of academic assignments daily, students seek a universe writing service that can handle them simultaneously. And this is where AllAssignmentHelp comes in. The name of the platform speaks for itself in this regard.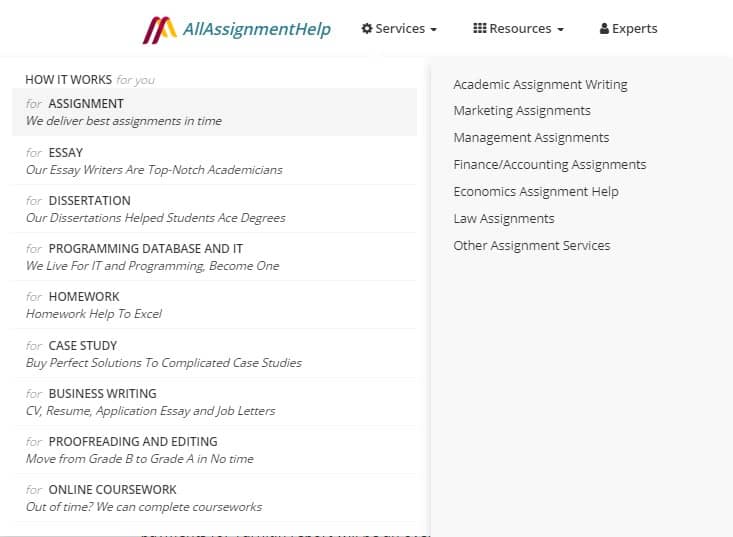 The website offers all kinds of academic help for students. In addition to the essay writing service, you can find the following options there:
Assignment writing
Assignment writing is relatively close to essay one, but it is a more basic service. The AllAssignmentHelp covers a wide variety of subjects, including Finance, Management, and Law.
Dissertation writing 
Students who are out of time for dissertation writing because of a part-time job could delegate this task to the AllAssignmentHelp service. The platform covers both empirical and non-empirical dissertations. 
Programming database and IT 
If Java, PHP, C++, or Python concepts confuse you, the AllAssignmentHelp can cope with your programming homework. The service offers reliable help with different languages, from basic coding to combined IT solutions.
Homework
With a homework option, students can get assistance with their Statistics, Chemistry, Biology, Physics, and other tasks. The website covers Social studies, Science, Foreign languages, and Mathematics studies. 
Business writing 
Except for the essential homework solutions, AllAssignmentHelp can handle different kinds of business writings, including CV, cover letter, application essay, and college admission. 
Proofreading and editing
If you have proficient writing skills, you may still need an expert to proofread your papers. Editing is done to eliminate punctuation, grammar, formatting, and structural mistakes of your content. Whatever your assignment is, you can add proofreading service to the initial order, or take it as a separate one.  
Online coursework
If you have an urgent need to complete your coursework, AllAssignmentHelp claims to cover it overnight. Within this option, you can also get your lab reports and Powerpoint presentation done. 
Tools
Except for human assistance, the service has a few tools, such as plagiarism report, grammar checker, word counts, and reference generator. Yet, the website misleads users by claiming the plagiarism review is free.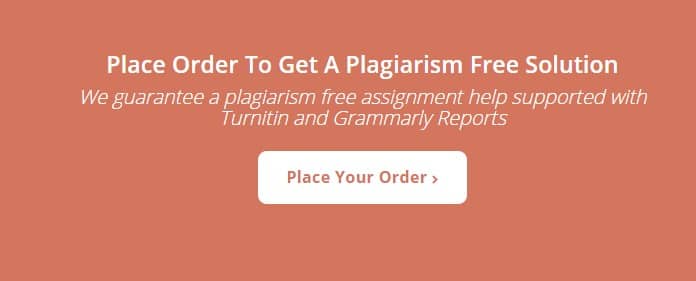 You would have to make an order to get your papers checked for uniqueness. In other words, it works as an extra service only. The rest of the tools are free of charge. 
How to Place an Order on AllAssignmentHelp?
Once you decide to place an order on the AllAssignmentHelp site, you would have to complete a few steps: First, you need to fill in your email address, required deadline, subject, page count, and coupon code if you have one. There is also a place to include any relevant details or attach a draft file. As soon as you provide all details about your assignment, you should get an email with all further information.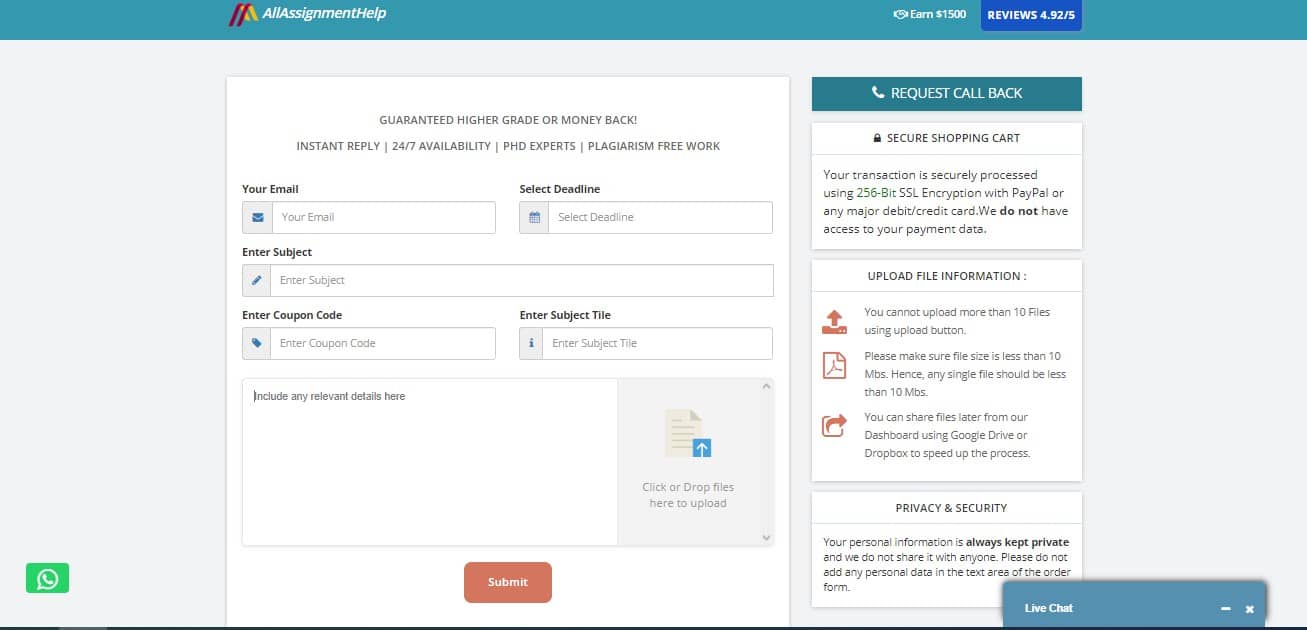 The process is quite long and frustrating. You'll never succeed in placing an order or login to your account unless you receive an email with instructions on how to do that. There are both credit card and PayPal payment methods available on AllAssignmentHelp. They do not own any payment platform and use services from a third-party vendor. The service accepts Visa, MasterCard, Discover, and American Express. 
AllAssignmentHelp Prices 
AllAssignmentHelp prices start at $9 for a page and depend on four factors: service type, writer level, deadline, and page count. There is also a price calculator that you can use on the AllAssignmentHelp site.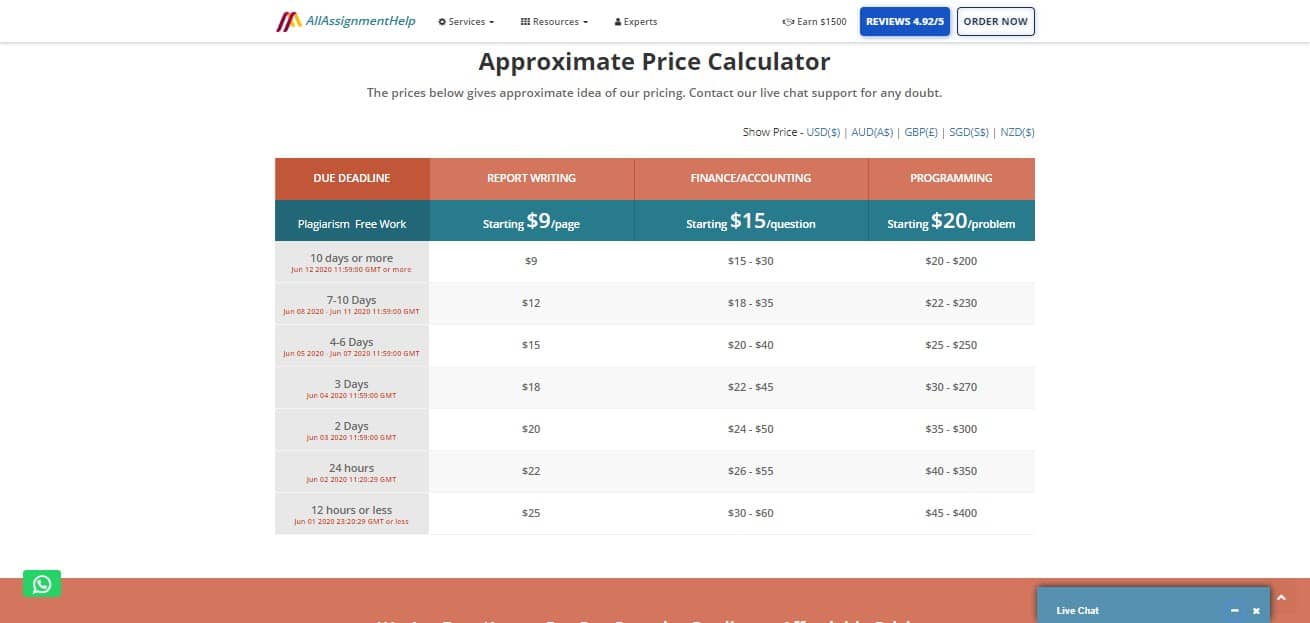 However, it includes only three types of services and does not give a full understanding of the total price. Moreover, there are no details on how the price ranges depending on the writer's level. Another odd thing is that programming assignment help ranges from $45 to $400 due to the 12 hours deadline. With such a vast scope of pricing, there should be an explanation of what the total price will depend on. So keep in mind that there might be a massive gap between the pricing on your order and the pricing table. 
Urgent Papers: Myth or Reality?
When it comes to academic assignments, one of the most common requirements of students is urgency. Due to the lack of time or energy for doing homework, most of them need their papers on time. Otherwise, they risk getting a low grade.AllAssignmentHelp website claims you can receive your assignment in 12 hours or less. But it turns out that it all depends on the list of requirements. Referring to our experience, the earliest time we could receive a 5-pages essay on American History was 20 hours. The essay was delivered on time, though it was full of errors. We also reviewed other customers' feedback and figured out the writers often miss the deadline. Here is one of the recent AllAssignmentHelp reviews.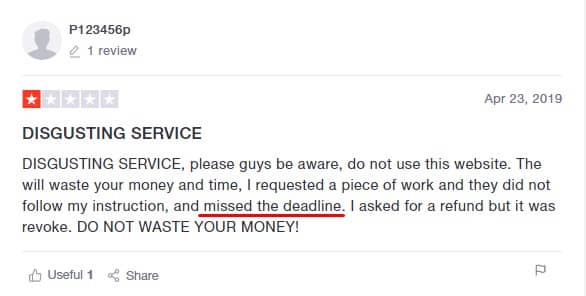 (Source: TrustPilot)
So if you have limited time for submitting your assignment, we would not recommend you to get help on the AllAssignmentHelp site. Ensure you have extra time or look further for a reliable writing service.
AllAssignmentHelp Warranties
Decent warranties are one more feature that makes writing service a reliable one. Except for meeting your requirements, you want a platform to have a solid reputation and provide worthwhile guarantees. 
High-quality papers
All of the content written by AllAssignmentHelp specialists is double-checked by a quality control team to ensure it meets their standards. However, there are no further details of what those standards are. Besides, most users claim the AllAssignmentHelp service provides low-quality assignments full of mistakes.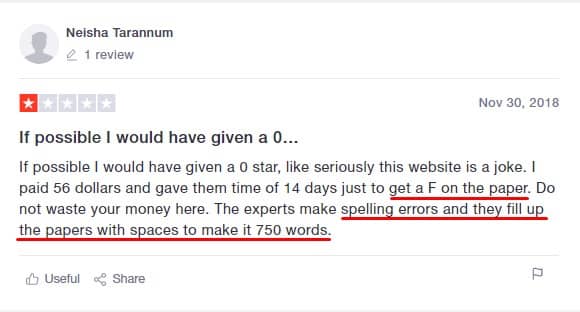 (Source: TrustPilot)
Security
AllAssignmentHelp ensures they never share any of your personal information or finished work with third parties. Besides, the transaction is securely processed using 256-Bit SSL Encryption, so your card details will be kept private. In general, the company has robust Privacy policy statements and takes care of customers' security. 
Full refund 
Although customers of the AllAssignmentHelp service are covered with a refund policy, it is a tricky one. You can apply for your money back if the company fails to deliver plagiarism-free work or cannot prove that the work was completed on time. However, there are plenty of complaints claiming the company revoked a refund.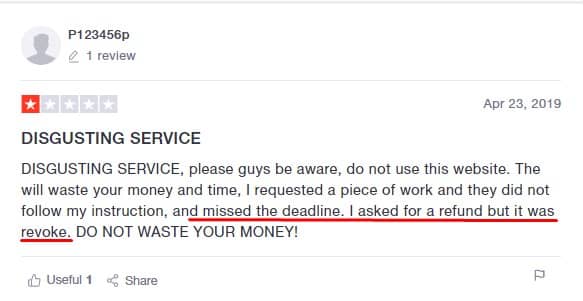 (Source: TrustPilot)
Unlimited Revisions
Unlike other writing services, AllAssignmentHelp offers unlimited revisions for no extra charge. However, a standard revision may take up to 48 hours. So ensure you have extra time to apply for the revision. 
AllAssignmentHelp Technical Support 
Whenever you face technical or financial issues with online service, you want your problem to be quickly resolved. So the last aspect we have checked during our in-depth research was AllAssignmentHelp technical support. There are four ways you can get in touch with a support representative:
Toll-free number
Customers from the United States, the United Kingdom, and Australia can reach the support team via toll-free numbers. 
Online chat
The most common way to contact technical support is online chat. Yet, AllAssignmentHelp chatbox constantly pops up on the right bottom corner, which is annoying.
WhatsApp
In case you are a big fan of social media, you can contact AllAssignmentHelp on WhatsApp.
Email
If there are any complaints or suggestions to the AllAssignmentHelp workflow, you can use their email to contact the support team.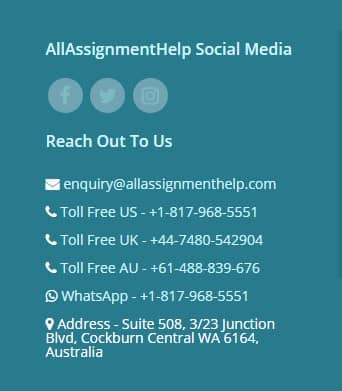 We have tested all of the communication lines to choose the most reliable one. The fastest way to get in touch with the AllAssignmentHelp support representative is via chatbox. Yet, about 60% of reviews claim their support team is unprofessional.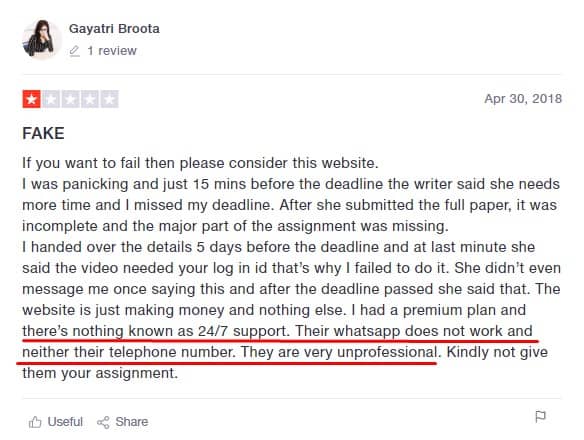 (Source: TrustPilot)
AllAssignmentHelp Pros and Cons
Before making a final verdict, we are going to underline both pros and cons of the AllAssignmentHelp service. 
Pros
Wide variety of services

Possibility to chat directly with a writer

Access to the list of writers and their portfolios
Cons
Unprofessional technical support

Deficient refund warranty 

Low-quality papers

Writers often miss deadlines

Low website's responsiveness 
FAQ
What is Allassignmenthelp?
Allassignmenthelp is an online platform that provides help with academic assignments. 
Is Allassignmenthelp legit?
Yes, Allassignmenthelp works under the strict Privacy policy.
How much does Allassignmenthelp cost?
Allassignmenthelp prices start at $9/page and depend on paper volume, writer's level, deadline, and type of service. 
Is Allassignmenthelp scam?
Yes. Allassignmenthelp has gaps in refund guarantees and the online pricing table, which misleads users and gives them a reason to claim the service is a scam.
Is Allassignmenthelp safe?
Yes. Allassignmenthelp ensures they never share customers' personal information with third parties and all of the payments done on their website are secure. 
Is Allassignmenthelp plagiarism-free?
Yes. All papers written by Allassignmenthelp writers are checked for uniqueness. Yet, some problematic issues may appear from time to time. 
Are there Allassignmenthelp discounts?
No. Unfortunately, the service does not offer any discounts.