Do Assignment Helpers Deliver A+ Tasks at OnlineClassHelp?
You will find minimal information about OnlineClassHelp experts, except that they live in the United States and have substantial experience. Neither assignment helpers' profiles nor proof of their educational background are displayed on the platform.
So you will read nothing but meaningless promotional claims about OnlineClassHelp assignment helpers and essay writers. It would be much better if the company featured at least 10-20 profiles of their top experts. This way, OnlineClassHelp would instantly sound more credible. At this point, the company looks like a scam. Let's check what OnlineClassHelp customers say about their experience.
OnlineClassHelp Reputation and Real Quality of Assignments
Once you visit Sitejabber or Trustpilot to check for OnlineClassHelp reviews, you will notice that this service has low ratings (1.31 on Sitejabber and 3.1 on Trustpilot). If you read some reviews, you will find out that most customers are generally dissatisfied with OnlineClassHelp. Most testimonials are negative and contain complaints about poor grades, plagiarism, and glaring errors. We have studied all reviews and derived the following conclusions:
OnlineClassHelp experts skip some assignments, although all of them must be done.

Customers get a minimal C for exams instead of the promised B and A.

The quality of assignments is terrible.

The company starts ignoring its customers once they pay money.

The homework is delayed or not delivered.

Students have to chase OnlineClassHelp experts and beg them to do their job.
As a result, OnlineClassHelp fails in every parameter, from customer support to quality of work. Eight reviewers out of ten warn others and ask them not to use OnlineClassHelp because it is a scam.
Consequently, this company has a terrible reputation resulting from fraudulent claims and unacceptable performance.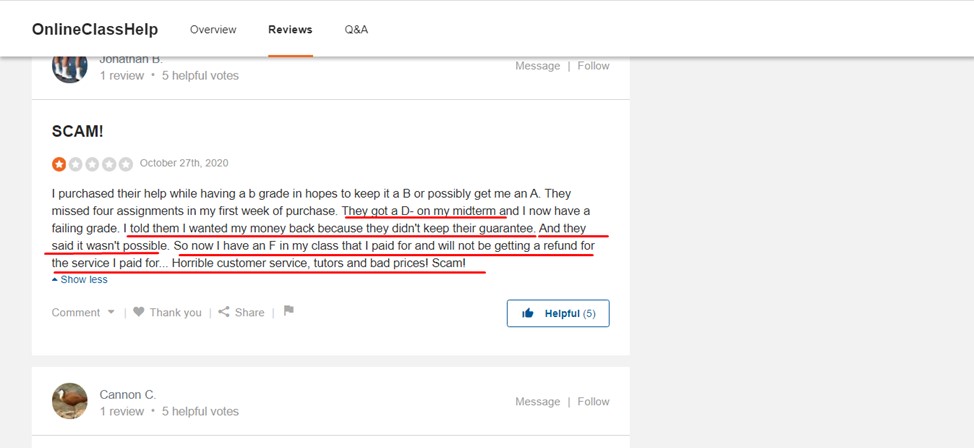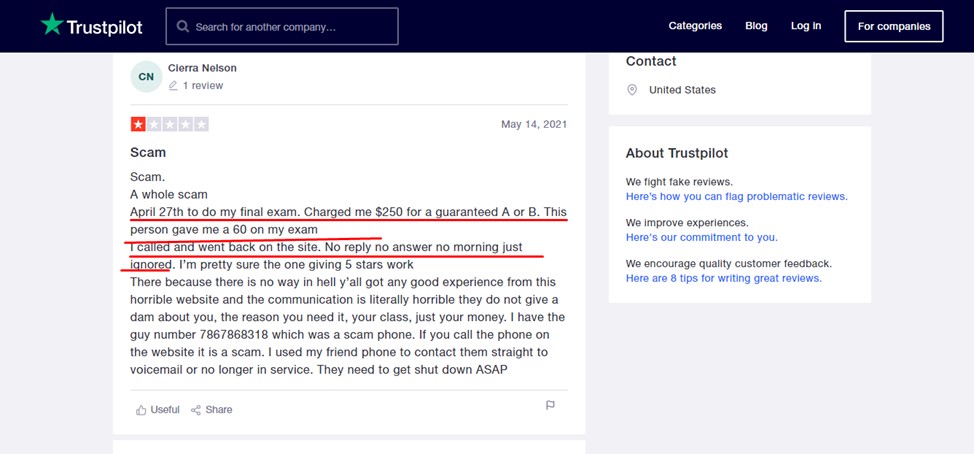 Which Assignments Can You Order at OnlineClassHelp?
OnlineClassHelp aims to assist high school and college students in the following directions:
Homework
You can address this company for homework help. Once you have some practice exercises or multiple-choice questions to do, you can complete the order form and wait for the OnlineClassHelp experts to do your homework for you.
Courses
As the company claims, you don't need to spend time on classes you don't want to attend. Instead, you can delegate the entire discipline to assignment helpers. They will do everything related to your subject, from homework to essays and exams.
Essays
OnlineClassHelp provides essay writing services to busy students, but it is not the one of the best writing services. You can contact the company's representatives and discuss your essay requirements.
Exams
You can ask an online assignment helper to log in to your educational environment and pass the exams for you. The company claims that they don't have problems with IP addresses, so your teachers won't notice that someone else logs into your high school or college account.
Unfortunately, you will have to take that information for granted since OnlineClassHelp doesn't explain how it masks the IP addresses. However, we can conclude that OnlineClassHelp experts use VPN services for that. One user mentioned that they paid an extra $500 for VPN services.
Students' Blog
OnlineClassHelp has a blog section where students can get helpful insights on career selection, time management, studies, and more. In general, this blog might be handy. At the same time, it may not provide tips and how-to articles consistently. Instead, you may find promotional articles there. Let's take a look at the Assignment Help article under the Tips category of the blog.
This blog post explains that a student can order online assignment help if they're busy at college. It has no practical value for students looking for some tips on writing essays, for instance.
The Order Menu
If you believe that an educational assistance company should have a comprehensive order menu where you can set specific requirements, you're right. But the problem is that OnlineClassHelp doesn't have such a menu.
Instead, you will have to fill out a short Get Quote form and wait for the company representative to keep in touch with you. So at this point, you have no idea how much your essay or homework will cost. Basically, OnlineClassHelp forces you to waste your time.
Once you submit the short form at OnlineClassHelp, their representative will contact you via email. Keep in mind that you will have to write all your paper requirements manually. This speaks of the low customer management level at the company.