How User-Friendly is the OnlineClassHelp Website?
The OnlineClassHelp platform meets most web development standards. However, once you visit the website, you will instantly feel that something is wrong with it. The matter is that OnlineClassHelp features minimal information about its services.
After taking a closer look at the OnlineClassHelp website, we have noticed that it's filled with keywords. But no meaningful information is provided on the company's online assignment experts, prices, or services. Thus, you may not even realize what this service does in the first place. All you can understand is that OnlineClassHelp can "take online classes for you" at a particular price.
Additionally, the OnlineClassHelp site lacks responsive elements. For example, after noticing the "take a tour" element on the homepage, you will expect to click on it and get a brief explanation of the website features. But instead, it is not really an action button but plain text.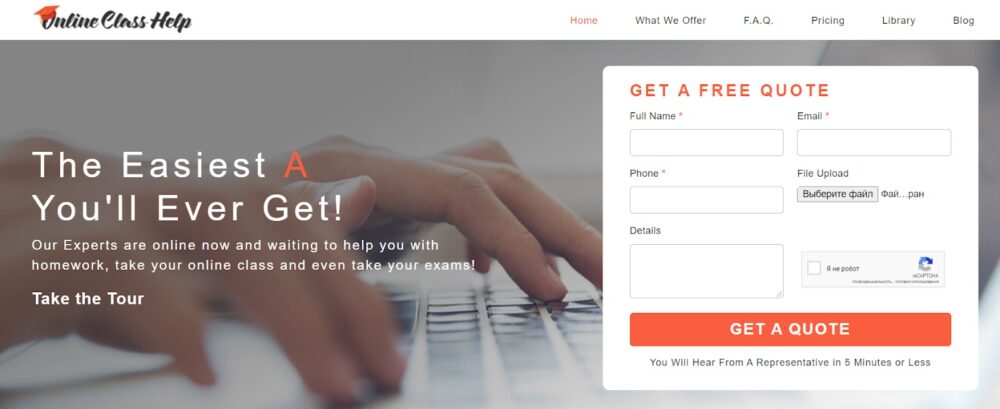 After clicking on the website sections with vague titles like Library, you will realize that OnlineClassHelp assists students with homework, essays, online courses, and exams.
That is, OnlineClassHelp provides a full spectrum of educational services. Unfortunately, the company fails to introduce this idea on the homepage of its website.
Another confusing thing about the platform is that some phrases and sentences are highlighted in orange as if they were anchor links. So you will want to click on these text lines all the time. But once you do so, no redirects will occur.
All in all, the OnlineClassHelp website looks unfinished, generic, and is problematic to navigate. What about online class helpers, their educational backgrounds, and their quality of work? Let's check that out below.
Do Assignment Helpers Deliver A+ Tasks at OnlineClassHelp?
You will find minimal information about OnlineClassHelp experts, except that they live in the United States and have substantial experience. Neither assignment helpers' profiles nor proof of their educational background are displayed on the platform.
So you will read nothing but meaningless promotional claims about OnlineClassHelp assignment helpers and essay writers. It would be much better if the company featured at least 10-20 profiles of their top experts. This way, OnlineClassHelp would instantly sound more credible. At this point, the company looks like a scam. Let's check what OnlineClassHelp customers say about their experience.
Best Alternative:
HandMadeWriting

Visit site
OnlineClassHelp Reputation and Real Quality of Assignments
Once you visit Sitejabber or Trustpilot to check for OnlineClassHelp reviews, you will notice that this service has low ratings (1.31 on Sitejabber and 3.1 on Trustpilot). If you read some reviews, you will find out that most customers are generally dissatisfied with OnlineClassHelp. Most testimonials are negative and contain complaints about poor grades, plagiarism, and glaring errors. We have studied all reviews and derived the following conclusions:
OnlineClassHelp experts skip some assignments, although all of them must be done.

Customers get a minimal C for exams instead of the promised B and A.

The quality of assignments is terrible.

The company starts ignoring its customers once they pay money.

The homework is delayed or not delivered.

Students have to chase OnlineClassHelp experts and beg them to do their job.
As a result, OnlineClassHelp fails in every parameter, from customer support to quality of work. Eight reviewers out of ten warn others and ask them not to use OnlineClassHelp because it is a scam.
Consequently, this company has a terrible reputation resulting from fraudulent claims and unacceptable performance.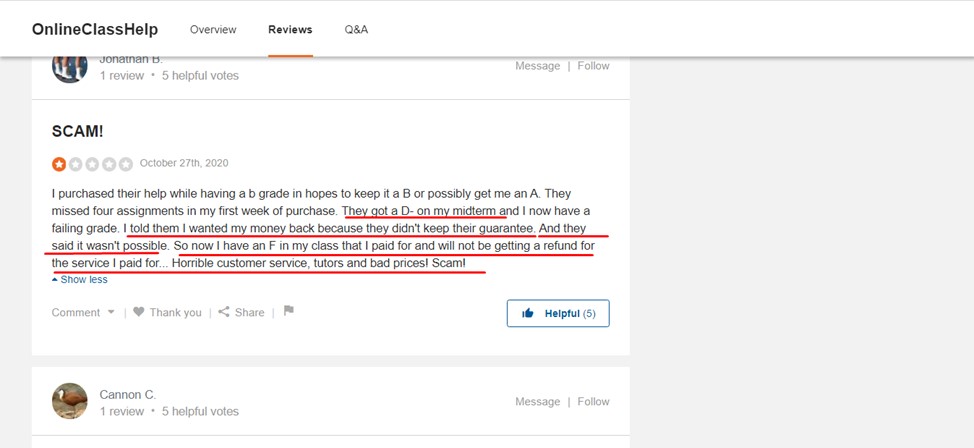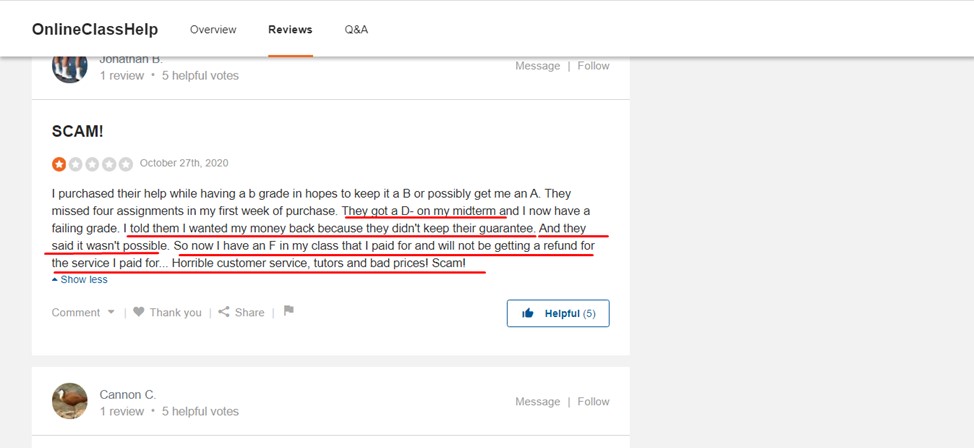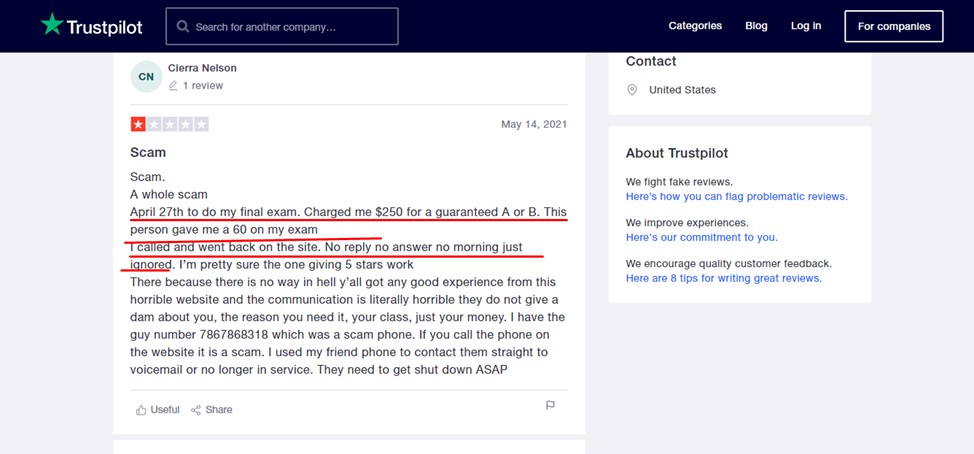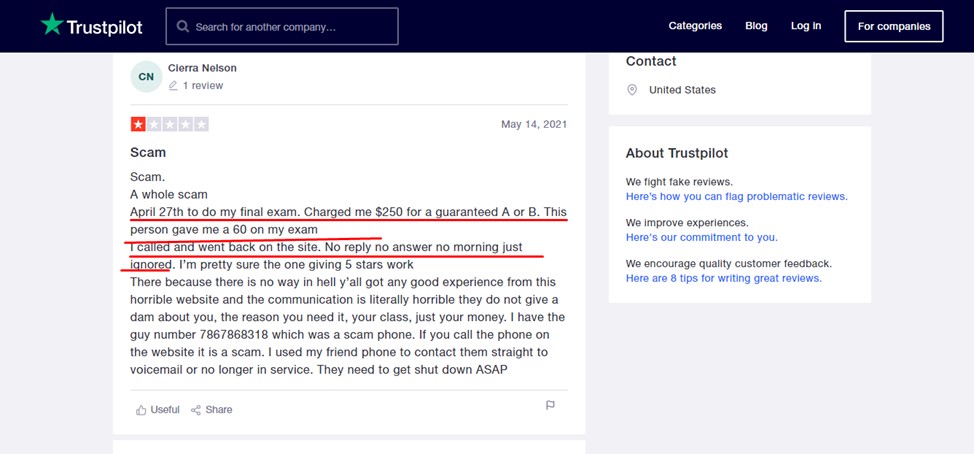 Which Assignments Can You Order at OnlineClassHelp?
OnlineClassHelp aims to assist high school and college students in the following directions:
Homework
You can address this company for homework help. Once you have some practice exercises or multiple-choice questions to do, you can complete the order form and wait for the OnlineClassHelp experts to do your homework for you.
Courses
As the company claims, you don't need to spend time on classes you don't want to attend. Instead, you can delegate the entire discipline to assignment helpers. They will do everything related to your subject, from homework to essays and exams.
Essays
OnlineClassHelp provides essay writing services to busy students. You can contact the company's representatives and discuss your essay requirements.
Exams
You can ask an online assignment helper to log in to your educational environment and pass the exams for you. The company claims that they don't have problems with IP addresses, so your teachers won't notice that someone else logs into your high school or college account.
Unfortunately, you will have to take that information for granted since OnlineClassHelp doesn't explain how it masks the IP addresses. However, we can conclude that OnlineClassHelp experts use VPN services for that. One user mentioned that they paid an extra $500 for VPN services.
Students' Blog
OnlineClassHelp has a blog section where students can get helpful insights on career selection, time management, studies, and more. In general, this blog might be handy. At the same time, it may not provide tips and how-to articles consistently. Instead, you may find promotional articles there. Let's take a look at the Assignment Help article under the Tips category of the blog.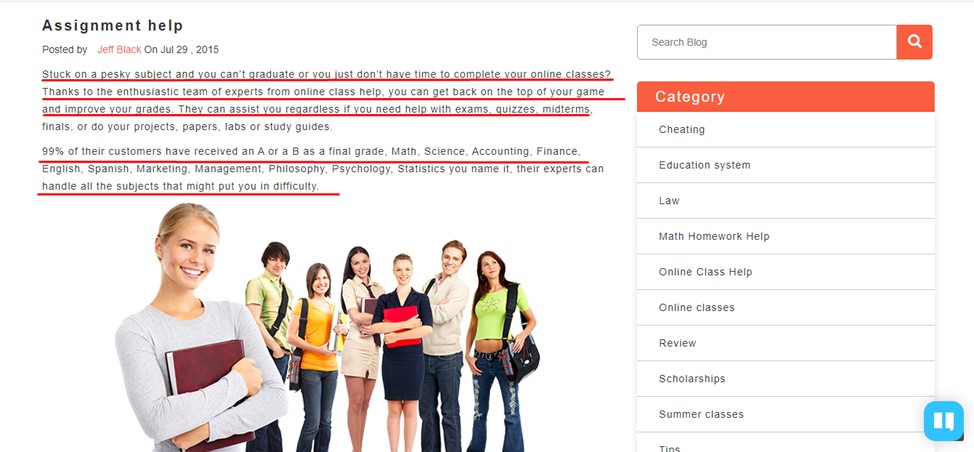 This blog post explains that a student can order online assignment help if they're busy at college. It has no practical value for students looking for some tips on writing essays, for instance.
The Order Menu
If you believe that an educational assistance company should have a comprehensive order menu where you can set specific requirements, you're right. But the problem is that OnlineClassHelp doesn't have such a menu.
Instead, you will have to fill out a short Get Quote form and wait for the company representative to keep in touch with you. So at this point, you have no idea how much your essay or homework will cost. Basically, OnlineClassHelp forces you to waste your time.
Once you submit the short form at OnlineClassHelp, their representative will contact you via email. Keep in mind that you will have to write all your paper requirements manually. This speaks of the low customer management level at the company.
How Can You Pay for Homework at OnlineClassHelp?
There is no easily accessible information about OnlineClassHelp payment options. None of them are listed on the company website. However, the company representatives claim that you can use credit and debit cards to pay for homework.
How Much Does OnlineClassHelp Charge for Homework?
OnlineClassHelp doesn't display prices for their services, claiming that each order is individual while its price is calculated according to:
The course complexity.

A number of assignments.

Deadlines.
Can you input these variables into the price calculator to check how much your order will cost? No, you can't since there is no price estimator at OnlineClassHelp. Instead, you will have to wait for the customer representative to contact you and name the price for your order. But how much does this company charge its customers on average?
The reviewers complain about high prices. You can expect to spend between $250 and $800 for one class. Individual assignments may cost less money.
We had a chat with the OnlineClassHelp customer representative, who told us that our 2,000-word essay would cost $325. It's at least five times higher than the industry average.

In contrast, you would normally pay around $70-$80 for an essay of this length. Therefore, OnlineClassHelp is super-expensive. Assuming that you will likely get a low-quality piece, this service is not worth your money.
Referral Program
OnlineClassHelp features a referral program that works in the following way:
After purchasing any assignment, you will get a referral code.

You will share the code via social media, your blog, website, etc.

Once the invited user buys their homework, you will get $50.
You will have to clarify other referral program conditions, like cookie duration, with the company representatives.
Does OnlineClassHelp Have Any On-Time Delivery Guarantees?
You can't rely on deadlines at OnlineClassHelp. First and foremost, you can't select a due date for your assignment since there is no order form on the website. You can discuss your deadline with the customer representative. How can you track your order then? Well, you have to check your inbox before the deadline because OnlineClassHelp doesn't have a dashboard or a mobile application to send you notifications upon your order delivery.
But do OnlineClassHelp experts deliver assignments on time? They often don't. You may receive an essay or homework at the last minute or past due.
How Does OnlineClassHelp Deals with Unsatisfied Clients?
There is no official refund or revision policy on the OnlineClassHelp website. Instead, you will have to discuss the refund and revision conditions with the customer representatives. They claim that you can request revisions if your paper contains errors and requires editing.
At the same time, the company claims that your paper will get an A or B: no revisions will be necessary. If your essay gets C, you can ask for a refund. Also, you can request compensation if your paper contains plagiarism. Nonetheless, it's not clear what level of plagiarism is unacceptable at OnlineClassHelp.
As a result, OnlineClassHelp policies are loose and uncertain, leaving a lot of space for speculation. Because of this, you may not get a refund in practice even if your paper receives a D grade.
Lots of former OnlineClassHelp customers claimed that they didn't receive any compensation for their damaged academic record.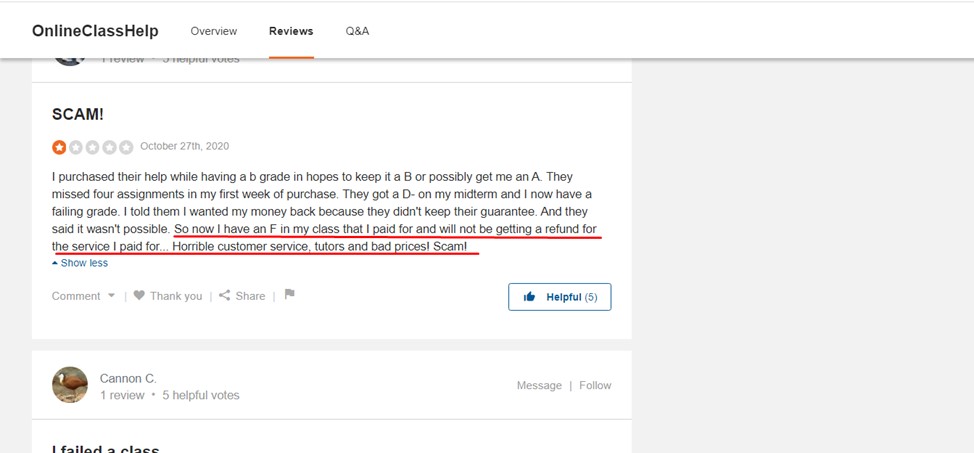 One customer received F for their class, but OnlineClassHelp refused to provide them with a refund. Therefore, you may not expect any refunds from this company. Your money becomes irretrievable once you pay for low-quality homework at OnlineClassHelp.
Analyzing the Quality of OnlineClassHelp Customer Service
Getting clarifications (you will have to ask the customer representatives many times) at OnlineClassHelp is troublesome. First and foremost, you can't reach a customer support team via a live chat. However, you will be assisted by a simple bot. It does nothing but registers your order. Thus, the OnlineClassHelp live chat brings no value.
What about FAQs? The FAQ section is also vague, and you will have even more questions after reading one. The support email appears to be the only viable solution, and you will get answers within 5 minutes on average.
But the real question is, "Will the OnlineClassHelp support team resolve your issue?" It's unlikely due to the fraudulent nature of this educational service. It doesn't want to help you. All it needs is your money. The company will deceive you, take your cash, and blacklist you afterward.
Advantages and Downsides of OnlineClassHelp
OnlineClassHelp pros:
OnlineClassHelp cons:
Unacceptable quality of assignments.

High prices.

Unreliable customer support team.

Misleading claims.

Bad reputation.
Wrapping Up Our OnlineClassHelp Review
OnlineClassHelp is a scam online writing service that will charge impossibly high prices for low-quality, barely readable assignments. Its experts can't do their job well. Finally, the company will refuse to compensate you for the low grade. Therefore, we can't recommend this service to you.
For comparison, you can find a writing company that will do your assignment at $10-$13 per page on time and to the highest standard.
FAQ
What Is OnlineClassHelp?
OnlineClassHelp aims to help students with online classes, exams, homework, and essays. At this company, you can order all kinds of assignments. OnlineClassHelp focuses on high-school and college students.
Is OnlineClassHelp Legit?
OnlineClassHelp is not legit or reliable. In this service, they'll try to mislead you at every point of interaction. The staff also deceive their customers and charge very high prices.
How Much Does OnlineClassHelp Cost?
A 2,000-word essay will cost $325, which is an unbelievably high price for an academic writing assignment. As for online classes and homework, OnlineClassHelp charges from $250 to $800 per piece on average. In fact, the company doesn't have a fixed pricing policy, and each assignment's price will be calculated individually.
Is OnlineClassHelp a Scam?
OnlineClassHelp is a scam service because it deceives students and charges five times more money than other writing companies on the Internet. OnlineClassHelp guarantees you an A or B for the class, but once you receive a D, the company refuses to compensate you for that.
Is OnlineClassHelp Safe?
The OnlineClassHelp website is secure, meaning that it doesn't contain malware or phishing links. However, this service is not safe in general because of its fraudulent nature.
Is OnlineClassHelp Plagiarism-Free?
You may receive a plagiarized paper at OnlineClassHelp. This service doesn't have an official plagiarism-free policy and doesn't apply any anti-plagiarism measures or check the finished essays using plagiarism detection software.
Are There OnlineClassHelp Discounts?
No, OnlineClassHelp doesn't provide its customers with discounts.