A Closer Look at the Website: Design, Interface, and Usability
At first glance, it seems like the website of this service is rather convenient and doesn't have any excessive information. But if you look closer, you'll understand that the main details that may be interesting to a customer are absent. For example, PapersOwl doesn't provide information about the minimum term of order execution or urgent assignments. Even if these details are displayed on the website, it's hard to find them. Reliable services don't hide the data about how quickly they can execute your task, so you can be sure that a writer will deliver papers in time.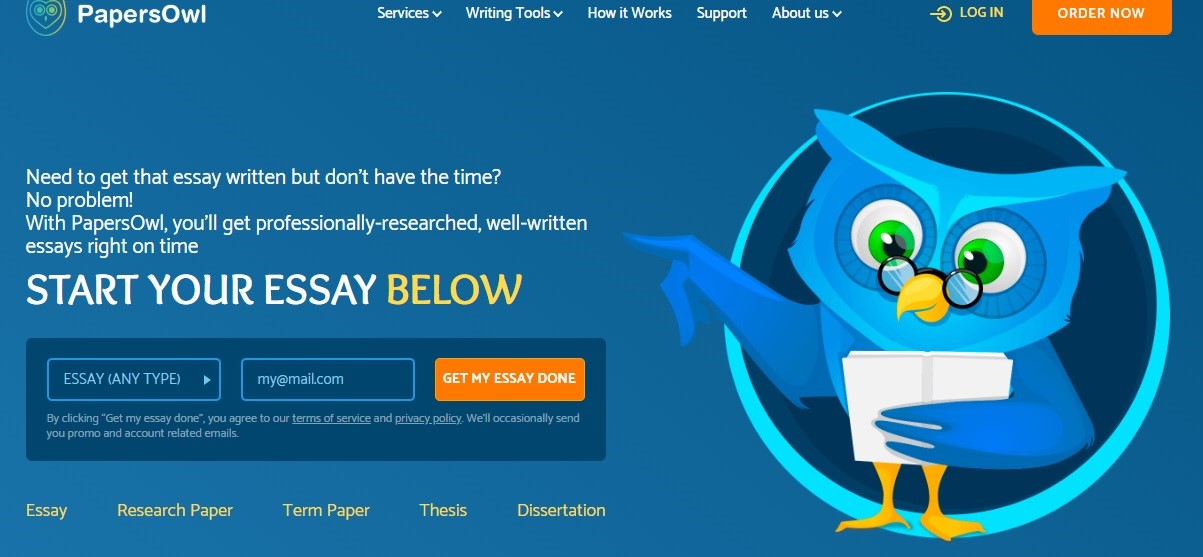 The design of the service's website contains mostly blue and light blue colors. Of course, you might like the appearance, but some users may find it unattractive. On the home page, you'll see the information about writers, testimonials, guarantees, paper types they work with, order placement process, and statistical data. There's nothing new or revolutionary in the scope of details, but you'll notice that it's impossible to find the information about prices or refund policy. Although they insist that they have affordable costs, you won't see how much you'll have to pay for your order. It makes you think, "Is PapersOwl scam?" Conveniently, you can quickly find the data about how to place an order, but the absence of prices is strange.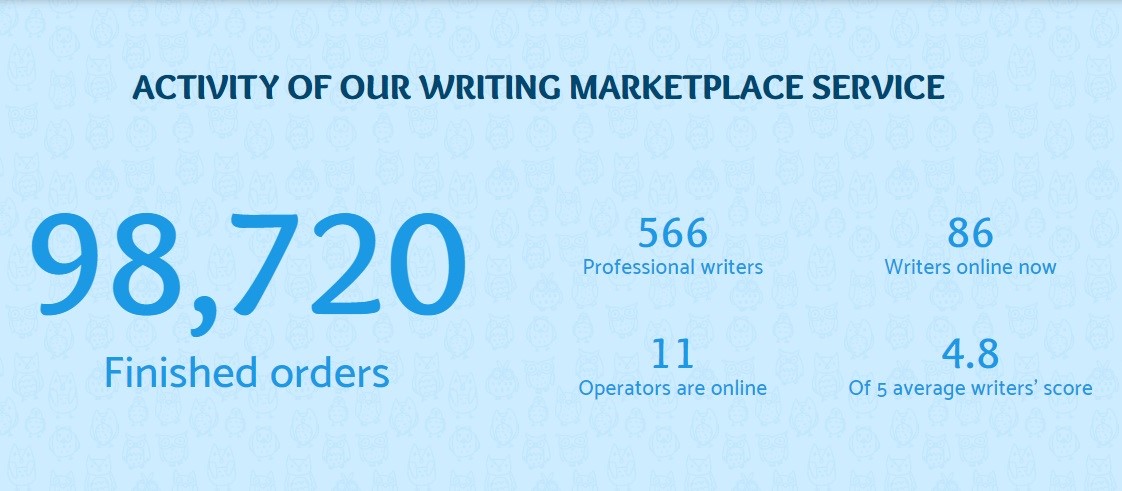 Experience of PapersOwl Writers and Quality of Academic Papers

PapersOwl has more than 400 writers, and you can choose one by yourself. There's no need to contact a manager because you can chat with an author directly. Of course, at first you think that you control the situation because you pick a specialist and you're sure that it's the best decision in your life. However, it takes time to find an appropriate writer and understand whether he or she has a deep knowledge of a discipline. This option isn't for you if you have an urgent task. Just imagine – you choose a writer, but the result doesn't satisfy you, and the deadline is almost over. You won't have time for revision and editing, and a professor is unlikely to give you an excellent grade.As long as PapersOwl lets writers set their prices, you can pay too much for an order. It seems like no one controls authors and papers they deliver, and it's a problem for customers. Unfortunately, according to PapersOwl reviews, people receive essays of poor quality quite often. Of course, it's an interesting experience to see how the bidding system within the field of activity of a writing service works. But it's connected with risks because of the lack of control. First of all, you don't know whether an expert has a proven background to compose papers on a specific topic. Secondly, often no one chooses complicated tasks. There's also a risk of getting an essay after the deadline.
What Sort of Services Can You Find on PapersOwl?
Here, you can expect to use a wide range of services. Like any other writing service, PapersOwl works with different types of content. A customer can order an essay, research papers, dissertation, coursework, case study, bibliography, thesis, speech, and many more. When placing an order, you have to inform the company about a type of assignment to be able to find an appropriate specialist. Otherwise, you can get in touch with a manager via live chat and ask for advice. As we mentioned earlier, it takes time to choose a writer who can cope with a task.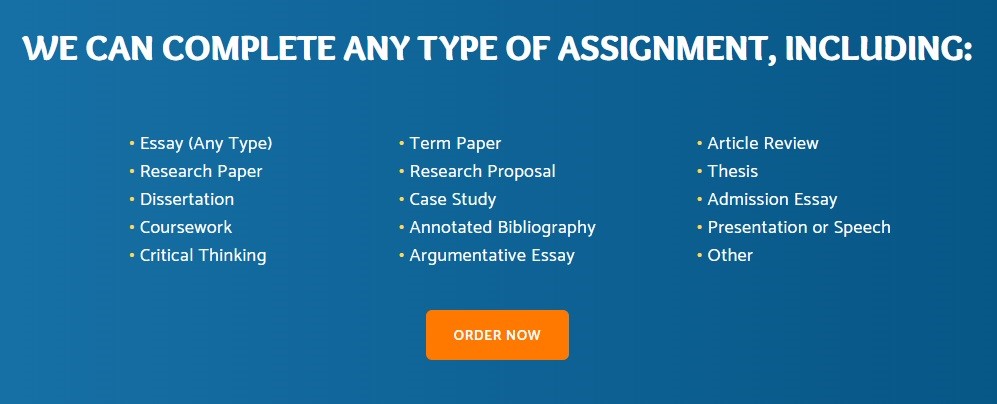 PapersOwl also offers an editing service so that a customer can improve any essay. They promise full confidentiality, 24/7 support, and originality of papers. However, it's also a risk because you have to pick an editor by yourself. Besides, there's no guarantee that a professional will work on your essay. And the absence of prices motivates you to ask yourself, "Is PapersOwl legal?".Along with paid services, PapersOwl offers customers a few free tools used on their website. You can try their plagiarism checker, citation generator, thesis generator, conclusion generator, and title page maker. Although these are helpful tools, there's no guarantee that you'll get a brilliant result. For example, it's better to find an expert who can write an excellent conclusion or thesis statement.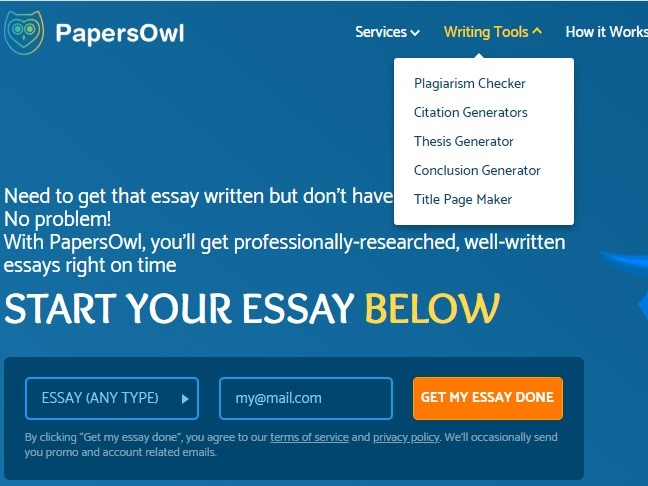 Payment Methods Offered by the Writing Service
When picking this service, a customer needs to find an answer to the question, "How to pay?". PapersOwl has a bidding system, and it seems a little bit uncommon. However, it's not hard to pay for your order. You only have to transfer funds to your balance on the website, and then you can transfer the money to a writer's account. But a hired specialist won't get the payment until he or she completes your order. No doubt that it's an excellent option that protects you from the money loss, but it still has disadvantages. For example, a writer can overstep a deadline or send papers that need revision. There's a chance to look for help from a customer support manager, but no one says that this person will resolve the conflict positively for you. The money refund policy of PapersOwl remains incomprehensible.

The service offers a few methods of payment. You can choose one of the most popular variants – transfer the money through Visa or Mastercard. It's rather uncomfortable for people who prefer PayPal though because they will have to look for another payment method.
How Much Does It Cost to Order Papers and Other Services?
It's impossible to understand PapersOwl prices because they aren't displayed on the website. The service has a bidding system – it means that you provide the information about your task, and writers offer their prices for its completion. It's an attractive solution on the one hand, as a customer can choose a lower price. But on the other hand, you don't know whether the result will be worth even this money. Besides, some people decide to pick high prices, as they think that this factor proves the writer's mastery. And ultimately, they get papers that don't meet their requirements at all. You can ask for improvements, but it takes time to check a text and edit papers. So, the risk of skipping the deadline is high.The absence of discounts disappoints customers, as they don't even get special offers or hot prices on first orders. You can try to ask a writer to reduce the cost of order execution, but chances are that you won't find common ground. Reliable services offer flexible discount systems, bonuses, and promo codes to customers. But here, you should only rely on your negotiation skills, and think positively once the question "Is PapersOwl reliable?" crosses your mind.
Order Execution Time Frame: Urgent Tasks and Offered Deadlines

PapersOwl insists that writers deliver papers in time. But there's no information about minimal deadlines on the website, so a customer with an urgent task can't be completely sure that a hired specialist will fulfill it quickly. That's why it makes sense to contact a manager to find out whether there're strict requirements concerning deadlines in their terms. Otherwise, you can face a problem connected with the time frame of order execution. And it's a pity if you get bad grades because of a hired writer who didn't execute a task before the deadline.Reliable services provide information about urgent assignments and terms on their sites. But here, the only hope is left for a customer. It's better to read more than one PapersOwl review to see the experience of other people. In this way, you'll understand whether you're ready to take a risk and try to get papers in time.
Revision and Money Refund at PapersOwl
Like many other services, PapersOwl offers free revisions to customers. And it makes you believe at least there's a chance that a writer will make an effort to improve your essay. If you find grammar errors, misused words, or any other mistake, ask for a revision. You don't have to pay for this service. Of course, there's no guarantee that a writer will work excellently on your papers. However, this expert must make improvements according to your demands.There is no detailed data about their refund policy – that's why a customer doesn't know what to expect. If you want to get an excellent paper, you have to provide all the necessary instructions connected with your order in the first place. You'll protect yourself from unsatisfying task execution and money refund this way. But in case the result doesn't meet your expectations, it may be hard to find support from a manager. Disputes aren't always resolved in favor of a customer.
Can You Rely on Quality of Customer Support Service at PapersOwl?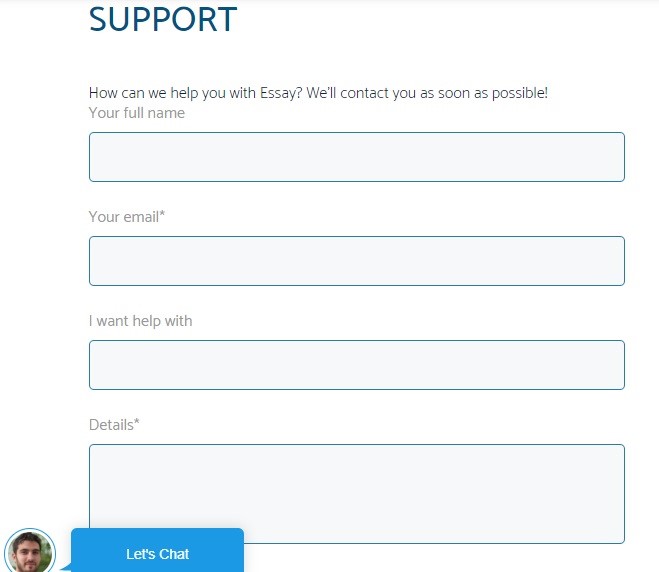 Is PapersOwl legit? The answer to this question is also based on the quality of customer support. PapersOwl has a contact form and a live chat for customers. The second option seems to be more attractive because you can get an answer quickly. Besides, you can ask a manager about any service or aspect you don't understand about PapersOwl. Probably, it's the quickest method to get information here, as long as the most important details about refunds and deadlines aren't displayed on the site. But as we mentioned, no one says that a manager will help you receive your money back because he or she can protect a writer.
Pros and Cons: the Aspects Every Customer Should Take into Account
As you can see, this service has both advantages and disadvantages to dwell on. Someone may find it attractive to choose the lowest prices, but you can be disappointed by the absence of discounts and transparency in the refund policy. PapersOwl rating is rather high on the service's website, but it's hard to find out whether testimonials are written by real customers. Let's clear the picture by looking at their main pros and cons in detail.
Pros:
A wide range of services.

Customer support managers answer quickly.

Communication with a hired writer.

Free revisions.

Simple order placement process.

Free online tools, including plagiarism checker, citation generator, thesis generator, and title page maker.
Cons:
The absence of information about deadlines.

Unclear refund policy.

The service doesn't offer discounts.

A bidding system – PapersOwl doesn't have a pricing scheme.

Many reviews on the Internet contain complaints connected with the quality of papers.

There's no guarantee that a native speaker will work on your order.

It may be hard to find a writer who would like to complete a task in a specific discipline.
Can You Trust PapersOwl and Buy Academic Papers from Its Writers?
Is PapersOwl fake? There're no facts that prove a positive answer to this question. However, you'd better think twice before placing an order there. A bidding system might work well for a customer, but in the case of this service, it's not a customer-oriented option. PapersOwl doesn't have a pricing policy, information about deadlines, and delivery – that's why customers have to ask about these details. And the absence of a discount scheme is also a disappointing factor. In our opinion, many things must be changed about the service – and only after these transformations, customers will be satisfied with the results they get.
FAQ
What is PapersOwl?
PapersOwlis is a writing service that offers customers help with their academic assignments. Here, you can order an essay, research paper, speech, bibliography, dissertation, and the execution of any other task. The service has more than 400 writers you can choose from.
Is PapersOwl legit?
It's a legal service owned by Boosta Inc. Even though PapersOwl is a registered platform, its terms and policies remain unclear for customers.
How much does PapersOwl cost?
You won't find pricing policy information on the website, as PapersOwl offers a bidding system. It means that writers set prices upon their discretion, and you can choose any specialist based on this data.
Is PapersOwl scam?
Although many questions and complaints surround the service, no facts prove that it's officially a fake. PapersOwl delivers papers and doesn't disappear after a writer gets your money. Besides, customer support managers try to help you whenever you have a problem.
Is Papersowl safe?
You can order and receive papers from the PapersOwl writer, but there's no guarantee that your order will be executed in time. There's no information about deadlines and delivery terms on the website. Besides, it's hard to find the refund policy there.
Is PapersOwl plagiarism-free?
Like many other services, PapersOwl insists that writers deliver plagiarism-free papers. They use a special detector to be sure that texts don't contain the copied content.
Are there PapersOwl discounts?
PapersOwl doesn't offer any discounts or bonuses to customers. You can only try to ask a writer to reduce their price.