Navigating the Tutoring Platform: Does Wyzant Have a User-Friendly Website?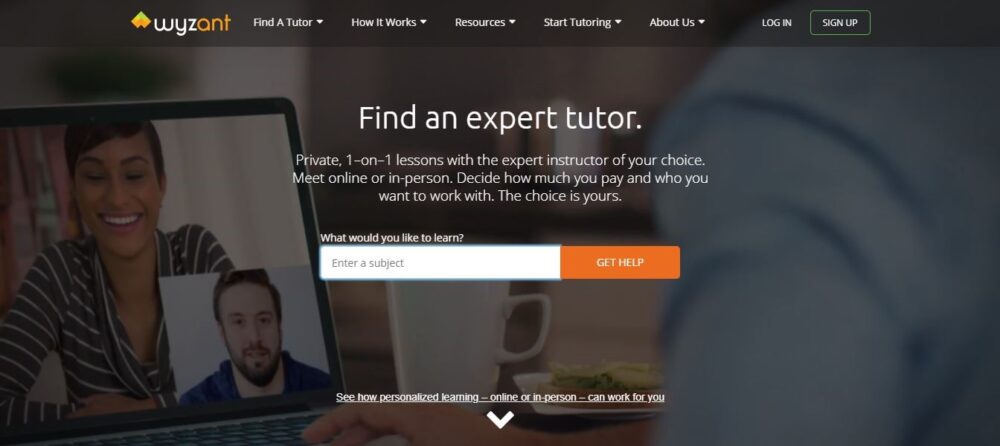 The home page of this platform looks neat and informative. Wyzant designers did a good job – there are no unnecessary images that can spoil the very first impression. Generally, the home page looks minimalistic – you won't find excessive details or a lengthy list of services or disciplines. There are only 9 subjects in a list on the home page, but you can press an appropriate link to find more. Helpful information is placed on a white background. However, an upper text block is placed on a video banner. It's a little bit hard to read this information because you can't focus on particular content. You want to read the text, but the background video grabs your attention.

A user has to answer a few questions to find a tutor. Wyzant requires you to specify whether you want to take online classes or meet a tutor in person, your timezone, academic level, schedule, number of lessons, and when you need help. Once you've answered these questions, Wyzant will generate a list of available tutors. However, you have to remember that none of these teachers will write a paper for you. As we've mentioned in our Wyzant review, it's a tutoring platform. A tutor will only teach you to write essays and improve your writing. If you have time to learn, you can use this service. But there's no guarantee that you'll get a top grade for your paper. If you hire a professional writer, you can be sure that your professor will give you an excellent mark.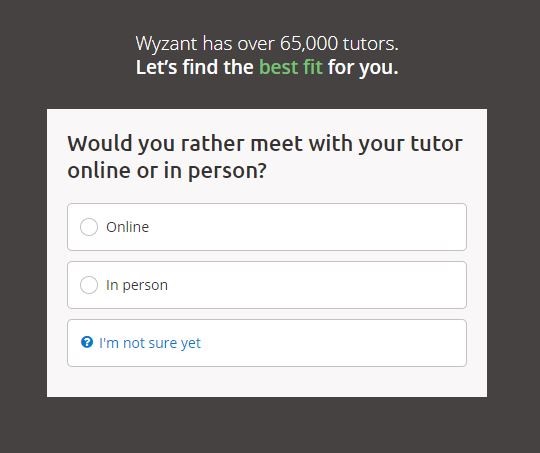 Will You Benefit From Collaboration With Tutors on the Wyzant Platform?
Wyzant has a large base of instructors specializing in different areas. A student can find a tutor in writing, coding, accounting, algebra, chemistry, etc. Wyzant even allows finding a teacher to prepare for exams. Every tutor has a profile so that a user could read a short bio, find out more information about their work experience, and see prices. You can also find their rating, schedule, and tutoring experience on Wyzant. 
The service allows you to sort instructors by price, rating, or choose to see the most matching instructors. If you choose the second variant, the best tutors will be shown at the top of the list. And here comes the most interesting thing about Wyzant tutors – the best tutors set incredibly high prices. Look at the screenshot below, and you'll see that an instructor with the highest rating takes $360 per hour. It's hard to imagine what kind of a student can pay so much money for one lesson. By the way, you can't learn to write flawlessly in just one hour, and you'll need more classes. It's definitely cheaper to hire a top writer and pay them to write an essay.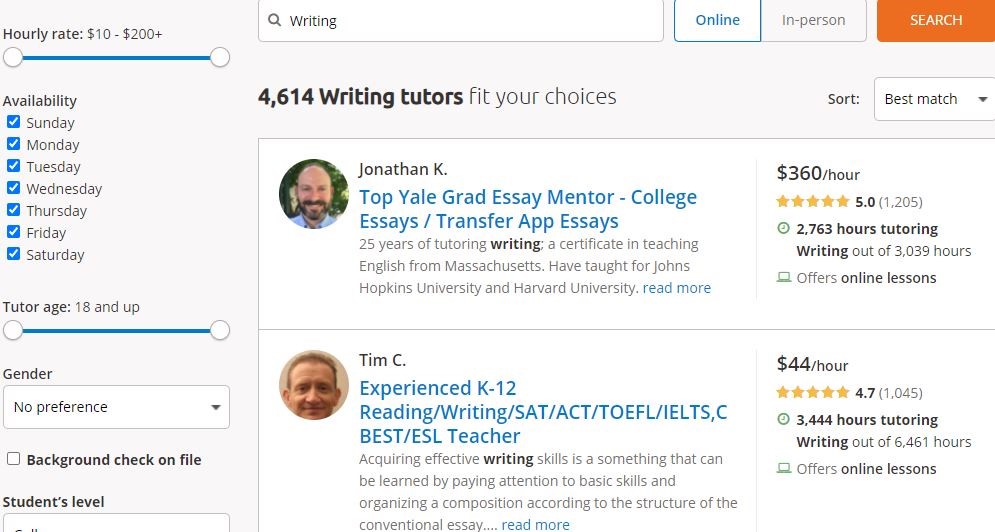 Undoubtedly, this platform may be an effective solution for students searching for experienced tutors to help them study. We took a glance at Wyzant reviews and discovered that there are only positive testimonials in this section. Yet, we can hardly believe that all tutors on this platform perform so well and have only two explanations for this situation – Wyzant either deletes negative reviews, or all of the tutors are really that incredible. 
What Kind of Services Are Presented on the Wyzant Tutoring Platform?
As you've learned from our Wyzant review, this platform helps students and tutors connect with each other. If you are a student, you can find an instructor in any discipline to improve your academic performance. It's up to you how many lessons to book, but you have to consider your budget and schedule. If you need to write an essay, you can find a writing tutor to help you improve your skills. Wyzant allows you to pick a format of your lessons too – you can meet online or in-person with your instructor. They will explain spelling and grammar rules, help you structure your text, and share with you different writing tricks. However, you'll have to write a paper on your own, and an instructor will only check it. Wyzant isn't a writing service offering professional writing assistance though. You can't buy papers on this platform and get excellent grades. And there's no guarantee that you'll receive the best grade right after the first lesson with a tutor.
All lessons are automatically recorded, so a student can watch it as many times as they want. A video becomes available within 24 hours after recording. A user will receive a link to their video – it will be available on the platform and the Wyzant app. It's a convenient option for both students and tutors. However, you have to keep in mind that a video will be available only for one month. Besides, you can't download and save lesson recordings on your laptop or smartphone.