Shmoop is an e-learning website that came into existence in 2009. The company focuses on providing tutelage to students and teachers through the use of non-conventional methods. Most importantly, Shmoop makes use of funny material as a catalyst to boost the engagement of students. So, this Shmoop review will thoroughly evaluate the services they offer to users. .
Features of the Appearance and Design of Shmoop 
The official domain name of this e-learning company is Shmoop.com. The design of the website is user friendly. The mobile version is as impressive as the desktop interface. So, you can access your account from any device at all times. However, there is no Shmoop app on the market. This makes the process of using the site tedious, especially when you want to use your mobile browser simultaneously.The website design is impressive. Shmoop has a simplified layout that is suitable for users of all ages. Even though the illustrations on the homepage cater primarily to kids, they are not bad to look at from an adult's perspective. Also, the navigation menu stays in place when you are scrolling through the site. This makes it easier to go back to the top when you get lost. Although you have to get to the bottom of the page to find the contact,  this site's design is not that bad. However, using the site can be frustrating because you have to wait for the images and vectors to load. Moreover, you can easily get lost while scrolling from page to page, trying to sift through the multiple pages of information on the webpage.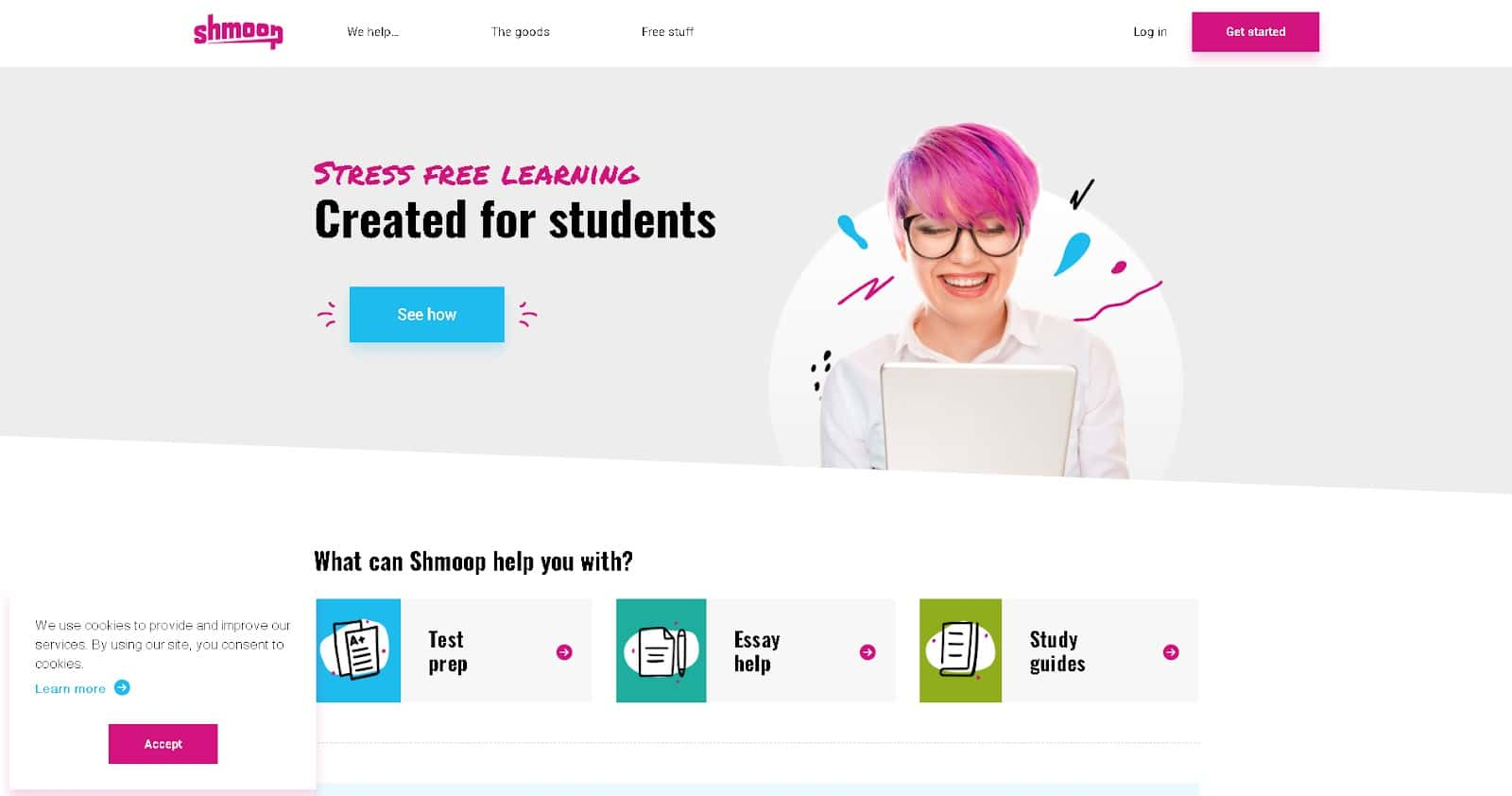 Writers' info 
Shmoop reviews show that the company can boast of a large pool of digital publishers of academic content. The company is home to more than 5 million visitors (learners) every month. Also, Shmoop collaborates with more than 1000 schools and schooling districts who find their solutions useful. Shmoop claims total ownership of all the content in its database. They also have a massive number of writers who are experienced in working with students of all ages. These contributors have PhDs and Masters degrees in their respective fields of endeavor.However, since there is no means of determining the identity of the authors, it is difficult to tell if they are qualified or not. If there was an opportunity to order a paper, one could easily evaluate the qualification of individual writers.
What Can Shmoop Do for You – Main Services of the Site 

 By subscribing to Shmoop, you will obtain access to a lot of valuable learning resources. Despite being free, gaining access to the most useful resources will require a premium subscription. Here are the services that Shmoop offers: 

Test prep
Shmoop provides students with adequate resources to prepare for standardized tests. By using these resources, the students will get an understanding of what to expect during their exams. Some of the tests that they cover at Shmoop include ACT and SAT.
Online courses
For students struggling with grasping complex concepts in their various disciplines,online tutorials at Shmoop.com are available. Shmoop university provides its clients with modern approaches to learning. However, Shmoop pays a lot of attention to the humanities and math. It would be more beneficial if they widened their scope though.
Math help
Mathematics is a headache for most students. So, to break the cycle of monotonous learning, Shmoop makes use of a humorous approach to tackling math problems. Students can gain a basic understanding of the most complex math concepts. However, there are no advanced courses that provide an in-depth comprehension of the subject.
Essay help
With the help of Shmoop, students can work on their essays. This company has a lot of materials on how to write essays. They also cover specific requirements of standard articles. Therefore, students will have a better understanding of how to approach their essays in college. Even though Shmoop will not help you write your essay, they will help you build a solid base.
Best Alternative:
HandMadeWriting

Visit site
Teaching guides
Shmoop also has a lot of materials for teachers. They have teaching guides which provide teachers with a framework of activities aimed at improving their students' performance. Moreover, these tools will help the teacher prepare captivating lessons that break the monotony of the old teaching methods.
Study guides
Shmoop provides the students with a systematic approach to studying for tests and quizzes. These Shmoop guides will help them develop a tactical approach towards tackling their multiple course troubles in the university. 
College prep
Studying in college can be a daunting struggle for students. Without proper guidance, you can flunk your classes. So, shmoop provides students with learning tools that cover over 50 courses with credits that you can transfer. As a result, you can adjust your study at your convenience.
Life prep
Since most students will eventually leave college to forge a career path, Shmoop provides resources to assist them on this journey. Shmoop will help the student hone their talents and study their industry of engagement. As a result, the students will have a head-start over their counterparts who have no idea how things work in the world.
Videos
Shmoop is remarkable for the multitude of video materials on their website. They make use of entertaining video tutorials to explain concepts. All these videos are available under the standard membership plan.
Shakespeare Translator
For most scholars, classic literature can be difficult to comprehend and interpret. However, Shmoop.com provides an extensive database of texts focused on simplifying these books. With the use of fun explanation methods, the verbose diction in these books can make sense to a young student.
Shmoop for Homeschool
Parents who believe they can educate their offspring better than schools can also find Shmoop schools resources useful. The company will provide you with the schooling district's standard curriculum. Also, they will help provide a study plan for teaching your kids. Despite the extensive coverage of Shmoop resources, there are limitations to their services. Most of their resources are available only to premium subscribers. So, if you pay for the standard membership, you can only have access to the elementary materials.Most importantly, when you finally decide to buy one of their products, you often end up with an error page.
Ways of Making Payments on the Site 
To complete your subscription, you will have to create an account and enter your billing information. Shmoop accepts Visa and Mastercard for payment. However, the absence of PayPal means that your account details can reflect the expenditures.
Pricing Policies at Shmoop 
The cost of the service depends on the importance and difficulty. However, you cannot pay for individual courses. All Shmoop products are covered on a subscription plan. New users can enjoy a free trial for 24 hours, after which they will need to pay to continue using the subscription. So, you have only one day to make your decision. This time frame is obviously not enough to make such a crucial decision.
All-inclusive plan
This plan includes all the service and studying material available on Shmoop. The flat monthly fee for the Student and Teacher plans is $14.99 per month. The cost of the annual subscription is $150. This price is very high, especially for college students who are still struggling with adult life. 

ACE College Plus plan
You can transfer your Shmoop credits to your college credit if they accept ACE CREDIT recommendations. The cost of this plan is $87 per month. It is safe to assume that most college students will struggle to pay for this plan. Even those that can afford it will not get their money's worth. Moreover, there is no guarantee that your college will accept the ACE CREDITS from Shmoop. So, it is better to save your money and work with another service that has reliable plans. 

 The only customizable plan is the School and Districts Plan. Essentially, there are no extra benefits for students who use Shmoop.
What are the Guarantees and Refund Policies at Shmoop?
Shmoop claims a track record of working with recognized academic establishments. They have the trust of institutions like Arizona State University and the MLB Youth Academy. However, the absence of endorsements from all the college entrance examination commissions puts their eligibility in question. There is no guarantee that their students are getting the necessary tutelage that will help them in the future.Furthermore, there are no standard guarantees on their official website. For a service that claims to have a well-established reputation in the market, you would expect to find a refund policy. However, you can only gain a refund if you buy a book from them. Even the terms and conditions make it clear that your data might fall into the hands of their partners.  

Customer Support 
To contact the support team, you can only reach them by mail. Clients will have to send an email using the contact form and in accordance with  the nature of their inquiry. So, if you have an urgent issue, you will have to wait for the response of the customer support team. 
Main Pros and Cons of Shmoop 
In general, Shmoop is a mixed bag. There are some positive as well as negative aspects of the services they offer. Here are the pros and cons of using Shmoop online learning services:
Pros
Sample papers

Essential materials for students

Teaching guides for teachers

Discounts for users with promo codes

User-friendly interface

Cheaper when you pay yearly

Preparation for standardized tests
Cons
Very expensive service

Absence of information about writers.

A standard subscription provides only elementary knowledge

No standard money-back guarantee

Third-party access to data

Customer support delays

No possibility to personalize learning materials

Advanced learning materials are available only to premium subscribers
FAQ
What is ExtraEssay? 
Shmoop is an online-based learning platform that provides studying resources to students and teachers. With over 16 million monthly users, Shmoop boasts of a robust approach to learning. This method employs non-conventional teaching practices to make learning fun for young people.
Is Shmoop legit? 
Shmoop.com is definitely a legit company that provides learning resources as well as teaching guides. The company has a lot of endorsements from various reputable government institutions. However, the absence of affiliations with standardized test centers makes it difficult to determine how legit they are.
How much does Shmoop cost? 
Shmoop does not charge for individual services. However, you have to pay for the ACE College Plus plan if you want to use the service. The cost of a monthly subscription at Shmoop is $14.99 per month and $150 annually. This price is not something students can easily afford. Therefore, you can find cheaper services that offer the same quality of service. 
Is Shmoop safe? 
Shmoop is safe to use because the website runs on SSL-encryption. Also, the payment portal makes it possible that only registered users can pay for orders. The billing information for your card will also remain private under the Shmoop privacy policy.
If you want to understand the basics of a specific course, Shmoop.com is a safe way to start. However, they do not provide any advanced exploration of topics as required at the college level. So, if you consider the money they charge, you will discover that Shmoop is not the perfect fit for students and teachers.
Is Shmoop cheating?
Shmoop.com provides access to various learning materials to students. They do not help in taking tests or writing papers for students. So, the services of Shmoop cannot be considered as cheating.
Are there Shmoop discounts?
If you obtain a Shmoop promo code, you can enjoy some of their periodic discounts. Also, you can enjoy a 24-hour free trial before you get charged for the subscription. This trial period is too short, especially considering the high cost of their services.