Essay Typer can hardly be viewed as an online writing company. Instead, you can call it an online writing tool that is designed to help students write their own assignments. It doesn't provide you with writers, but it guides you throughout the writing process. All you have to do is access the online essay typer and proceed with your assignment. As you keep typing, you will see pop up suggestions, aiming to facilitate your writing and thinking process. No matter how smart it sounds, you should be careful while using this site as it takes information from other sources – meaning you can easily be accused of plagiarism. So, if you submit such a paper to your professor, you will get caught easily. As a result, you will have to deal with a long list of consequences, including possible suspension. In order not to take this risk, you should get paid services offered by qualified authors.In this review, we'll disclose an objective analysis of this online service. This way, you'll make yourself ready for all the possible risks and unexpected surprises you might face there.
Design and Interface of EssayTyper Website
Considering the structure of EssayTyper website, it is hard to describe it as a useful resource. While they do not sell written content, they guide you through your whole assignment or project. This online tool was created by a single developer, and it is still not clear whether it was meant to be a joke or a serious way to help students with writing. Is EssayTyper legal? Yes, it is. Is it designed with serious intentions in mind? No, it isn't.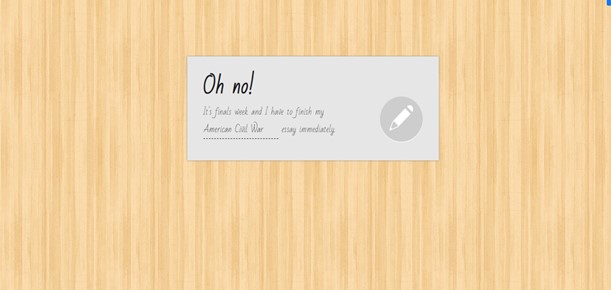 The premise of Essay Typer is quite simple. You type in the topic of your paper and choose the pencil icon. The homepage becomes a Word-like window with a place for typing. Still, the controls aren't real, meaning that you cannot use them to edit your paper. Also, you cannot download your document. You can copy the text and paste it into your standard text editor, but that might take more time.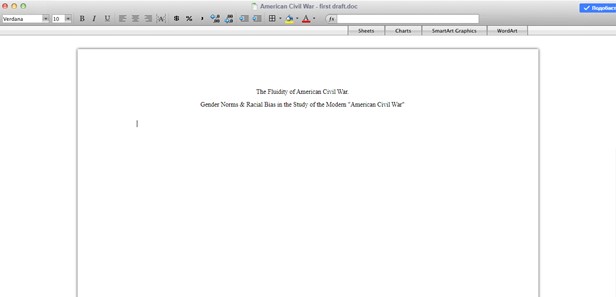 As soon as you start typing something, you will be given some automatic recommendations offered by the system. When you reach the necessary length of your paper, you just need to structure and edit it properly. The problem is that all this explanation is missing on their website. The plain-looking homepage makes you feel confused, as you literally don't know what to do next. Thus, the design and navigation of the website should be more transparent and informative.
Writers and Paper Quality Offered by EssayTyper
The only reason why this online tool was developed is to guide students when they are stuck. You have surely experienced a situation where you are stuck with your task having no idea what is expected of you. Using this tool will help you take this challenge. But if you wish to get complete help with your task, you might be disappointed with it.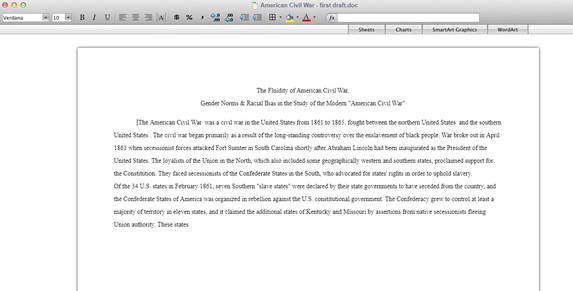 Mind that the content of your essay offered by Essay Typer will be borrowed from other online sources. EssayTyper does not hire qualified and experienced writers to create high-quality papers. At the same time, the online tool doesn't position itself as something "huge". The company does not offer a guarantee on the quality of work that you will receive. Moreover, it keeps warning you not to trust the work it generates.
Best Alternative:
HandMadeWriting

Visit site
Types of Services Handled by EssayTyper
The range of services provided by Essay Typer can hardly be analyzed. You just type in the subject of your essay and start writing. The system automatically makes some suggestions about what should come next. Here, you can't purchase complete essays or other types of academic assignments. EssayTyper should be perceived more like an inspiration tool, letting you go over a temporary block. Here, you can enter any type of title and topic that you need some assistance with. These include:
History

Culture

Language and Literature

Psychology

Chemistry

Political Sciences
Although EssayTyper advertises itself as being good and trustworthy, it is not. It is hard to discuss any types of additional features such as free title pages, rewards, or other extras. The whole platform is too simple, so you cannot even use it as an essay rewriter. It would be nice to see here at least a grammar or plagiarism checker function. No such useful tools can be found on this website.
EssayTyper's Payment Methods
Essay Typer is considered to be a completely free online service that does not offer any payment methods. In other words, there is no academic writing service to pay for. There are no writers who could create your paper or sophisticated software that would rewrite the content from other sources to make it more elaborate. As a result, a lack of payment methods and prices is totally justified.
EssayTyper's Prices
EssayTyper is a free tool, so you don't have to pay for the provided services. Considering all the limitations and doubtful quality of content, it's hard to find someone who would be willing to pay for this type of writing support. In fact, this online tool doesn't let you receive a coherent paper by simply adding chaotic words and phrases from various online resources to your paper. After all, you won't want to use this editor to write an essay and submit it for grading without previous editing and proofreading. You can still benefit from this platform up to a particular point, but you should give up on finding EssayTyper prices or discounts.It's nice that the developer gives away this online tool for free, but it is too simple to be used for serious academic purposes. If you have some problems with your assignment, you will most likely need to spend some cash to get a decent paper.
Delivery Time and Deadlines Offered by EssayTyper
Essay Typer may help you to meet the college deadlines for your paper as it takes less time to come up with a completed paper. In other words, you have higher chances of meeting your deadlines with timely submissions. At the same time, there is a lack of scholars and experts who can write the whole paper from scratch for you. The generated assignment cannot be submitted for a school assignment, so editing would take more time than writing your assignment itself. If you are really challenged with your paper, you'd better refer to one of professional writing services having all the competence to deal with academic tasks.
EssayTyper's Revision and Refund Policies
As long as Essay Typer is a free online tool, it doesn't offer any refund policies. While it looks like a Word document eligible for constant changes, there is no point in talking about revision policies. After all, the developer of Essay Typer doesn't provide you with any quality and uniqueness guarantees. If you find the final paper full of plagiarism, you cannot blame this online tool for that. As stated earlier, EssayTyper is a tool to guide you throughout the creative process. The final quality of your paper is in your hands. It applies best when you find yourself stuck and need a piece of advice to insert in your written task.
Customer Support Provided by EssayTyper
When it comes to EssayTyper, there's a service that can hardly be called customer support. Instead, the website developer has added a social media link you can follow to ask some questions. Still, communication opportunities are quite limited since Twitter allows a particular amount of words to be used in a single conversation. As long as this social media website is free to use, you should be ready to wait for your answers. Even when your question is not answered, you should not complain because you are allowed to access a free resource. Even when you finally decide to send an email to the developer, you shouldn't have a high expectation of receiving feedback. People get involved in a more beneficial venture and leave non-profitable ones aside. And since EssayTyper is a non-profitable venture, your chances of getting any feedback are pretty low.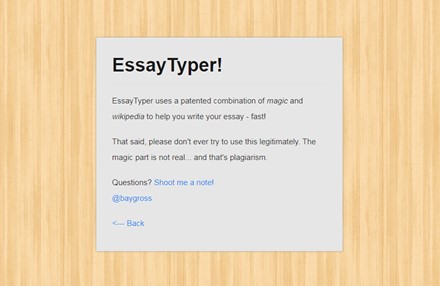 EssayTyper's Pros and Cons
It wouldn't be an exaggeration to say that EssayHave has more negative than positive aspects. Here are the pros and cons of using this online tool you should be aware of:
Pros
It can be used for free without pre-registration.

It generates instant content once you enter your topic.

It serves as a guide for students who are confused at their assignments.
Cons
It takes all the information from other online sources without paraphrasing or changing it.

It generates plagiarized content.

It doesn't have customer support to address queries from users.

It doesn't provide you with any real help in terms of assignment.

It doesn't offer editing options and a download button.

It has a lack of experts who could write the whole paper for you from scratch.
FAQ
What is EssayTyper?
EssayTyper cannot be viewed as an online writing company. Instead, it is considered to be an online writing tool that is designed to help students write their own assignments.
Is EssayTyper legit?
EssayTyper can hardly be perceived as an appropriate online writing resource. Although it was developed as an innovative and useful mechanism, it doesn't provide you with any mentioning of the security measures applied. As long as it doesn't charge you for so-called samples and doesn't contain any ads, it can be assumed as a legit online resource devoid of commercial purposes.
How much does EssayTyper cost?
EssayTyper is a completely free tool that can be accessed by everyone.
Is EssayTyper safe?
EssayTyper is fun to use, but it needs you to log in with one of your social media pages. They do not reveal your details to the public, so it is quite safe to provide them with some of your personal details.
Is EssayTyper plagiarism-free?
EssayTyper is a free online service that does not provide you with totally unique content. The site regenerates its content from other online resources. Consequently, the chances of plagiarism are pretty high. Ideally, EssayTyper needs to be used as a guide rather than an efficient essay writing service.
Are there EssayTyper discounts?
Given that EssayTyper is free, it does not enlist any prices or discounts.
Is EssayTyper legal?
EssayTyper can hardly be described as an online legal resource. In spite of being developed as an innovative and useful tool, it doesn't provide any information about the security measures applied.
EssayTyper scam?
EssayTyper doesn't look like a scam product, but it surely shouldn't be taken seriously. A wide range of limitations and poor functionality make it look like a tool for writing practice rather than a tool for serious academic purposes.
Is EssayTyper reliable?
As a tool for writing practice, EssayTyper can be reliable. But if you have a serious assignment to deal with, you will end up having irrelevant content issued by EssayTyper.
Is EssayTyper fake?
EssayTyper is not a fake tool, but its initial development was a mere attempt to somehow help students with their tasks. Thanks to multiple restrictions and lack of functionality, this online service cannot be viewed as a serious tool for academic writing.