Evaluating Usability of the SuperbPaper Website
You will first notice that SuperbPaper has a well-made, professional website that features all attributes of an ideal essay writing platform. The homepage has self-explanatory navigation, with all website sections correctly named and placed. It allows you to scan the site and get the most valuable information about SuperbPaper's prices, types of services, and its main benefits.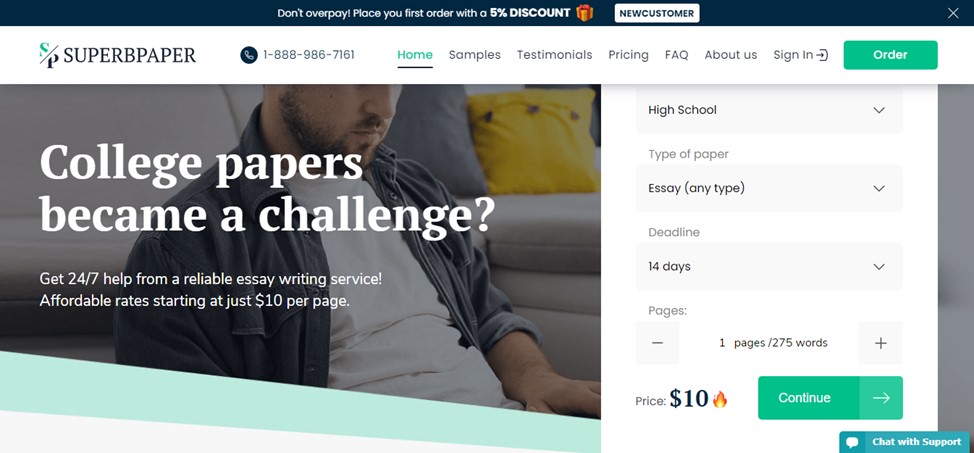 The homepage also displays information about discounts and a comprehensive and convenient price calculator, letting you quickly figure out how much you will pay for essay writing.
Additionally, you can check some essay writing samples to get an idea of the SuperbPaper's quality of work. Finally, there is a Testimonials section, where you can check some SuperbPaper reviews. How helpful is this page? We doubt that this company (or any essay writing service) will add negative testimonials on its platform. A company has an evident interest in displaying only positive reviews.
Therefore, testimonials on the SuperbPaper website might not be objective enough.
Does SuperbPaper Deliver A+ Essays?
While SuperbPaper makes an excellent first impression due to its brilliant platform design, you will notice your excitement gradually cooling down after investigating this service further.
In fact, SuperbPaper provides minimal information about their writers. Also, the company claims it's a small business while stating that 5,000 writers work for them. Furthermore, SuperbPaper writers work from all around the globe. Therefore, at least a part of them might not be English natives.
What about their experience then? We don't think SuperbPaper pays a lot of attention to the hiring process to ensure a particular person is a good fit. Here is why: the company has been in the industry for five years while having 5,000 writers.
Hiring all these people might take a lot of time, far longer than five years. Otherwise, the company would have to hire approximately three writers per day.
Under no circumstances can a company carefully pick so many right people within such a short time frame. Consequently, SuperbPaper might not check whether their applicants have enough experience and sufficient writing skills to deliver brilliant papers.
Instead, the company probably uses an automated hiring system, with some algorithm evaluating the quality of the applicants' papers. Our theorization would have no practical value if SuperbPaper delivered winning papers. However, it doesn't. Why so? Read further to check this out.
Insufficient Quality of SuperbPaper Essays
SuperbPaper doesn't try hard enough to make an impression of a reputable company. It's fascinating how this service attempts to manipulate its ratings. Just take a look at these reviews: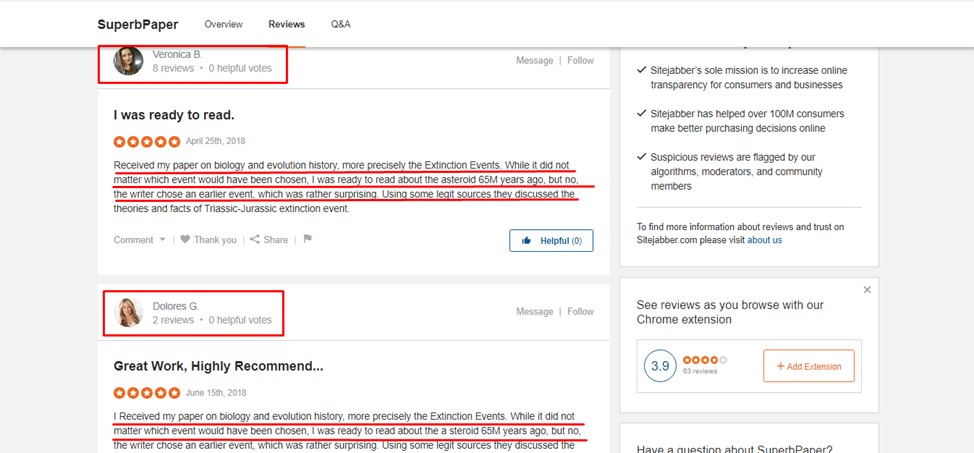 Two different users posted identical reviews, so it's obvious that these two testimonials are fake.
By the way, SuperbPaper is banned on Trustpilot as a "bad fit." In other words, Trustpilot considers SuperbPaper a fraudulent business.
For comparison, let's take a look at a detailed SuperbPaper review that reflects the genuine customer experience and refers to many features of this company (like writers from all around the globe).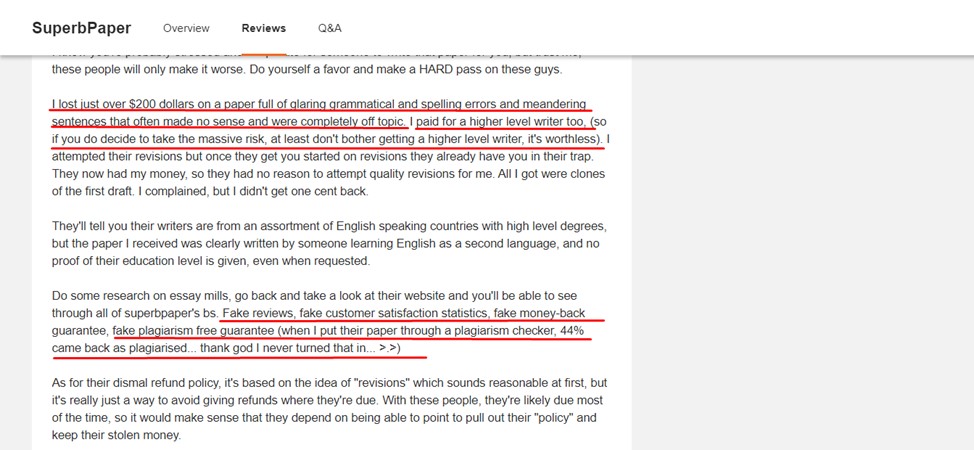 To sum up, SuperbPaper writers fail to deliver papers and essays of sufficient quality, making lots of mistakes and adding copy-pasted elements. It means that you will most likely end up writing an essay yourself after buying SuperbPaper services.
Best Alternative:
HandMadeWriting

Visit site
Reviewing the Range of SuperbPaper Services
SuperbPaper lists its services in several categories on its website. You can click on Paperwork, Admissions, and Editorial Work and see the list of academic assignments available at SuperbPaper.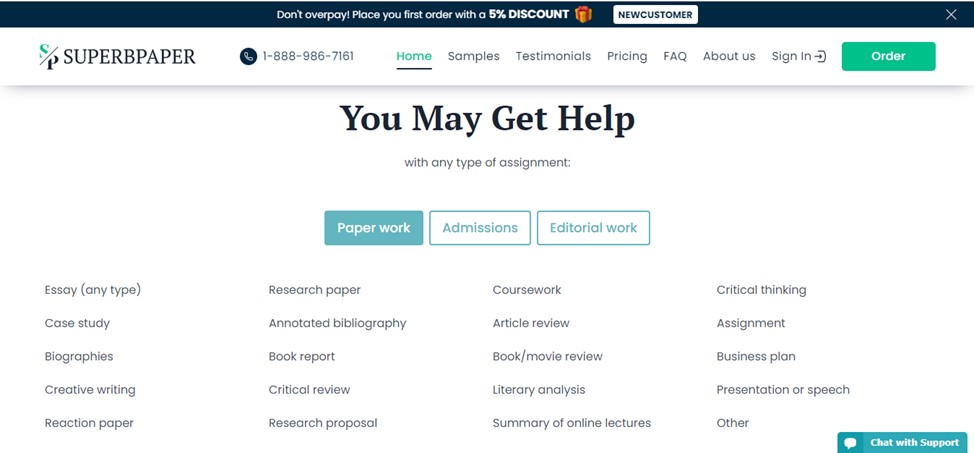 At first sight, it seems that students can order virtually any academic assignment from this company. However, after closer investigation, you will discover that SuperbPaper provides only theoretical chapters of lab reports and doesn't offer CV and resume writing, unlike other academic writing companies on the web. Assuming that most students have full-time or part-time jobs, CV writing services are a must for online writing companies.
As for available disciplines, you will have a wide choice, from arts and English to engineering and medicine. Nonetheless, a substantial range of available disciplines doesn't compensate for the low quality of papers at SuperbPaper.
Are there any extra services to enhance your experience at SuperbPaper? Let's check them out below.
Extra Superbpaper Services
At SuperbPaper, you can order additional services at an extra price to better your essays and ensure high-quality work. Let's take a closer look at these services and find out whether they can help you get the highest grades:
Writer Category 
SuperbPaper allows you to choose a writer with a higher level of experience from the following tiers:
Best available. The company states that this option is a safe bet for high-school and college assignments. At the same time, SuperbPaper doesn't reveal what benefits this option provides to you. It states that the best available writer is practically any writer who can accept your order at the moment. But what outstanding characteristics does "the best available writer" have? It's a mystery.

Advanced. A writer of this category has "much larger" experience in academic writing, plus the experience in disciplines similar to the one of your choice. It means that SuperbPaper tries to sell you something that it should provide you with by default.

ENL. It appears that writers of only this category are English natives, while others reside in ESL countries.

Preferred Writer. This option allows you to hire a writer you worked with before. So it's rather relevant for returning SuperbPaper customers.
Can these options help you get a better paper? In theory, selecting a native English writer will help you achieve the highest quality of writing. However, assuming that SuperbPaper does not have the best reputation, hiring an ENL writer doesn't make sense. You can't be sure that SuperbPaper will assign an English native to your project once you pay for an ENL writer because this company already tries to deceive you with fake reviews. Most importantly, SuperbPaper tries to present basic academic writing features (like ENL writer) as something exclusive.
Plagiarism Report
If you want to ensure that your paper has zero plagiarism, you can order a plagiarism report. How reliable is it? It's questionable whether such a report will help since we found many customer reviews complaining about substantial plagiarism in their essays (up to 50%).
Therefore, a SuperbPaper plagiarism report might show 100% results while your paper is nothing but a copy-pasted text in reality.
Abstract Page
An abstract is a summary of your work that follows after the paper title. Many essay companies on the internet provide abstract pages for free, while SuperbPaper charges $14.99 per abstract.
High Priority
The High Priority Feature means that a VIP manager will track your order until its delivery. Well, this is by no means an understandable feature. You can track your order yourself for free. For this, you need to log in to your dashboard and check your order status.
Therefore, there is no reason for you to order the High Priority feature other than just wasting your money.
What Payment Options Can You Use While Paying for Your SuperbPaper?
SuperbPaper provides a list of credit and debit cards for you to pay for essays on its website. They are Visa, MasterCard, AMEX, and Discover. You can instantly buy academic assignments with these convenient payment options. Nonetheless, purchasing essays might be inconvenient for some students since PayPal is not supported.
Other than that, you can order academic assignments at SuperbPaper without much hassle.
What about safety then? Is it safe to input your payment information on the SuperPaper website? The SuperbPaper privacy policy states that your payment information is processed and stored on the company's server.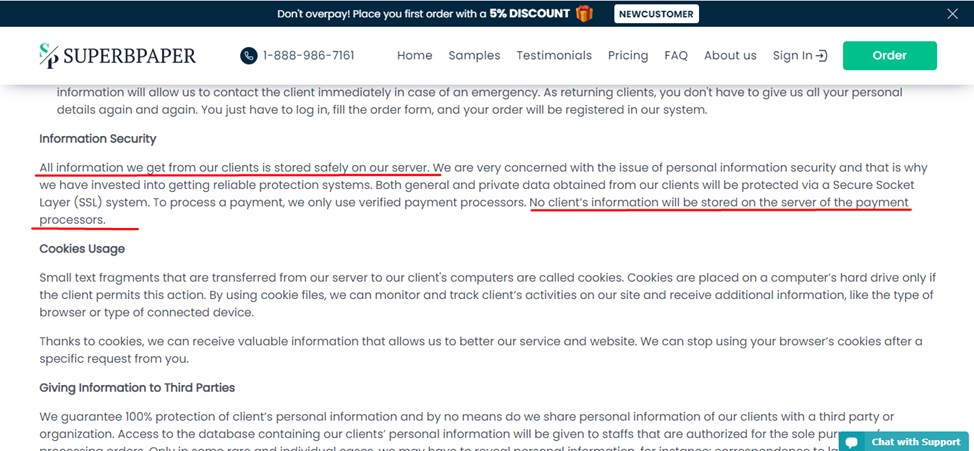 It means that your information might be intercepted in case of a security breach on the SuperbPaper's side. Therefore, you will put your payment information at risk while entering it on the SuperbPaper platform. Again, you will risk wasting your money for nothing, assuming the insufficient quality of papers at SuperbPaper.
How Much Do Essays Cost at SuperbPaper?
The pricing policy of SuperbPaper involves many more variables than you would expect from an essay writing company. Thus, SuperbPaper charges different rates for various academic writing pieces, which is the opposite of the industry standards.
For example, an essay of high school level costs $10 per page, while you will have to pay $14 per page for a case study. Furthermore, a lab report of the same academic level costs $12 per page.
We have studied the range of prices for academic writing for each difficulty level and put them into a table for more convenience. Take a look at it below:
| | |
| --- | --- |
| Academic Level | Price Range based on a 14-Day Deadline |
| High school | $10-$18 |
| College | $14-$25 |
| University | $16-$29 |
| Masters | $22-$40 |
| PhD | $29-$52 |
As for editing, paraphrasing, and proofreading, you will pay $6-$17 per page.
So, is SuperbPaper cheap or expensive? Its rates are about 30% above the industry average. Worse yet, you will pay a much higher price for particular assignments, like online lectures.
As for extra services, SuperbPaper offers the following rates:
If you opt for an advanced or ENL writer, you will pay from 30% to 48% above your essay price, which is two times higher than the industry average. Consequently, SuperbPaper prices are far from being friendly and affordable.
Perhaps, discounts can make your essay less budget-devastating at SuperbPaper. However, you can receive only a 5% sign-up discount, which is insufficient. At another academic writing company, you would save much more money due to lower prices and more beneficial discounts.
What about returning customers, then? Does SuperbPaper provide their customers with loyalty discounts or something? There is a loyalty program that distributes price cuts once you spend a particular amount of money at SuperbPaper:
Five percent discount if you spend $500.

Ten percent discount if you spend $1,000.

Twenty percent discount if you spend $2,000.
How helpful is this loyalty program in practice? Let's say an average essay is 1,500 words and costs $64. To get a 20% discount, you need to order 31 assignments of similar complexity. For comparison, other essay writing companies will provide you with lifetime 25% discounts if you order 25 essays. Consequently, SuperbPaper's loyalty program falls short of its competitors.
Checking whether SuperbPaper Writers Meet Deadlines
At SuperbPaper, you can set different deadlines for your paper, from three hours to 14 days, which is within the industry standards. Thus, you can rely on a writing service if you need an urgent solution. But will you get your paper on time at SuperbPaper in practice?
Unfortunately, many SuperbPaper reviews complained about delivery issues. For example, one customer received their work (of low quality) so close to the deadline that they had no time for revisions. If the customer did ask for revisions, they would miss their deadline.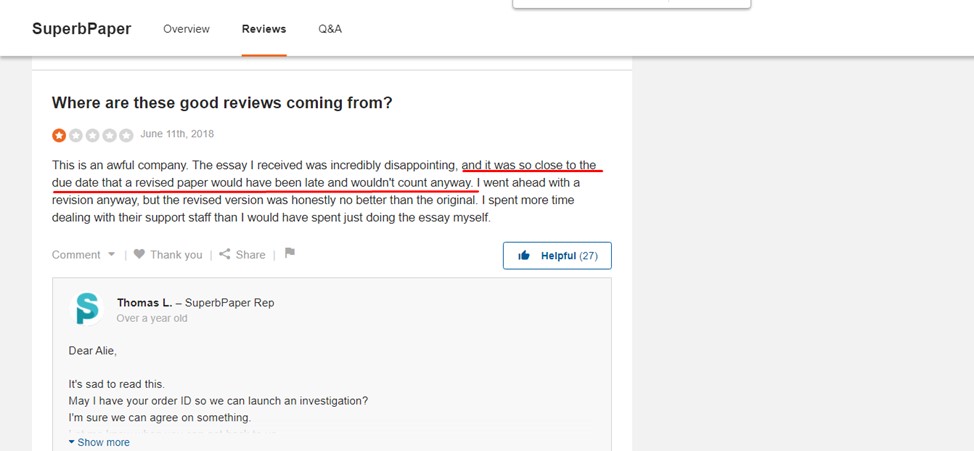 Does SuperbPaper Provide Revisions and Refunds?
SuperbPaper has comprehensive, clear, and understandable revision and refund policies. As for revisions, you can request as many modifications to your paper as necessary for you to get a high grade. If your order is above $490, you can ask for revisions within 20 days after receiving your essays. You will indeed get your paper revised upon your request. But the problem is that the corrections will barely improve your essay. SuperbPaper writers don't seem to be motivated for this type of work.
As for refunds, everything is okay at first sight. Thus, SuperbPaper explains on what occasions you will receive full and partial compensations. However, the company follows none of these conditions in reality. It will always find an excuse not to compensate you for the damage to your grades for academic writing.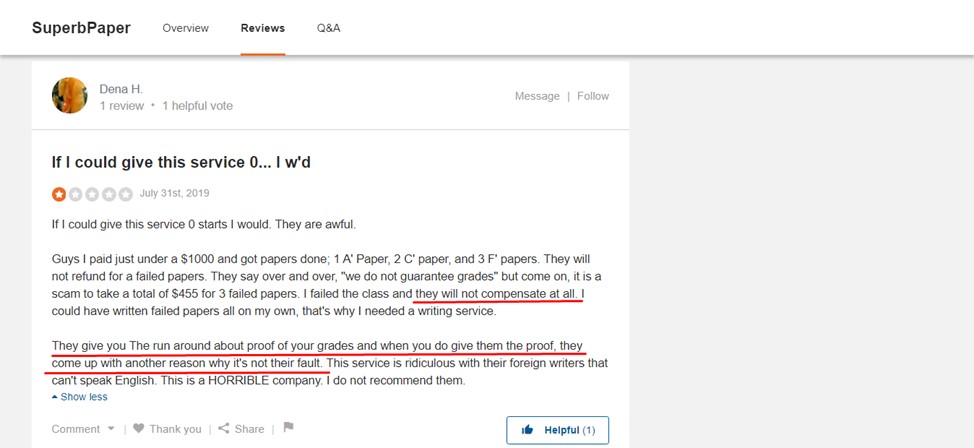 Can You Rely on the SuperbPaper Customer Support Team?
In short, you can't expect any help from a customer support team at SuperbPaper. While you can reach the support staff via the live chat, email, and phone, they won't help you if you have any issues. The team will treat you with respect and patience as long as you pay money and keep silent. But once you request compensation for a terrible, barely readable essay, SuperbPaper will start ignoring you.
Therefore, we can't consider the SuperbPaper customer support team reliable and helpful, although it responds within seconds.
Positives and Negatives of SuperbPaper
SuperbPaper pros:
SuperbPaper cons:
Fake reviews.

Low-quality papers.

Unreliable customer support.

High and inconsistent prices.

Fraudulent nature of the company.
Concluding Our SuperbPaper Review
SuperbPaper is a fraudulent essay writing service you should avoid at all costs. We haven't found any rational reasons for a student to order a paper from this company. It is worse than other writing companies in every aspect. If you order an essay there, you will have a high chance of receiving a text full of errors and plagiarism. Worse yet, your work will be delayed. Finally, the company will blacklist you once you try to take your money back.
As a result, we can't recommend this company to you. You can address trustworthy agencies with native English writers and cheaper essays instead.
FAQ
What Is SuperbPaper?
SuperbPaper is an academic writing company that provides students with essays, papers, as well as editing and proofreading services.
Is SuperbPaper Legit?
SuperbPaper is under no circumstances legit because it deceives its customers, sending them low-quality papers for 30% higher prices than the industry average.
How Much Does SuperbPaper Cost?
You can order an academic assignment at $10-$52 per page at SuperbPaper. Editing and proofreading costs from $6 to $17 per page.
Is SuperbPaper a Scam?
SuperbPaper shows many signs of a scam business scheme. It deceives its customers and refuses to provide them with refunds for papers of insufficient quality.
Is SuperbPaper Safe?
SuperbPaper is by no means safe. You will put your hard-earned money and academic reputation at risk if you order essays and papers there.
Is SuperbPaper Plagiarism-Free?
You may receive a plagiarized paper, and you will have nothing to do with it because SuperbPaper will refuse to compensate you for it.
Are There SuperbPaper Discounts?
You can receive a 5% sign-up discount and up to 20% off on essays and papers if you spend $2,000 at SuperbPaper.