Deadlines & Delivery Peculiarities: What Should You Expect? 
The longest deadline you can put on your order is 1 month (available only for long assignments) and the shortest one is 4 hours. It's strange, but it is available even for dissertations. But how can a dissertation be done in 4 hours? So, if you wondered, 'is GPALabs reliable in terms of delivery dates?', we wouldn't say so unless you genuinely want to fail your dissertation or graduate paper.  If we take a look at the Delivery policy of the company, we will see that it says it is responsible for making the order complete until the deadline set by the customer, while the latter is responsible for providing correct email and other means of communication for you to be able to receive the product. In case of any issues with delivery, GPALabs advises contacting the Support Agents. 
Policies Regarding Revision and Refund: Are There Any? 
The separate page on the website is dedicated to the refund policy of the company. GPALabs states that they provide an exclusive money-back guarantee for different situations, which is not the case for its competitors. Let's take a closer look at it.  The full refund is claimed to be granted in case when the writer has not started working on the order, a customer made two orders by mistake, or was charged twice for the same order. If it is the situation that happened to you, you have to turn to the Support Agents immediately, so they can resolve the issue and return the money in a few days. Also, if there was no suitable writer for your assignment, you can hope to get your money back. If your assignment was done late and you no longer need it, the full price you paid for it will be returned. However, if you added some more instructions while the writer has been working on the order and it caused the late delivery of your assignment, you will hardly receive any money.  Now we'd like to show what happens if you simply do not like the quality of the writing you have received.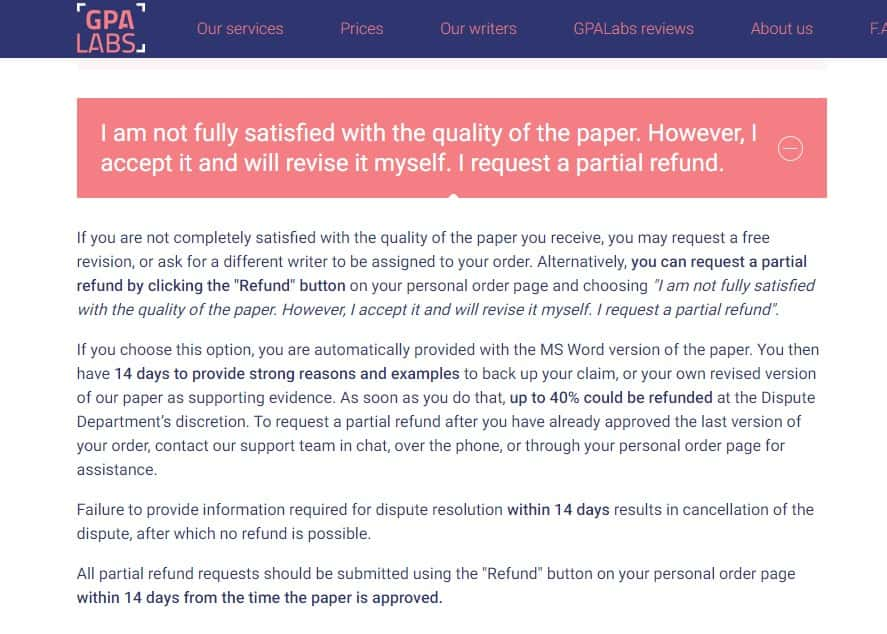 To put it shortly, if you don't like the work, you cannot just say so and have your money returned. Instead, you have to waste even more time to prove the work was inappropriate and after that, you might get 40% of your money back. Our experience says there is no way to return your money if you don't like what GPALabs writers made for you, even if you try to explain the reason and provide evidence.  In regard with revision policy, there are a few requirements that need to be met to get your essay rewritten:
revision guidelines should not contradict the initial guidelines for the assignment;

the request for rewriting the essay should be sent through the revision button;

the revision cannot be received if more than 7 days have passed after the order was finished. 
Customer Support Agents: What Kind Of Help They Provide?
The Support Team representatives can be contacted via the phone calls or online chats. The problem is that you cannot reach out to them 24/7 as their working hours are Monday through Saturday from 00:00 am to 20:00 pm. As we needed our order to be made on Sunday, we could not contact anyone to help us with it. Therefore, we had to write an email listing all the questions we had and received a response the next day. Still, compared to other writing services, it was not very prompt and convenient.