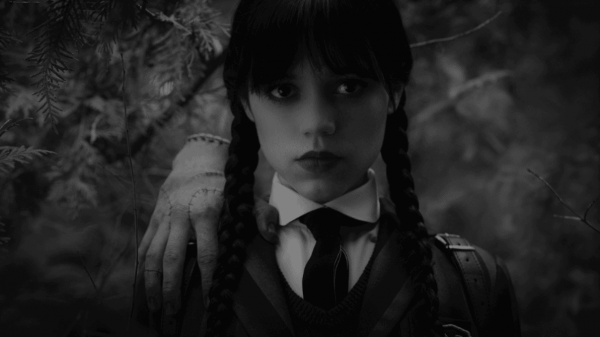 Addams Family is, perhaps, one of the most famous shows on TV. Moreover, people usually compare strange and sarcastic families with eponymous heroes from the Addams family. At least once in our life, we hear the comparison 'They live like the Addams Family' or 'They are real Addams Family.' The recently issued new series on Netflix drew viewers' attention to Wednesday Addams, a daughter of this family known for her tortures and sadistic quotations. So, our best essay writing service is going to dive into the world of this weird girl with two braids.
Who Is Wednesday Addams: Brisk Acquaintance with a Gloomy Girl
Today's generation does not remember the first Wednesday from the Addams Family created by a cartoonist from the US, Charley Addams. The girl is smart, with exquisite humor and a deadly obsession. She likes unusual things for the average girl, like spiders or rats. She tries all her experiments and tortures her younger brother just for fun or to punish him.
She is a pale-skinned girl with two braids and a poker face, so you will never notice Wednesday Addams smile since she seems indifferent to all the disgusting or cruel issues around. Even her father Gomez once said, 'Wednesday always looks half dead.' Her gothic outlook may be a good explanation for such behavior.
How old is Wednesday Addams? This question troubles many viewers after watching a teenage lady, a bit different from common Wednesday. In 2022, in a new Netflix show, she is 16 and studies in a boarding school in Nevermore, where she is an outcast due to her behavior. Her opinion about the new educational establishment is clear from her words, 'I'm not sure whose twisted idea it was to put hundreds of adolescents in underfunded schools run by people whose dreams were crushed years ago, but I admire the sadism.'
Whether 20-years old Jenna Ortega, Wednesday Addams's best actress, is a matter of taste. It may seem strange that such a dark character draws so much attention, but a mix of a sarcastic sense of humor and the sadistic nature of this sharp-witted girl makes millions follow her and admire her quotations. But perhaps, you will agree that her quotations deserve a separate article or book.
Wednesday Addams Family: Story of a Netflix Show
Live action television series about the Addams Family appeared in 1964 and ran for two seasons. Interestingly, in the original cartoon version of 1938, two children had no names. And only after filming in 1964 did the original Wednesday Addams and Pugsley appear.
In the fall of 2022, we had an opportunity to enjoy the new adventures of this wealthy and aristocratic family that seems to live in a separate world. In a new season on Netflix, we meet the same family but with more modern looks. Wednesday is a teenager ruled out from her old school because of tricks. Her parents, Gomez and Morticia, sent her to a boarding school Nevermore where she finds new friends and enemies and participates in murder investigations. What is interesting about this school is that her parents met each other long ago. We may hear nostalgia notes in Gomez's words, 'Nevermore is like no other boarding school. It's a magical place.'
Fans of the show love the renovated Wednesday Addams because she is witty and sarcastic even though she is dead in her soul. Watching the new series, we may notice that she did not lose her sense of black humor, and the film is full of Wednesday Addams's Famous quotes that reveal her gloomy internal world.
Wednesday Addams Quote: Black Humor Prevails
Viewers used her sarcastic quotes, most of which showcase her dark side and passion for death. Some of her quotations prove it in the best way.
'Sometimes, I act like I don't care if people like me. Deep down, I secretly enjoy it.'
'Everyone knows it. When you have a new baby, one of the other children has to die.'
'I am not in a bad mood, and this is just me.'
'It's getting dark in this little heart of mine.'
'I don't believe in heaven or hell, but I do believe in revenge.'
'I'll stop wearing black when they make a darker color.'
As we may see, all the quotations prove that she is on the dark side and craves revenge. But in these words, you recognize a true entity of Wednesday who is unwavering in her beliefs and life position.
Some quotations may seem rather cruel and frightening to many people. But if we know Wednesday quite well, we understand that it is her personal manner of expressing her feelings.
For instance, Wednesday Addams's Homicidal Maniac Quote became famous and is already cited by millions, 'This is my costume. I'm a homicidal maniac. They look just like everyone else.' At first, it may seem to be a sign of indifference to Halloween Party preparation. However, this Wednesday Addams Halloween Costume Quote has a deep meaning since real maniacs do not have a special costume. They look like ordinary people indeed. Unlike killers, she reveals her real essence and beliefs.
Another Wednesday Addams Serial Killer Quote that demonstrates her inner world, 'I know I'm stubborn, single-minded, and obsessive. But those are all traits of great writers… And serial killers.' This phrase may be traced in different ways. On the one hand, she compares herself with a serial killer, but at the same time, we may notice how goal-oriented she is.
From another quotation on the same topic, we may judge how self-confident the girl is, 'If I wanted to kill my husband, I'd do it, and I wouldn't get caught.' It may sound horrifying, but the phrase has another implication. It may mean that Wednesday does everything perfectly, but she expresses this idea in a common way with her character.
Wednesday Addams Family Quotes: Relations and Strange Loving Manner
The quotes connected with her family deserve special attention. It may seem strange how cruel and soulless they are with each other. However, they never claim concerning their family's attitude since it is a common case in the Addams Family. The old  Wednesday Addams's quote, 'No one torments my family but me,' demonstrates specific love rather than cruelty and sadism.
Addams Family Values Quotes: Know the Family Better
It may seem that there are no family values in this family, but they cherish their family relations and are on the same wave. Judging from their point of view, all the people around are strange but not they. Who knows who is right? The phrase of Morticia is a bright confirmation of these words, 'Wednesday, look at all of the other children, their freckles, their bright little eyes, their eager, friendly smiles. Help them.'
Another phrase of Gomez Adams, 'I hope that someday you'll know the indescribable joy of having children, and of paying someone else to raise them,' states the happiness of being parents. But, unlike most parents, he does not hide the fact that parents may also be tired of this mission.
And, of course, a sense of humor deserves ovations. Especially Wednesday is rather witty and always has an answer to any question:
Amanda: 'Why are you dressed like that?'
Wednesday: 'Like what?'
Amanda: 'Like you're going to a funeral. Why are you dressed like somebody died?'
Wednesday: 'Wait.'
So, are there any questions left? The girl can stand up for herself in any situation. She confirmed it one more time in conversation with Morticia and Ellen.
Morticia: 'Wednesday is at that special age where she has one thing on her mind.'
Ellen: 'Boys?'
Wednesday: 'Homicide.'
You are mistaken if you think that there is nothing sacred for this family. They have a lot in common and look at the world from the same perspective that seems cruel, sarcastic, and demonish to many people. But indeed, they are a loving family that reveals their feelings in a bit of an ironic and unusual manner, still loved by many viewers. Morticia Addams said, 'I'm just like any modern woman trying to have it all. Loving husband, a family. It's just I wish I had more time to seek out the dark forces and join their hellish crusade.' A bit of a sarcastic reality of their life and family values.
Addams Family Quotes about Wednesday
Comments from friends and relatives show real character traits and reveal Wednesday's inner world better than any other quotations. Tight family relations and the daughter's support are traceable in each phrase of Morticia and Gomez.
The phrase of Morticia, 'Please excuse Wednesday, she's allergic to color' simultaneously characterizes Wednesday as a passionate lover of dark colors and emphasizes that she is special. At the same time, it demonstrates how well they know each other.
One more phrase from a loving mother is, 'You're a brilliant girl, Wednesday, but sometimes you get in your own way.' Support and understanding from Morticia's side may be traced in this phrase. What is interesting is that you will hardly ever find rude criticism from the parents of their children.
Quotes from Wednesday's father are also cute, 'Look at you, my little deathtrap.' The phrase that may seem unacceptable when speaking to children, in fact, demonstrates that he still treats her as a little girl with some challenging character.
A new Wednesday Addams' friend Enid once said, 'I've learned so much from you. Part of it is admittedly criminal behavior.' You may think it is possible to say only about doubtful friends, but still, it does not mean that there was nothing positive in their friendship.
Every Wednesday Addams' Quote Gives a Push for Discussions
Due to a large army of Wednesday Addams fans, they do not stop talking and discussing her constantly dark looks, behavior, and manner of talking with other people. After the release of the new series in 2022, the followers came alive and busted out with new posts and memes.
Microblogs from the name of Wednesday appear almost every day. Even Wednesday Addams Quotes Tumblr posts draw much attention and gain popularity. In the comments, you may find Wednesday Addams's quotes on any taste and passionate discussions.
And perhaps everyone saw and has a favorite Wednesday Addams meme that spread in social media. For instance, a photo of Wednesday in black with the sign, 'On Wednesday We Wear Black,' is quite a predictable meme that still makes us smile.
Separate attention should be given to Wednesday's new friend Enid Sinclair, a new character in the Netflix series. She is the complete opposite of Wednesday. We observe a lively, blond girl wearing bright clothes together with gothic Wednesday. This opposition could not but cause lots of memes. For instance, the scene of two girls together is like two separate worlds that were signed 'My two personalities living peacefully together.' And a picture of two neighboring houses, one is bright and another is black, side by side leads to a comparison between Wednesday and Enid.
The only conclusion that comes to mind is that people still discuss and wish to watch and cite characters who have existed for almost a century. So, there is a part of the Addams Family in each one, but it is not a sign of cruelty or sadism. It is a good opportunity to percept even dark sides with sarcasm and irony!