Introduction to eNotes
Once you get assigned tons of literature, you understand that you have to spend your youth time reading books. Many students search for some online resources that will help them grasp crucial facts about a particular literary work so that they can retell some events during the class. Or, they use writing services to get academic help. Today, we are going to review eNotes – one of the online educational services that help students manage literature classes. eNotes is one of the leading platforms in the niche. The company was launched in 1998. The service began with sharing Shakespeare guides. Is eNotes scam? Can you legally use it? Let us find out.
eNotes Website Interface and Design
eNotes design is trendy and appealing. It makes you focus on studying due to the corresponding attributes and symbols. There are services sections on the homepage, which makes it convenient to browse the materials you need. There is a search question field so that you can quickly find the book summary, literature guide, or answer to your specific inquiry.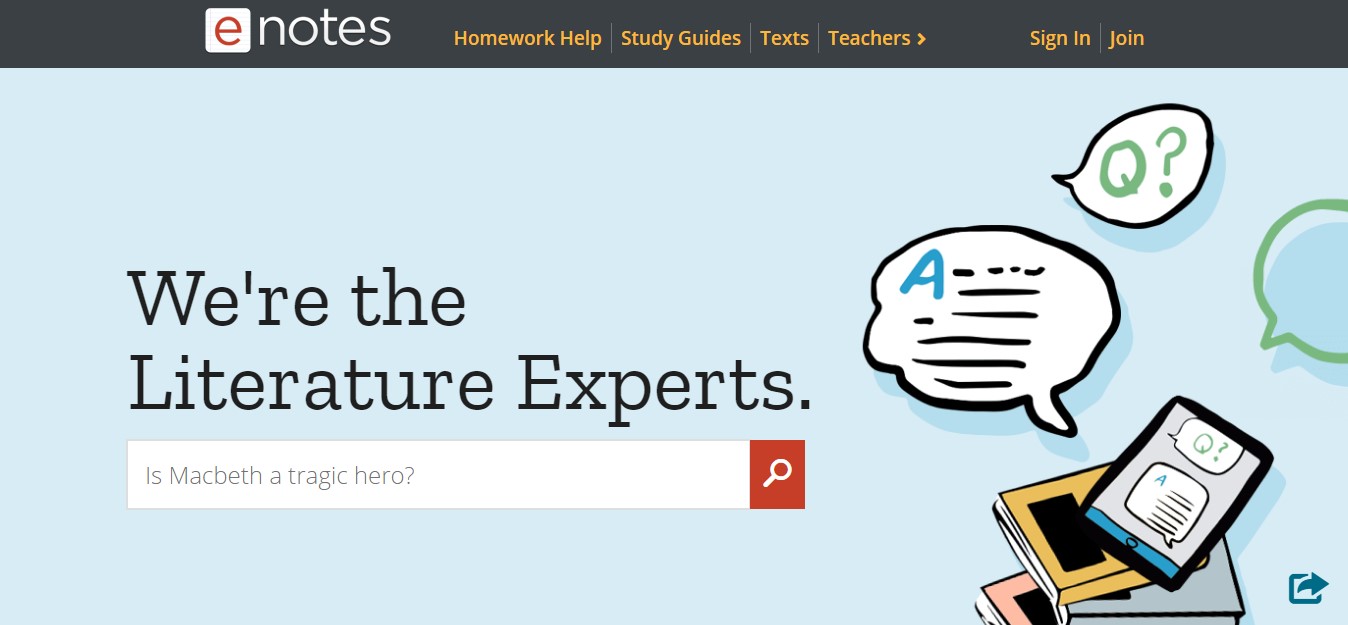 Students can browse recently added materials and questions on the homepage as well. On the other hand, you cannot use any of the eNotes sources for free. To get access to study materials, you have to set up an account. 
Registration Process and Payment Means
To set up an account at eNotes, take these steps:
You have to press the Join button on the homepage.

Then, you need to fill in your email address and create a password. The site will suggest you receive emails and offers. They may be sent frequently, and you can cancel the default tick in this section to avoid spam. Also, eNotes gives you a 50% discount due to the COVID-19 pandemic.

After that, you need to fill in your payment means to prove you can purchase the subscription. You need to provide either your card or PayPal information. eNotes has a wide choice of payment options. Credit and debit cards from Mastercard, Visa, AMEX, and Discover are available. After that, agree to the website terms and conditions.

Pass captcha and press the

start a free trial

button. Now you have an eNotes account
You can go to your dashboard to adjust notifications. It is useful since you can always get a reminder of your questions.If you want to cancel the trial, you can go to your dashboard, and proceed to the manage subscription section. Here you can select from several options. Press cancel to disable the free trial account.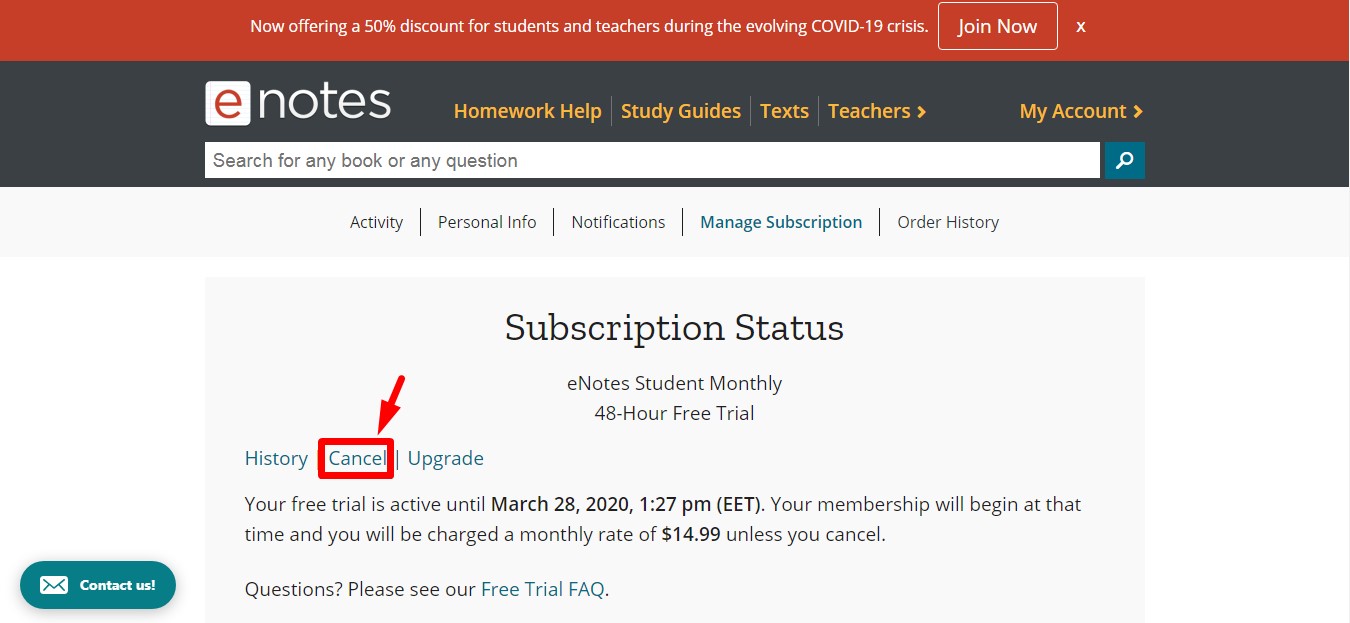 How Good are Study Materials?
Like lots of platforms that provide study guides and literature summaries, eNotes does not offer something outstanding. These cheat notes can give you a basic understanding of the events, the insights on characters, and the general description of the themes. However, it will not be enough 80% of the time. You will have to read the book on your own anyway. A cheat note does not allow you to pass any literature test since the retelling leaves many details behind. You can answer some of your professor's questions. However, tutors always find out whether you read the text by yourself or use a cheat note to get general information. If your professor doubts your knowledge of a literary work, he or she will ask you to describe the setting. You will fail since eNotes literature summaries describe the sequence of events and leave visual elements behind. A cheat note can fit no more than 30% of the events in the text. Trustpilot reviews mention awful eNotes performance.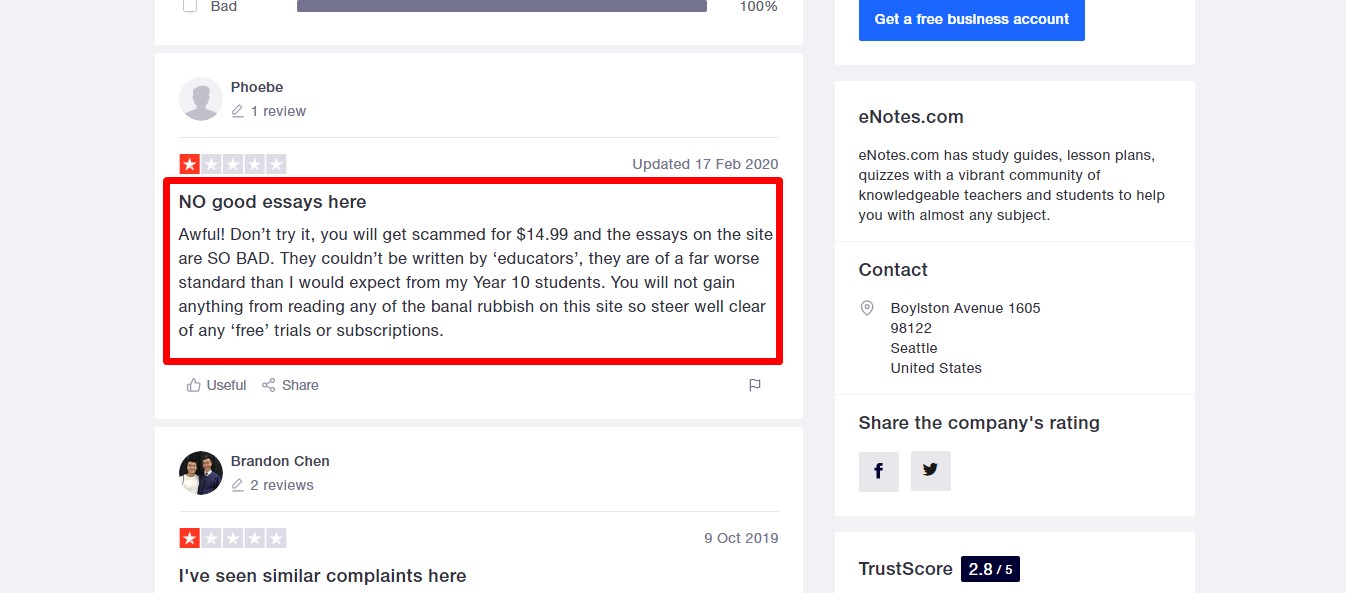 That is why you should not rely on eNotes in this regard. It may help you get more understanding after you read the full text, but nothing more.
Who Writes Summaries?
From the company's website info, you can find out that teachers, professors, and humanities scholars contribute to eNotes. Is eNotes reliable in this regard? You cannot find any meaningful information on eNotes summary writers. The educators' profiles display a brief self-description and rating only. That is why it is unclear who writes the literature summaries and provides answers to students' questions.You can become a contributor to eNotes too. The candidates should fill out the application form which asks to indicate their educational background. More than that, students can also apply as eNotes educators.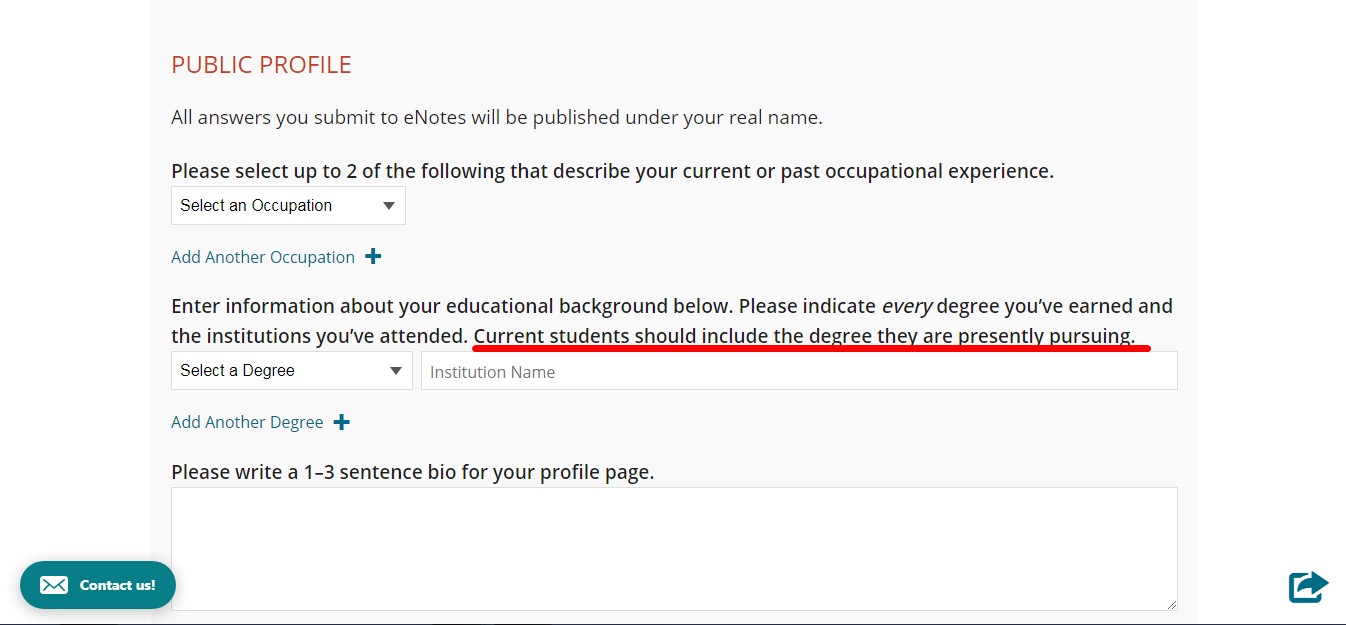 The company does not require a scan of your diploma for education proof. It means that literally anyone can apply for the educator position. Is eNotes fake in this regard? Yes. The company's claims are false since it hires people with no identity or expertise verification.
eNotes Services and Offers
Here is the list of services and study materials you can benefit from on the eNotes website:
Study guides

Homework help

Literary terms

Shakespeare quotes

Lesson Plans

Annotated Texts
Study Guides
Each literature guide includes a general book summary, analysis of characters and themes, and chapter retellings. eNotes has already published more than 40,000 literary briefs.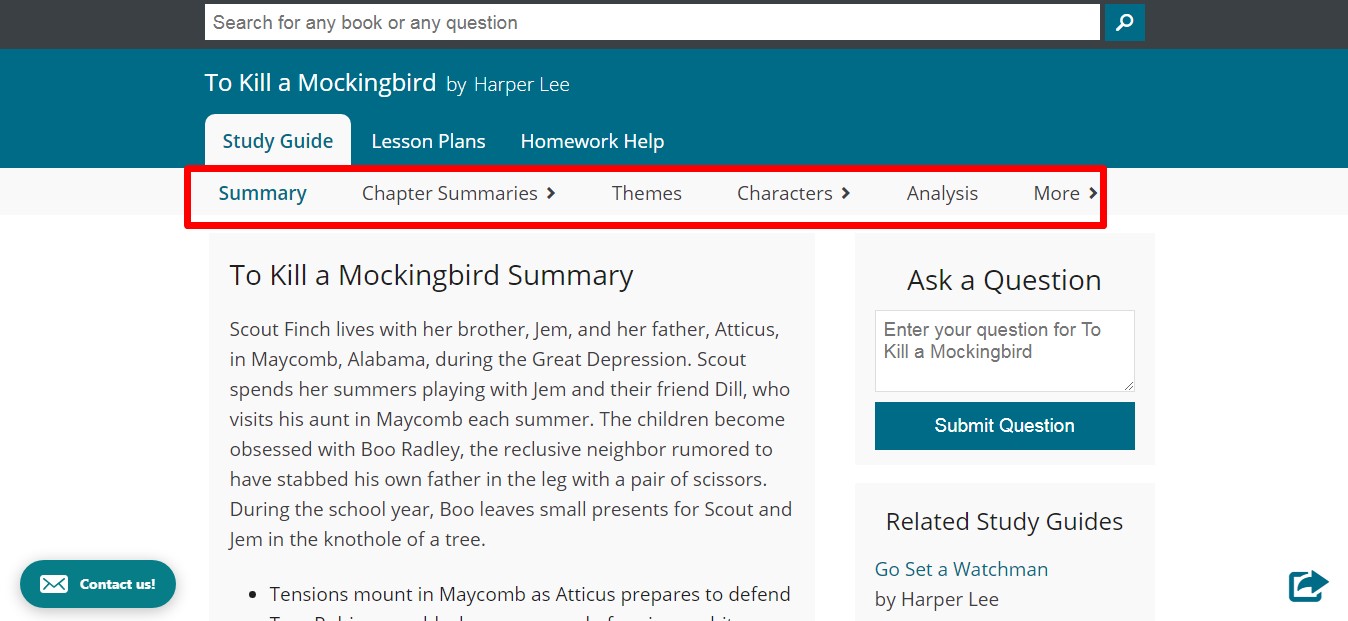 Each guide also consists of the book quotes, quizzes, and essay suggestions.Quizzes can help you learn the info on the plot and the characters of each particular book. The essay section includes guides and tips on writing different kinds of academic papers. Also, essay guides relate to a specific book providing an outline ready to use. It can theoretically help you get prepared for the class. However, the company does not offer any writing tools such as plagiarism and grammar checkers that help students complete their papers.
Homework Help
This feature allows you to place a query on the website and get assistance on your assignment. You can place queries on the following fields of study:
Literature

History

Science

Social sciences

Math

Arts

Religion

Law

Business
If your question does not relate to any subject, you can select other.After you fill in the question form, your query will become visible to eNotes authors. You can also browse existing questions and answers.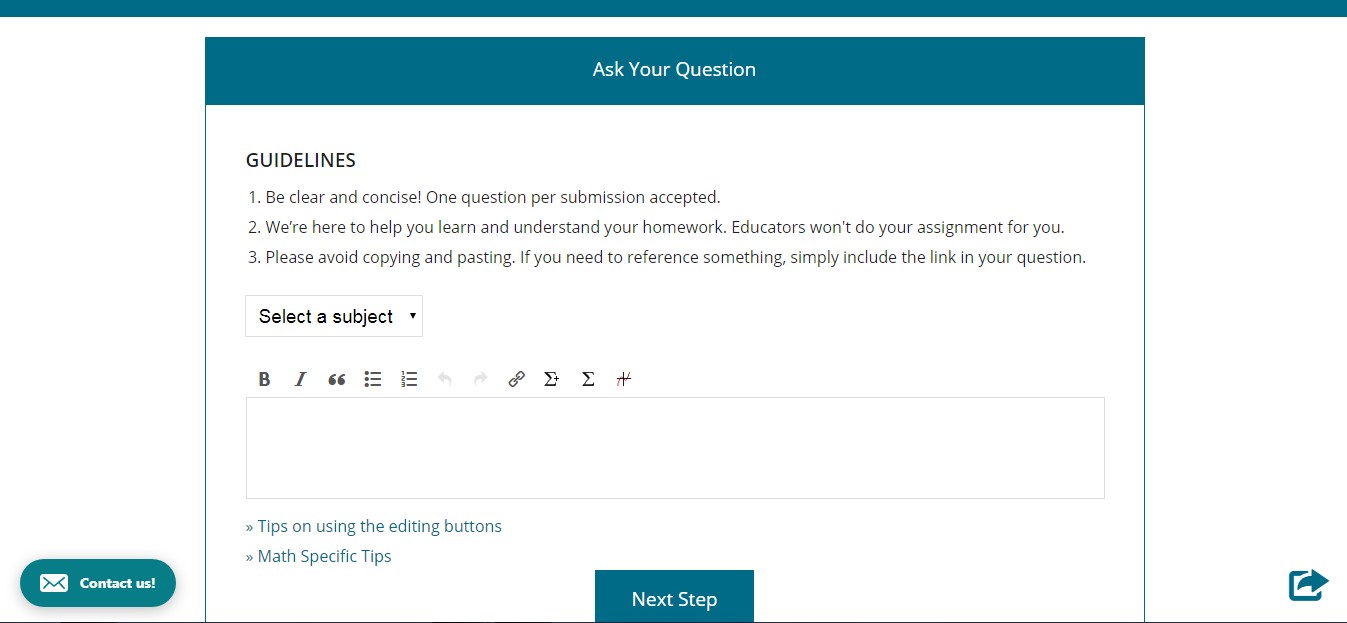 This feature may be helpful. However, why should you pay for this if you can ask your tutor for help? Your professor will be glad to explain to you all the details for free. Supposing your tutor is away at the moment, you can always google the necessary information, and it will take less time than waiting for eNotes to reply to your specific question.The number of questions you can post in a month is limited to ten, which is a downside of the service. There is no guarantee that you get a satisfactory reply.
Literary Terms
eNotes features 141 guides on literary terms. Each guide consists of a definition and examples of use.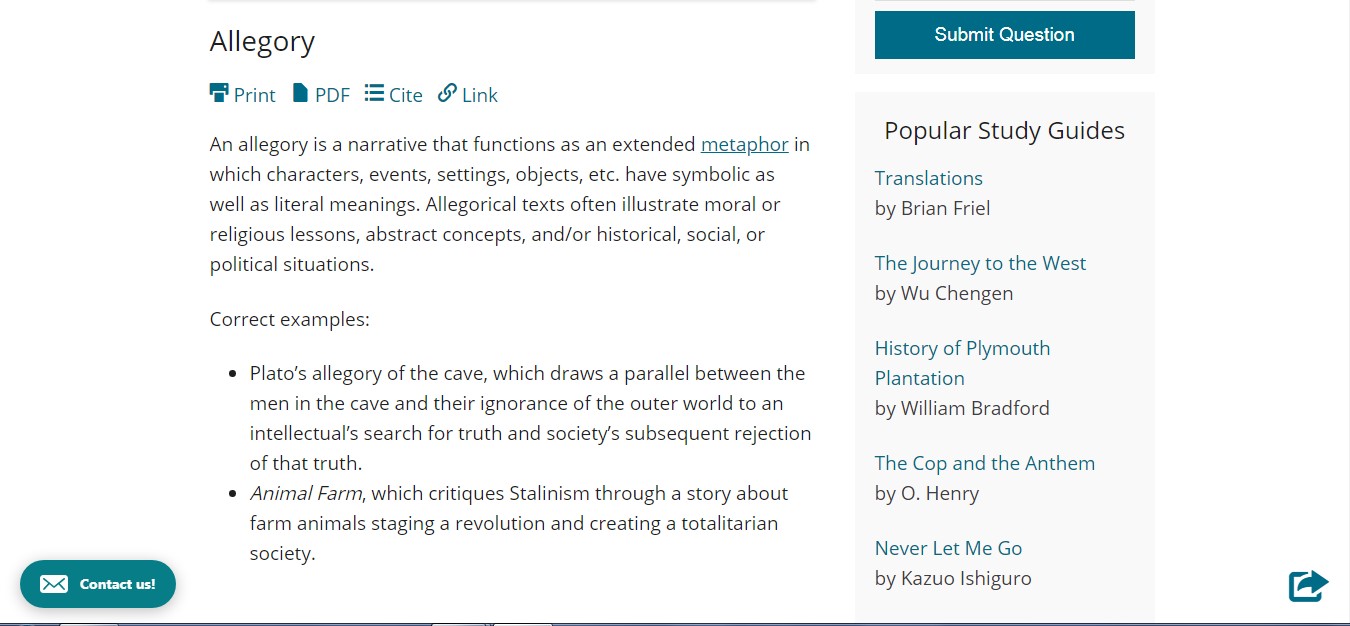 Again, you do not need to pay a commission to get a literary term definition. You can find this information on the internet for free. More than that, eNotes explanations on terms are short and incomplete. You can find much more extensive examples on the web.You can download a PDF variant of terms explanations. However, this option is limited as well. It also does not contribute to eNotes because the company forces you to pay for things you can get for free.
Shakespeare Quotes
Alongside Shakespeare's most famous quotations, the website provides explanations and gets info on the origin of each quote. It is helpful. However, Shakespeare quotations can easily be found on the web for free too.
Literature Lesson Plans
The lesson plans are available for teachers only. To download a program, you need to create a teacher account or upgrade your membership. There are currently over 400 lesson plans on the website.
Best Alternative:
HandMadeWriting

Visit site
Annotated Text
Here you can find a collection of more than 200 short stories and other literary texts. It may be comfortable to search the books in a single place like eNotes. However, you can google the title and read it online on the first search page. More than that, you may not find the book you want on the website since 240 titles is a small number even for a cheat note site.
eNotes Mobile Application
The app  is available on Android and iOS devices. eNotes rating on Google Play is 3.5. Many eNotes reviews complain about sign up issues, delays, unclear service, and payment descriptions. The app is free, and you can download it from Google Play and App Store.The app does not synchronize with the website account so that it does not display the guides you view via your browser. More than that, the application design is unclear and inconvenient. You cannot place a question using it. Annotated texts are also unavailable.
eNotes Pricing Policy
eNotes prices are inconsistent and high. The student's monthly plan costs $14.99. Once you try to set up a free trial, the site offers you a 50% discount on your first payment. However, when you enter your account, the site notifies you that you will be charged the full price.See monthly membership features:
No ads

10 queries per month

4 PDFs per month
The annual subscription will cost you $49.99. It saves your cash significantly. If you paid monthly, you would spend $180 in total. On the other hand, the annual plan allows you to place 20 questions per year only, which is a mockery. Other features include:
10 PDFs per month

No advertisements

20% discount on queries
The prices are incredibly high for the level of eNotes content and services. Other educational and writing services charge less and offer more options.
Options for Teachers
There are three teacher plans. They cost even more, even though they offer the same options. A monthly teacher plan provides you with the following features for $24.99:
Annual subscription provides these features for $79.99:
There is a Plus Faculty membership that starts at $399 and gives you:
10 teachers logins

15 PDFs per month

No ads
Other services, like teacher plans, study guides, and annotated texts, are free.Is eNotes legit in this regard? It is doubtful since there is a 500% difference between Plus Faculty and annual membership with no actual difference in services.
eNotes Refund Policy
The company states on its terms of use page that it offers refunds occasionally. However, it does not list the cases eligible for compensation. Instead, there is a list of exceptions when you cannot qualify for any money-back:
You fail to cancel your trial membership. Remember that you have 48 hours to test the website. If you are unsatisfied, you can switch off your account, and no commission will be charged. If you fail to cancel it, you will have to pay $14.99 for the subscription.

You cannot find the necessary resources.

You download PDFs and other content.

You paid for the subscription accidentally.
What is the conclusion to the refund policy? It is unavailable in every case the customer may want it. That is why there is no compensation policy on the eNotes website. If you still want to use it, you should carefully monitor your trial expiration time. Make sure you cancel it before the 48-hour deadline. Unless you do that, you will lose money.Is eNotes legal when it comes to trial cancellation? We have found multiple reviews that complain about the charge despite trial switch off.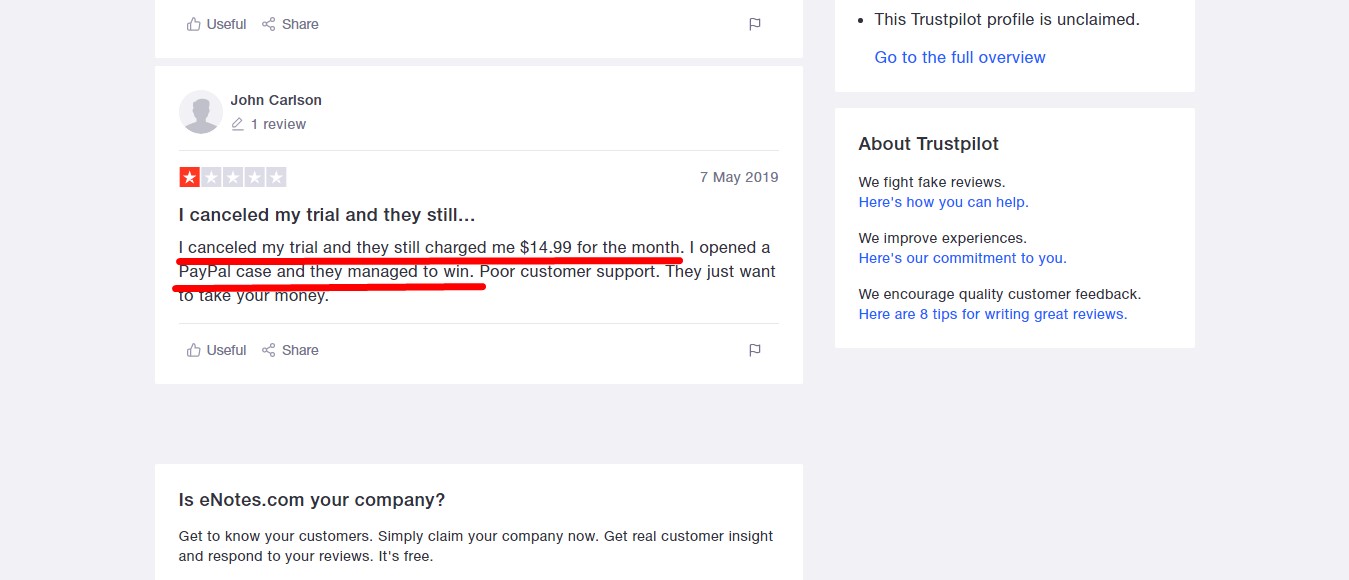 eNotes Support Staff
eNotes provides customer support. Although the customer team is not offensive, it cannot deliver a proper level of communication to solve the issues effectively. Many students complain that support staff replies too late. You will have to wait for up to several hours for the reply. You can contact eNotes via support email as well. It will answer you within several hours.When it comes to refunds and trials, the support staff does not pay too much attention to the customers. It sends a pre-written meaningless excuse message, which brings no value to the customer.
Advantages and Downsides of eNotes
Advantages:
Downsides:
There is no free content. There is no preview or open registration either. You need to provide your financial data during the sign-up process.

High prices. You have to pay from $14.99 to $399 to use this service, depending on your account type.

The quality of studying materials does not match the charges.

No refunds are available. The eNotes compensation policy does not indicate the cases when you can receive a money-back.

It is risky to provide financial information since reviews are complaining about eNotes stealing money from users even after trial account cancellation.

Customer support is inactive.
FAQ 
What is eNotes?
eNotes is a digital cheat note website with studying materials for students.
Is eNotes Legit?
Yes, it is. You can lawfully use it.
How much does eNotes Cost?
It costs from $14.99 per month and up to $399 per year.
Is eNotes Scam?
Yes, it is. It lies a lot and does not give you any real benefit.
Is eNotes Safe? 
There have been claims of eNotes stealing money, which positions the service as not completely safe.
Are eNotes Study Materials Well-made?
No, they are not. Many students complain about the eNotes materials' quality.
Are there eNotes Discounts?
There is a 20% discount on your questions within the annual student plan. You can also get a 20% off when you decide to return to the website after you switched off your trial.