Introduction to Editage
Once you start searching for essay writing assistance, you may find tens of writing services on the internet. How can you decide on the best company? You can address testimonials and reviews of course. But you can also read our review on Editage – one of the top educational assistance companies on the web. It offers editing and proofreading services for students. It also provides far more features which we are going to describe in this review. The company was established in 2002 as part of the Cactus Communications. It has offices in 7 countries and helps more than 400,000 academics in different corners of the world.  It sounds pretty solid. Let us check this service in detail.
Editage Website Template and Interface
Once you visit the Editage website, you will get lost in numerous sections and menus. The template is outdated, with low-quality images. It is overloaded with textual information, animated segments, and imagery.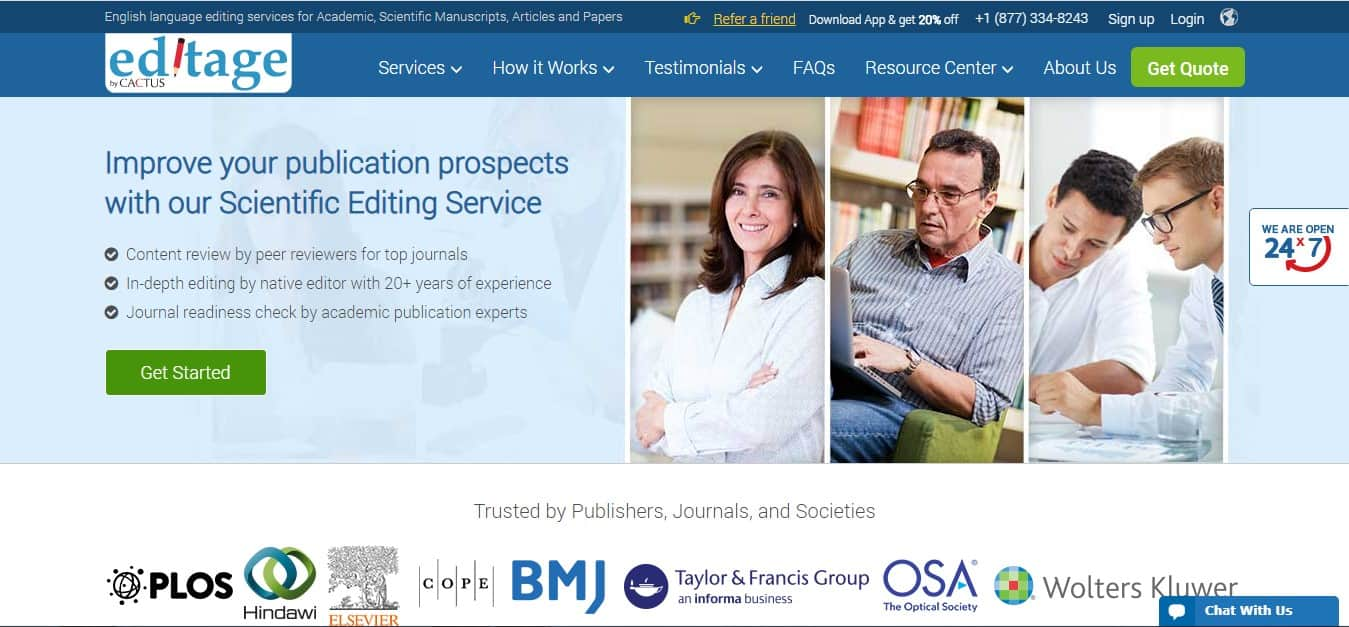 You can get a lot of info from the homepage except for prices. You have to register on the website or address the support team to get the information about the exact costs. To use Editage, you have to create a profile. Take these steps:
Go to the Editage homepage and press the sign-up button.

After that, you have to fill out the long registration form. The service will meet you by requesting your full name, title, institution name, and phone number. Right from the start, the site collects a lot of personal information, which does not seem friendly.

Then, you need to indicate your job title and educational institution once again. If you are a student, you can go to the

Graduate and Postdoctoral Students

section and select your variant.

You finally get to your dashboard. And it is also overloaded with text and images. The agency aggressively promotes its services. Is it so necessary to put a large banner on the control panel?
All in all, the site is inconvenient. Editage does not aim to make its dashboard user-friendly. Instead, it puts lots of ads and links that can significantly distract you.
Best Alternative:
HandMadeWriting

Visit site
Information about Proofreaders and Quality Overview
There are over 2,000 proofreaders and editors on the platform. The team is vast and one of the largest among education assistance companies. However, assuming Editage operates in 7 countries and hires freelancers, not all of them are English natives. A lot of employees reside in ESL countries. The company offers low pay for freelancers. It means not every ENL editor will be ready to work full time just to make ends meet.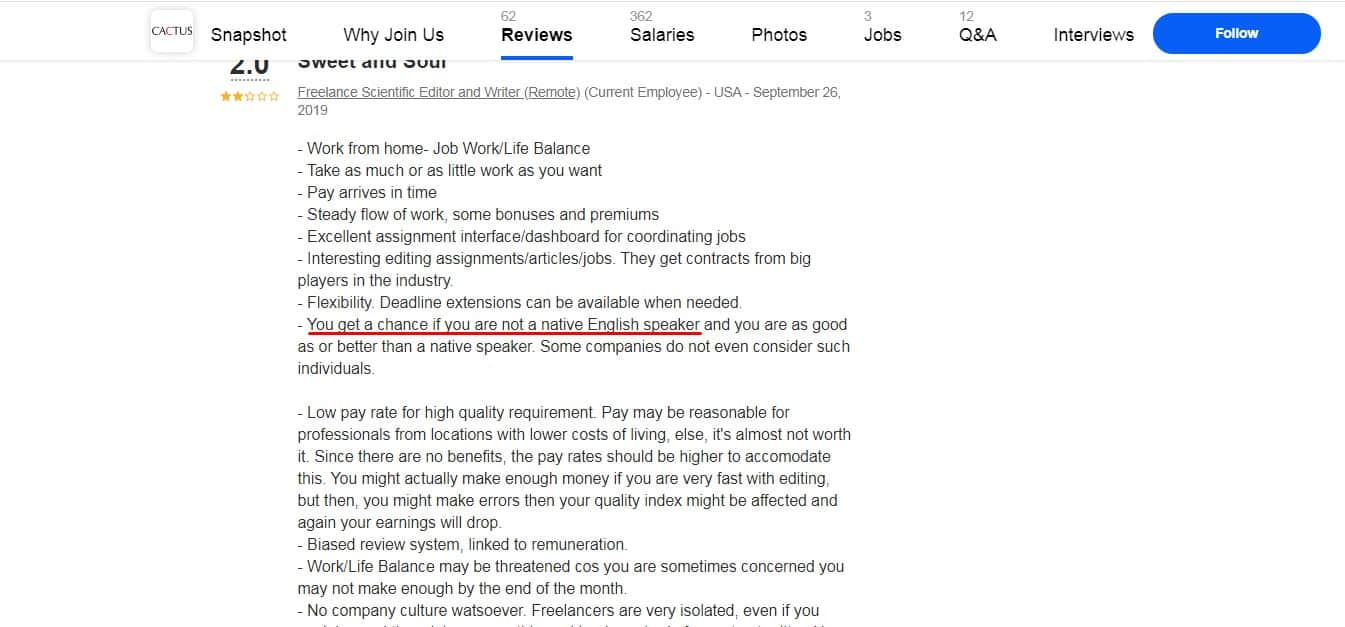 Editage reviews on Glassdoor also complain about low wages. 

 What does it mean for you? The team consists of non-native English speakers, which downgrades the quality of the services significantly.
Application Procedure
There is a high employee turnover on the platform, and you will always see available job positions. Applicants should fill the form and then complete an English test. It is also an opportunity for ESL freelancers. The company does not pay too much attention to the candidates' educational background. The only thing they need is to pass a language test. That is why the"expert" service is nothing more than a part of the promotional campaign. This agency works similarly to content mills.
Quality Requirements and Real State of Affairs
Editage promises you 100% high-quality works. Each document gets checked twice. In reality, this service delivers inconsistent quality. A massive team of proofreaders consisting mostly of freelancers cannot ensure high quality continually. That is why you can receive a document with your academic language completely reversed into something ordinary and unacceptable for submission. Also, your work can contain plagiarism even after alterations and corrections are made.
What Services Editage Offers You
Editage provides a wide range of services, including:
Editing and proofreading

Academic promotion

Publication support

Translation
Also, you have to understand that this agency does not offer essay writing. If you need to order a paper from scratch, Editage will not be your option. To place an order on the platform, you have to:
Login to your Editage account.

Click on the green Submit New Order button.

After that, you should select the service option.

Since each option features several plans, you need to choose one matching your needs.



Once you click on the service of your preference, you will get to the order detail menu. Fill in the required word count and press

View Plans.

After that, select the delivery time and additional services (they depend on the plan you selected before). You will also see the order price. After you decide on the extra features, press

Proceed.

The next step is to enter the order details. Include the instructions and other specifications concerning your project. After that, press

Submit Order.

Afterward, you can check the order details in the payment section. Note that you are unable to cancel your project. There are no cancellation or editing options for your assignment.


What services will be useful for students? Let us start with the editing overview.
Editing and Proofreading
Let us assume you need to edit your essay. For this, you will have to upload a document, and Editage will assign a proofreader to your work.  You will need to select from the following features:
Advanced editing. It includes erasing grammatical and spelling errors. Also, your proofreader will ensure your work is consistent in terms of the terminology used. Your paper will be formatted accordingly.

Premium editing. It includes structural, stylistic, and consistency improvements.

Scientific editing. This feature includes a plagiarism report, recommendations on your writing, and multiple formatting rounds. Also, Editage will assign a proofreader with more than 20 years of experience.

Thesis editing. Besides academic essays and articles, you can order a thesis or dissertation editing. It includes grammatical, structural, stylistic, and logical corrections.
More than that, all the options include additional benefits:
Translation Services
Editage also provides translation services for its customers. You can order a translation of 12 different foreign languages. Here you can benefit from the following options:
Basic. You can select from eight language pairs.

Pro. Only Portuguese and Spanish languages are available.

Traditional. You can select from Japanese, Brazilian Portuguese, Chinese, and Korean.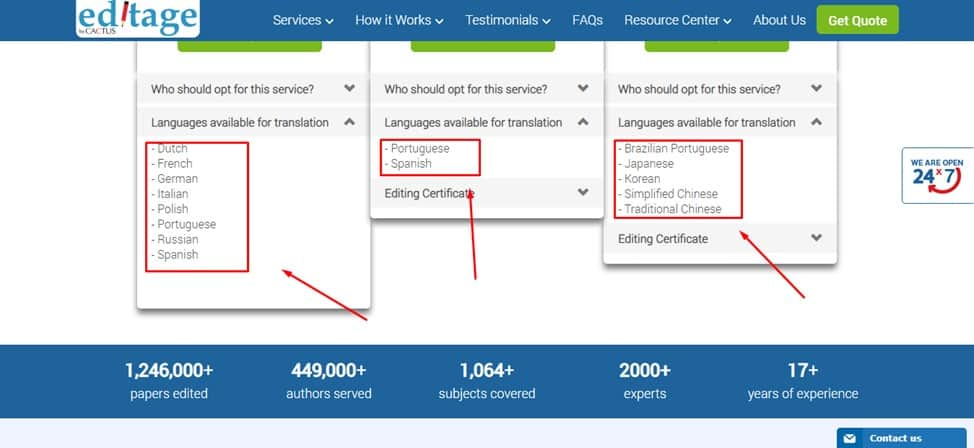 With Pro and Traditional options, you can order a translation certificate. It applies to scientific journal publications and gives you more credibility. If you just aim to complete an ordinary university translation task, you will not need any kind of certificate.
Publication Support and Promotion
This option can be helpful for Ph.D. students. While working on your dissertation, you will need to publish manuscripts in scientific journals. It can become complicated and take a long time. Editage helps researchers publish their works. The publication support package includes:
Journal selection. You will get recommendations on scientific journals fitting your work.

Quality check. It includes plagiarism reports, proofreading, and formatting.

Journal submission and resubmissions. Editage will help you with the publication process.
When it comes to promotion, Editage offers the following features to increase your work's visibility and shareability:
Book Translation and Editing
You cannot order book translation and editing from your dashboard. Instead, you should follow these steps:
Proceed to the Editage homepage.

Select

Other

in the services section.

Proceed to Book Editing.
On the Book Editing page, you have to select one of the following options:
Standard. It includes simple revisions on your style, grammar, and spelling.

Consultative. It comprises suggestions and improvements on characters, plot, and themes for fictional works and concept overview for non-fictional books.

Composition & cover design. It includes a cover for your book and typesetting. You can get your project ready for publication.
While corrections and formatting may be helpful, suggestions on plot and characters from freelancers do not seem like a valuable option. Consultative editing does not contribute to the authenticity and literary value of a book. 
Editage Extra Services
The agency cooperates with the Kolabtree freelance platform. You can get extra help concerning literature for your work and statistics. Here are the services you can order with Kolabtree:
Literature search. Freelancers will find appropriate literature sources for your assignment.

Statistical review of your work. 

Medical writing. You can ask freelancers for help with some aspects of your project. For instance, you can assign a freelancer to gather relevant data and statistics concerning your topic. You will discuss these details individually with each Kolabtree contributor.
These services do not apply to academic writing and essays though. Therefore, undergraduate students will not be able to benefit from these features.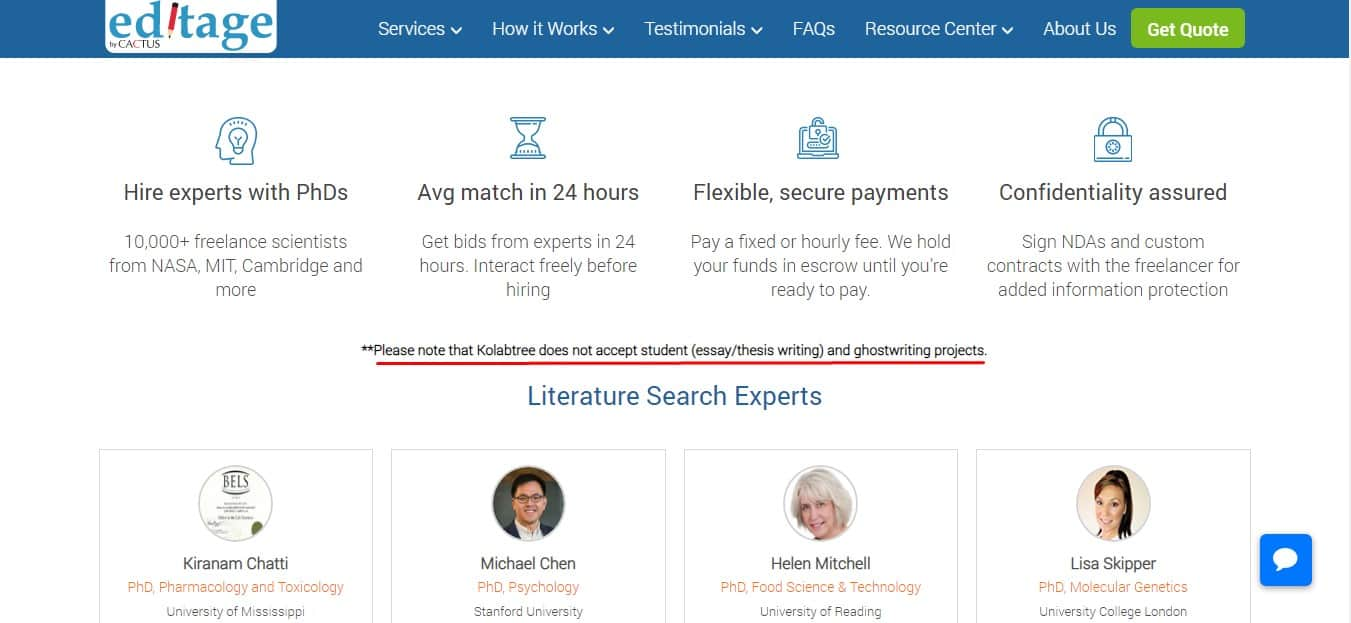 Banking Options and Security Measures at Editage
You can use multiple payment methods, including PayPal, bank transfers, debit, and credit cards. 

 You can be sure your financial information and payments are secure. Yes, you can, since Editage is Godaddy certified.
Pricing Policy at Editage.com
The editing prices are incredibly high. The cheapest option starts at $0.051 per word. It means an average essay of 1,500-2,000 words will cost you from $76.5 to $100.2. A plagiarism report costs $20, which is also a lot. With other writing companies, you will be able to order a paper from scratch for a lower price. The Editage prices do not match the proofreading quality.When it comes to publication promotion and support, you will have to pay a lot more. These services should not cost that high.When it comes to translation services, you have to pay at least $0.06 per word. It equals $90 per 1,500 words.
Publication Support Costs
When it comes to publication support, you will have to pay a lot more, while  these services normally should not cost that high. Here are the prices for the support plans:
$890 for Silver

$1,140 for Gold

$1,440 for Platinum
Promotion Costs
You have to be extremely wealthy to afford promotional services from Editage. You can see the prices on the screenshot below.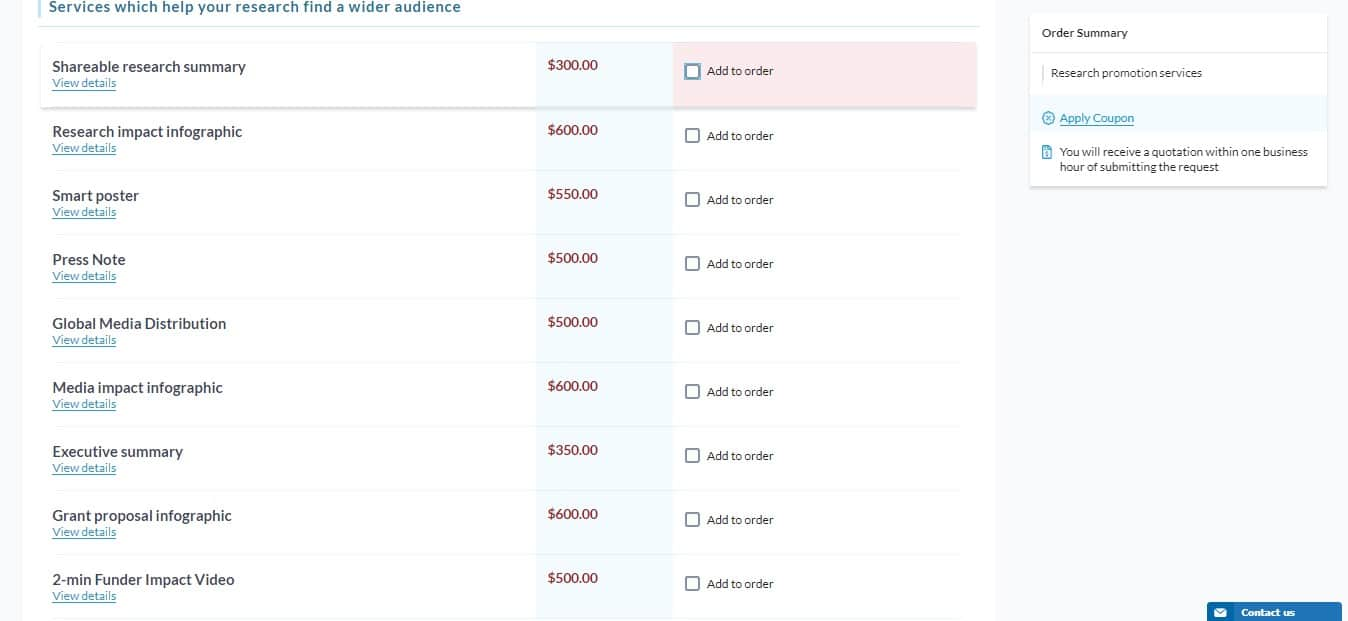 If you strive to get the maximum benefit from the promotional help, you will have to spend $4,500 on a single publication.
Referral Program
You can receive a coupon of $40 per referred individual. Each member you refer to the service gets 10% off on his or her first project. The good thing is that you can invite as many people as you want.
Editage Delivery Options and Deadlines
Unlike other writing companies, Editage does not offer urgent projects. You are not able to set a favorable deadline. The shortest deadline for editing is two days. Proofreaders fail deadlines occasionally. Therefore, there is no warranty you'll get the work done on time.
Editage Revision Policy and Money-back Guarantee
You will not be able to get comprehensive information on the revisions and refunds provided by Editage. The company offers free corrections if the quality of the work is unsatisfactory. You have to give evidence with comments on the proofreaders' errors. How many revision rounds can you claim? There is no info about this.When it comes to refunds, you will be able to get compensation only if the proofreader is late with delivery . In this case, you will receive 100% compensation. Any other issues do not fall under the refund policy, and this fact makes Editage unreliable. You will not get a refund if you make an order mistakenly, since Editage does not accept deletion requests for the confirmed assignments. The users confirm their projects at the moment of their submission, which is weird. You will not be able to edit or cancel your assignment after placing it as well. Therefore, no refund is available in this case.All in all, Editage refund policy is unfair and advantageous for the company only.
Quality of Customer Service at Editage
The quality of customer support is unacceptable. Although Editage provides live support chat, you will not be able to reach the support team 24/7. You can contact the staff via email as well. However, you will not get a response even after waiting for several hours. If you have any urgent issues, forget about any assistance on this platform.
Advantages and Disadvantages of Editage
Advantages:
Disadvantages:
No dedicated essay writing options

High prices

Inadequate refund policy

Confusing website design

Questionable quality of work
FAQ
What is Editage?
Editage is an online editing agency offering proofreading, translation, and publication services for students and scholars.
Is Editage Legit?
The service is legal for use. It is a registered business that does not violate the law.
How much does Editage Cost?
The costs depend on the selected features. Editing starts at $0.051 per word, while publication support can cost up to $4,500.
Is Editage Scam?
Although the service applies a shady refund policy, it is not a scam. There have not been any fraud claims or legal cases related to Editage.
Is Editage Safe?
The company is safe to use. It ensures a secure online environment for users and proves it by featuring digital security certificates.
Is Editage Plagiarism-free?
The works delivered by Editage proofreaders can contain plagiarism due to significant alterations and corrections.
Are there Editage Discounts?
There is a referral program available for Editage members. You can receive a 10% discount if you register on the website using the promo link. Referrals get $40 for each invited customer.