Does the Boomessays Website Offer a Good User Experience?
Upon entering the Boomessays site, a user sees an upper banner and online calculator. It's rather convenient because you can calculate the price of your future order and avoid the necessity to contact managers. Besides, you don't have to visit different pages to find a calculator because it's right there in front of your eyes.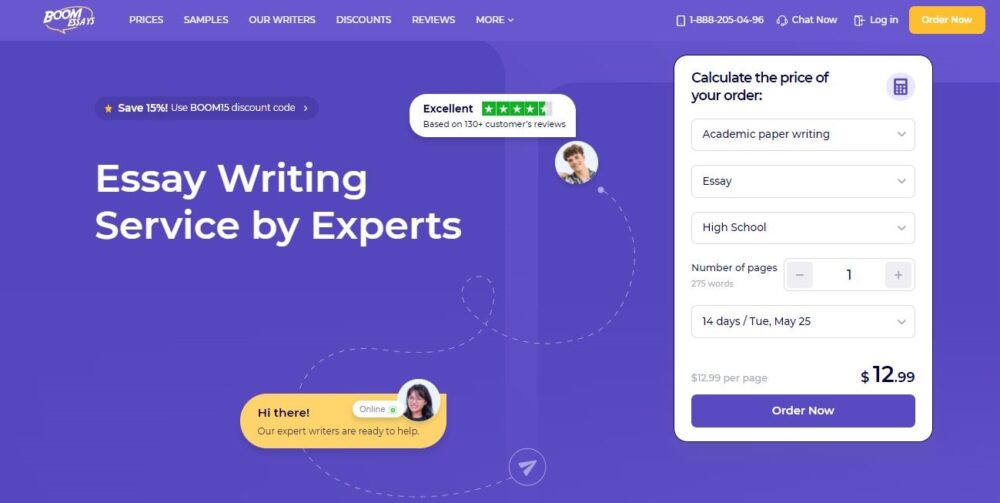 The home page looks minimalistic with its blue and white colors, but a lack of images makes the site look somehow boring. Of course, there are a few photos capturing students, but it's not enough. Although nothing grabs your attention and you can focus on a text, it seems like the page is empty without images. Also, popular writing services use more stylish website themes. 
In general, the Boomessays website is convenient and informative. All the necessary sections are placed above the home page, so you'll quickly find prices, discounts, samples, writers, Boomesays reviews, and many more. However, if you visit their blog, you'll notice that the last articles were published way back in 2017. There's no information about review publishing dates, so it remains unknown how old they are. Chances are Boomessays reviews are as old as their articles are, which is uncomfortable for a potential customer. All in all, newcomers search for the latest reviews – they don't care about what happened years ago. Reliable writing services have new reviews on their sites, and they regularly post fresh articles on their blogs, unlike Boomessays.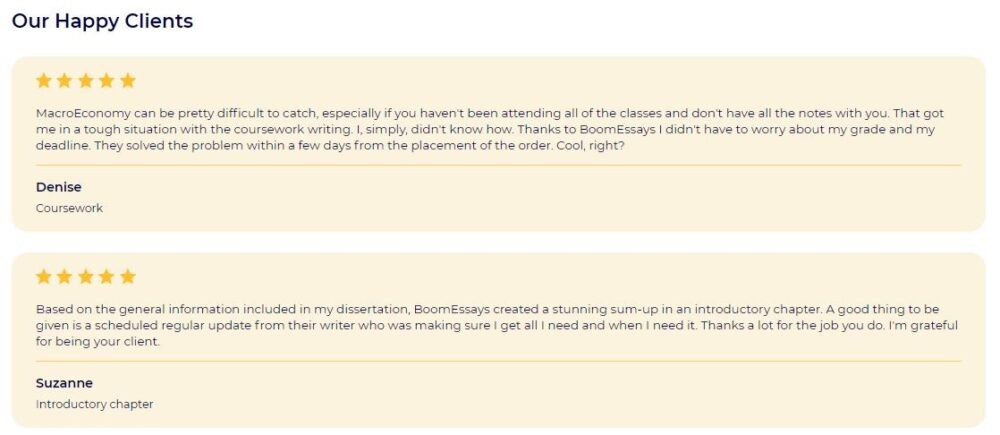 Will Boomessays Writers Deliver a Paper of the Highest Quality? 
Although Boomessays don't display when their customers' reviews were published, you can see that their rating is high. The writing service has a special section where a user can find a list of writers, their rating, number of completed orders, and tasks in progress. Boomessays allows a user to choose a writer on their own. You can filter authors by the number of completed orders, customer rating, and subject. However, if you pick to show writers according to their rating, from low to high, you'll see that the average rating is 4. It's hard to believe that no one ever rated Boomessays writers with 3 or 2. Of course, you can choose an expert who has completed more than a hundred orders, and it will be a guarantee that your paper will be definitely written by an experienced writer. But the most popular writers have a few orders in progress at a time. It's rather risky to pick a writer working on 13 tasks currently, but such experts are still available, and a customer can pick them.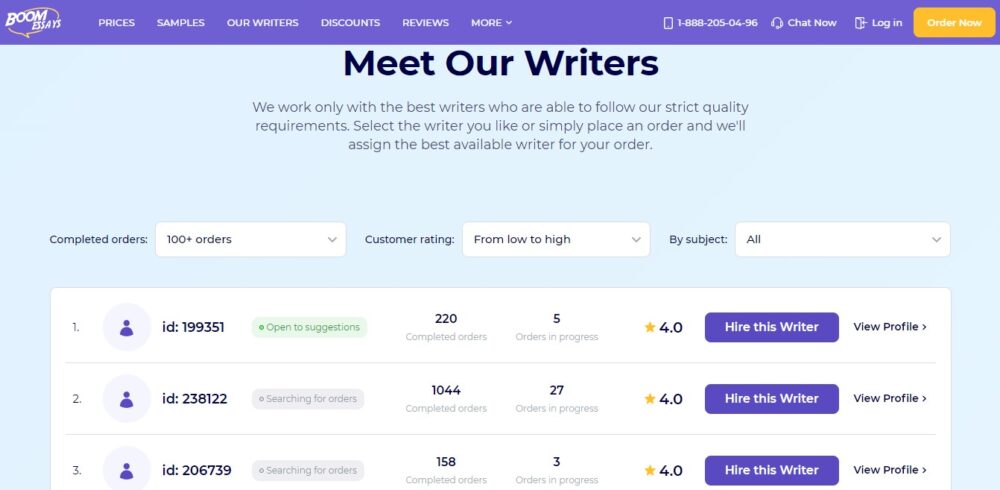 Boomessays also allows users to view profiles of their writers. A writer's page contains information about subjects they specialize in, completed orders, tasks in progress, rating, and reviews. As we've mentioned in our Boomessays review earlier, you can't see the date when a comment was published, so chances are this information isn't up to date. Another detail that makes us doubt the paper quality is the number of subjects their writers specialize in. Many experts have chosen more than 10 different disciplines they work on. An ordinary person just can't be equally good at geology, IT, agriculture, physics, and criminal justice unless they are a genius.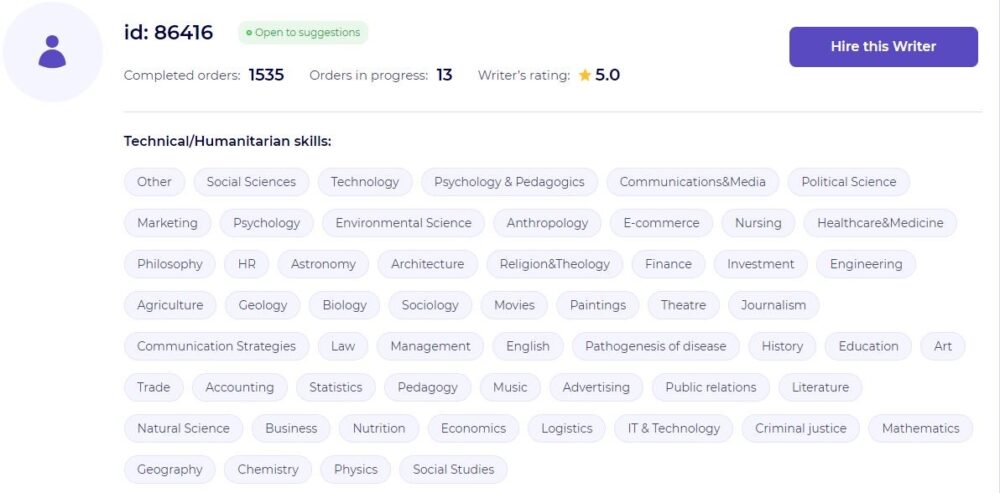 Does Boomessays Offer Any Extra Services You Can Benefit From?
Basically, Boomessays offer standard services, including writing, editing, proofreading, and rewriting. The company helps students cope with different academic assignments in various fields, including math, management, English, business, history, economics, etc. Boomessays has a few helpful online tools on the website. You can calculate the total sum of your future order and pick a writer on your own. If you choose one of the top writers, you'll have to pay more than you expected – plus 25% or 30% of the total cost. A plagiarism report will cost you $29.99, which is rather expensive. Professional writing services provide originality reports at lower prices or for free.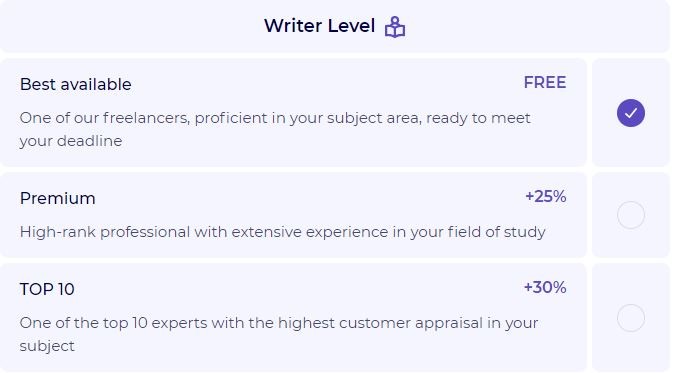 Boomessays organizes writing contests for everyone. According to information on the website, the reward for the first place was $2000. However, it's necessary to track Boomessays latest news because the last contest was held in 2016-2017.