Does the Boomessays Website Offer a Good User Experience?
Upon entering the Boomessays site, a user sees an upper banner and online calculator. It's rather convenient because you can calculate the price of your future order and avoid the necessity to contact managers. Besides, you don't have to visit different pages to find a calculator because it's right there in front of your eyes.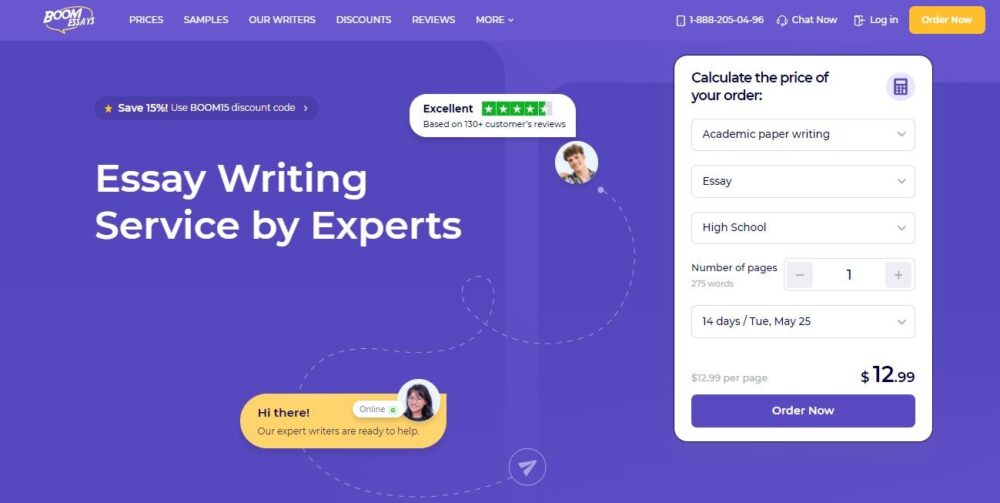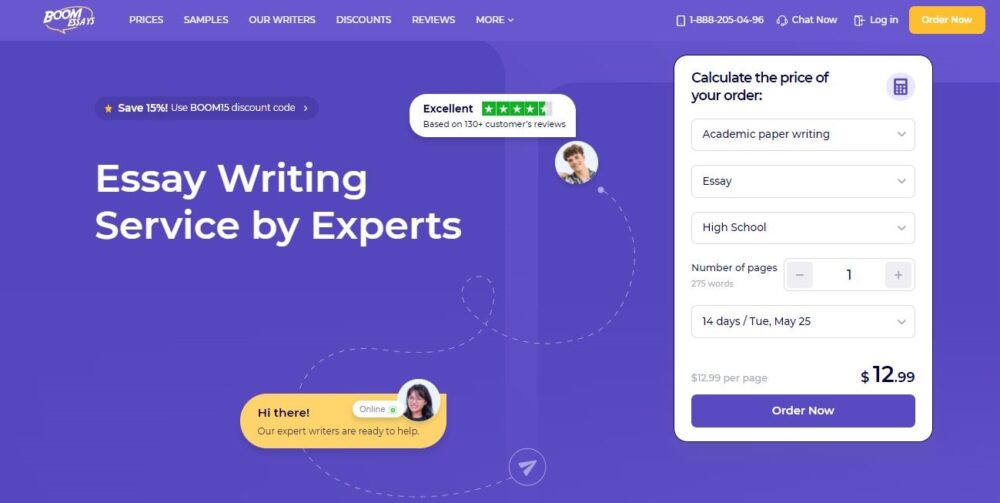 The home page looks minimalistic with its blue and white colors, but a lack of images makes the site look somehow boring. Of course, there are a few photos capturing students, but it's not enough. Although nothing grabs your attention and you can focus on a text, it seems like the page is empty without images. Also, popular writing services use more stylish website themes. 
In general, the Boomessays website is convenient and informative. All the necessary sections are placed above the home page, so you'll quickly find prices, discounts, samples, writers, Boomesays reviews, and many more. However, if you visit their blog, you'll notice that the last articles were published way back in 2017. There's no information about review publishing dates, so it remains unknown how old they are. Chances are Boomessays reviews are as old as their articles are, which is uncomfortable for a potential customer. All in all, newcomers search for the latest reviews – they don't care about what happened years ago. Reliable writing services have new reviews on their sites, and they regularly post fresh articles on their blogs, unlike Boomessays.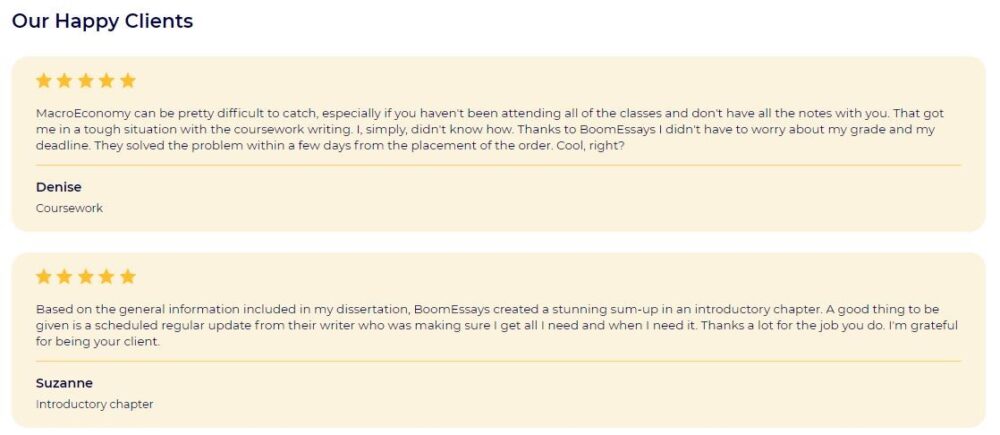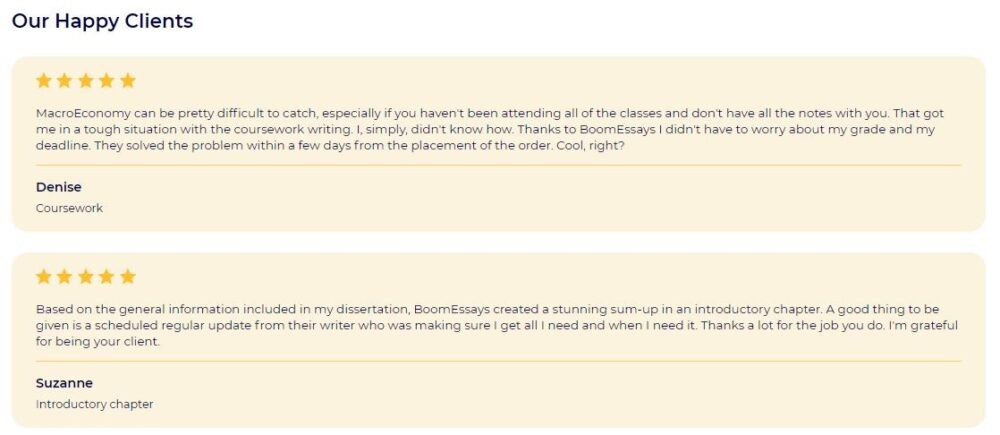 Will Boomessays Writers Deliver a Paper of the Highest Quality? 
Although Boomessays don't display when their customers' reviews were published, you can see that their rating is high. The writing service has a special section where a user can find a list of writers, their rating, number of completed orders, and tasks in progress. Boomessays allows a user to choose a writer on their own. You can filter authors by the number of completed orders, customer rating, and subject. However, if you pick to show writers according to their rating, from low to high, you'll see that the average rating is 4. It's hard to believe that no one ever rated Boomessays writers with 3 or 2. Of course, you can choose an expert who has completed more than a hundred orders, and it will be a guarantee that your paper will be definitely written by an experienced writer. But the most popular writers have a few orders in progress at a time. It's rather risky to pick a writer working on 13 tasks currently, but such experts are still available, and a customer can pick them.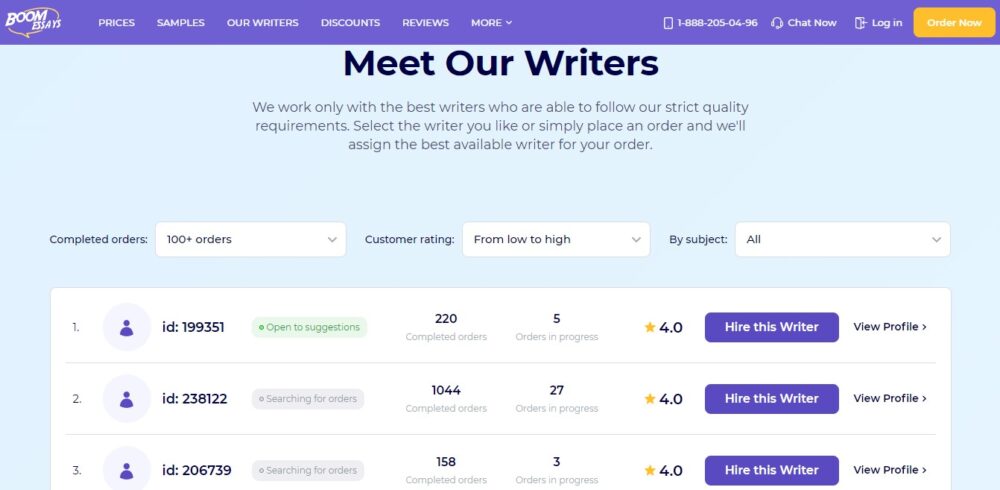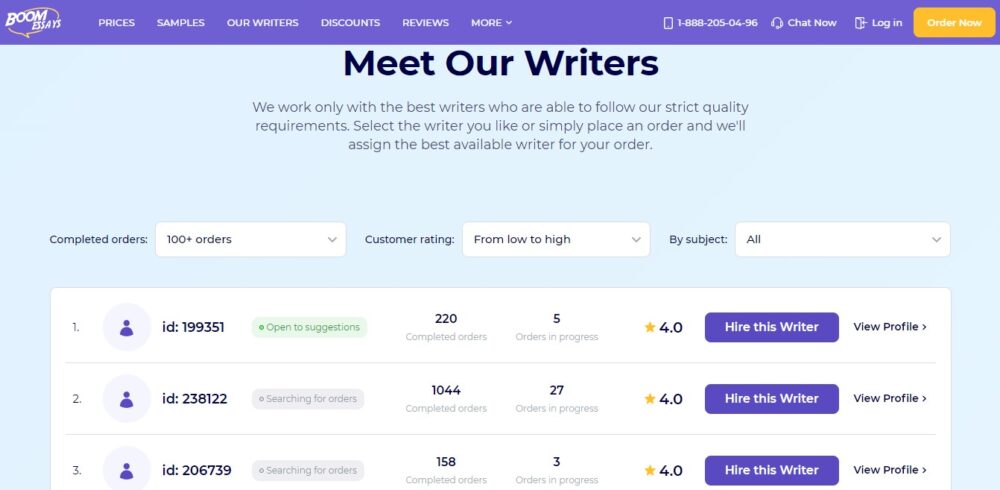 Boomessays also allows users to view profiles of their writers. A writer's page contains information about subjects they specialize in, completed orders, tasks in progress, rating, and reviews. As we've mentioned in our Boomessays review earlier, you can't see the date when a comment was published, so chances are this information isn't up to date. Another detail that makes us doubt the paper quality is the number of subjects their writers specialize in. Many experts have chosen more than 10 different disciplines they work on. An ordinary person just can't be equally good at geology, IT, agriculture, physics, and criminal justice unless they are a genius.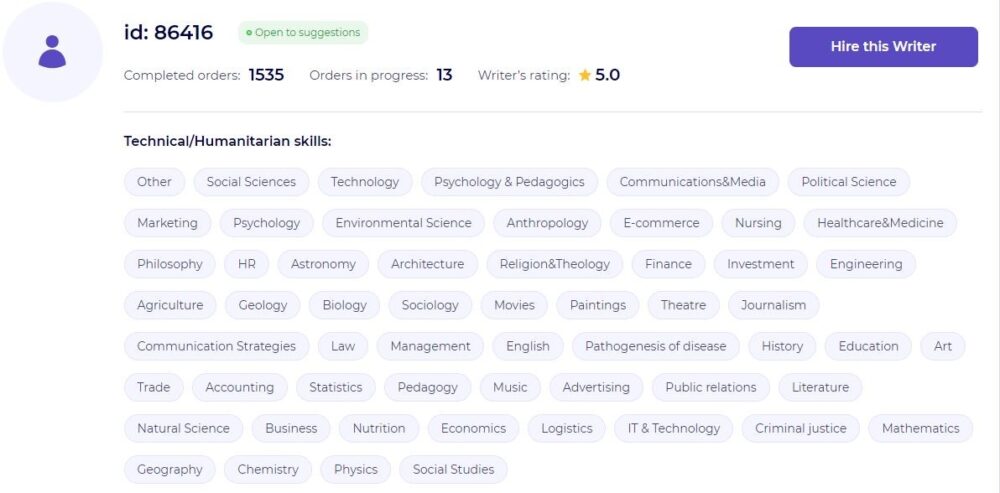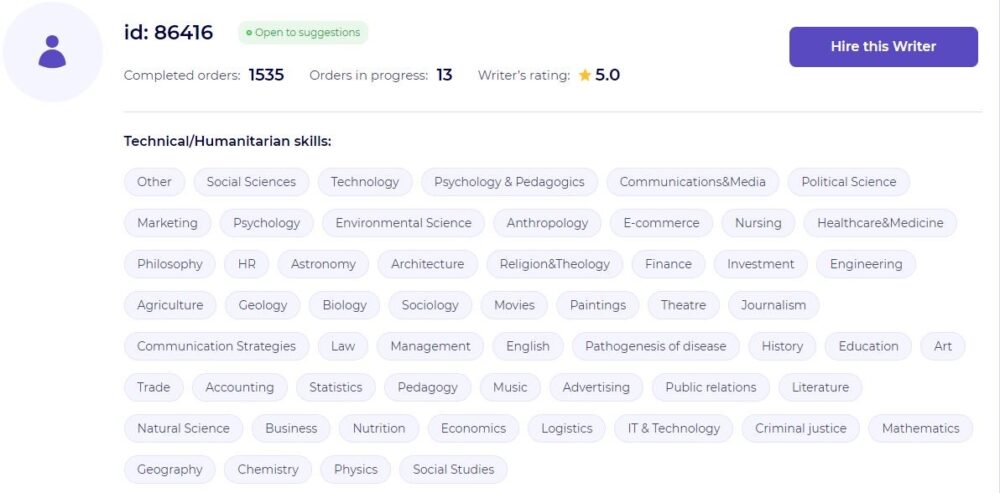 Does Boomessays Offer Any Extra Services You Can Benefit From?
Basically, Boomessays offer standard services, including writing, editing, proofreading, and rewriting. The company helps students cope with different academic assignments in various fields, including math, management, English, business, history, economics, etc. Boomessays has a few helpful online tools on the website. You can calculate the total sum of your future order and pick a writer on your own. If you choose one of the top writers, you'll have to pay more than you expected – plus 25% or 30% of the total cost. A plagiarism report will cost you $29.99, which is rather expensive. Professional writing services provide originality reports at lower prices or for free.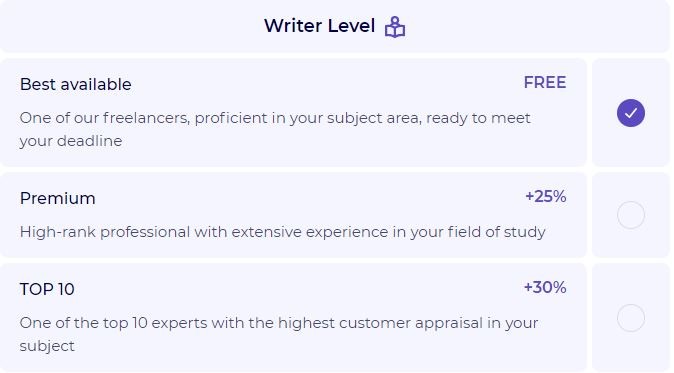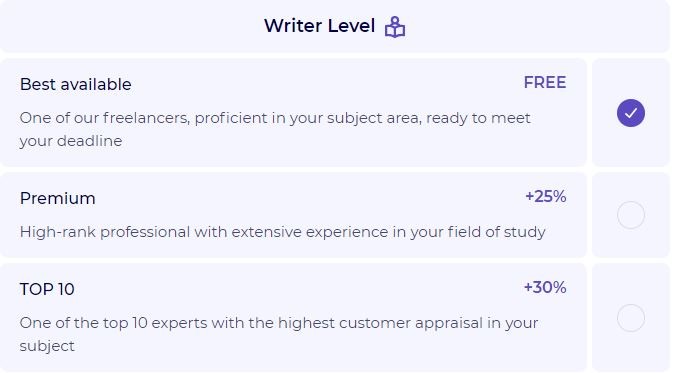 Boomessays organizes writing contests for everyone. According to information on the website, the reward for the first place was $2000. However, it's necessary to track Boomessays latest news because the last contest was held in 2016-2017. 
What Are the Payment Methods at the Boomessays Writing Service?
With Boomessays, you don't have to be afraid that you won't find a convenient payment method. The writing service offers various safe payment systems to transfer money. You can use Discover, Mastercard, American Express, Visa, or Maestro. Undoubtedly, it's a pity that Boomessays doesn't use PayPal because many customers prefer this payment system, but the range is still versatile to pay for your papers. By the way, you can be sure about data safety because this writing agency doesn't share customers' personal information with third parties. 
Best Alternative:
HandMadeWriting

Visit site
Will You Spend a Lot of Money Using the Boomessays Writing Service?
At first glance, you may think that Boomessays isn't the most expensive writing service ever. However, if you spend some time researching, you'll find many professional writing agencies with lower prices. Besides, Boomessays offers extras that can really devastate your wallet. So, it's better to use their online calculator to know the total sum of your order and read Boomessays reviews to figure out whether this company is worth your money. Otherwise, an unpleasant surprise may expect you, and you'll have to spend more money than you planned. 
The price of your order at Boomessays will depend on your academic level, paper type, size, and deadline. The lowest price is offered to high school students, while a dissertation is the most expensive project. A dissertation will cost you $17.99 if your deadline is 2 months. The lowest prices for college students and scholars are the following:
Scholars –

$12.99

.

College students – $14.99.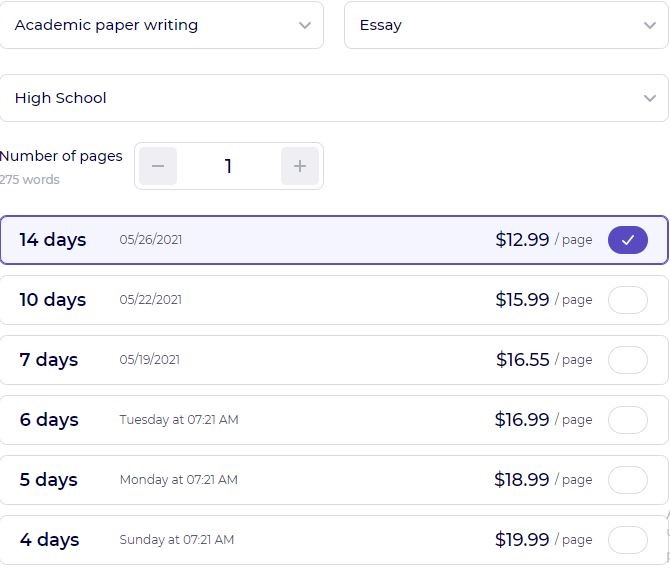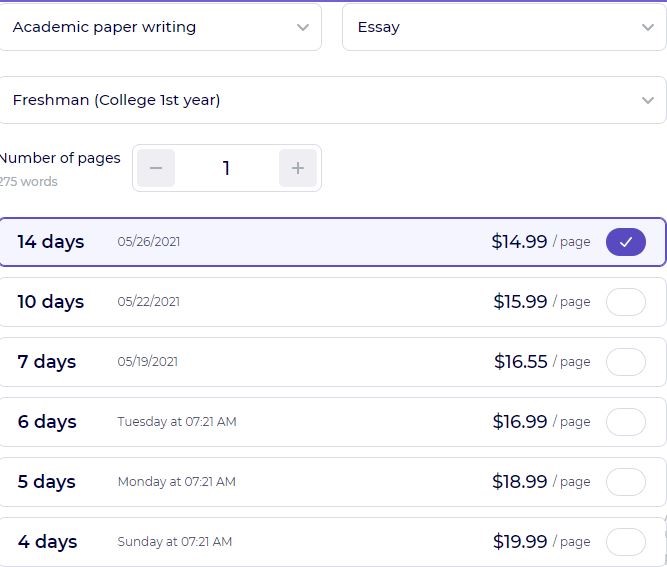 Does the Boomessays Writing Service Accept Urgent Orders From Customers?
Like many other writing services, Boomessays accepts urgent orders. A minimal deadline is 3 hours, so if you ever need to get papers as quickly as possible, you can use this option. However, it may be a risky decision because many writers are working on a few orders at a time. As we've mentioned in our Boomessays review, some of the authors have more than 10 orders in progress. It's pretty unlikely that a writer can quickly switch from one task to another and complete both excellently. Besides, your paper can be delivered after a deadline. You can find a writer who isn't working on any assignment right now, but they may have less experience than others. They have a lower number of completed orders, which means they are only beginning their career at Boomessays. 
What About Money Refund Policy and Revisions at the Boomessays Writing Service?
If a customer isn't satisfied with the result, they can ask for revision and editing at Boomessays. This option is typical for most writing services. Unfortunately, Boomessays give too little information about the revision policies. For example, it remains unknown whether this feature is free for customers. Professional writing services revise papers for free, and they have this information on their websites. Maybe, Boomessays also mentions the revision cost somewhere, but we haven't found this information.
The Boomessays money-back guarantee allows a customer to return the cash they've paid for their papers. If you aren't satisfied with the result, a writer overstepped a deadline, or you want to cancel your order, you can claim a refund. The Boomessays billing department will review your request within 5 days after receiving it. 
Customer Support Quality: Will You Get Help With Your Order at Boomessays?
Like other writing services, Boomessays offers 24/7 customer support. You can contact support managers via live chat, phone, or email. Interestingly, Boomessays offers advanced customer services, but you have to pay for this option. Support managers will communicate with your writer and inform you about the stages of your order execution for $5.99. This feature seems weird because professional writing services send notifications on your order progress for free. Moreover, it's better to discuss your paper with a writer on your own. A manager can fail to explain your requirements correctly, and an author will pick the wrong writing style, include an unnecessary point, etc.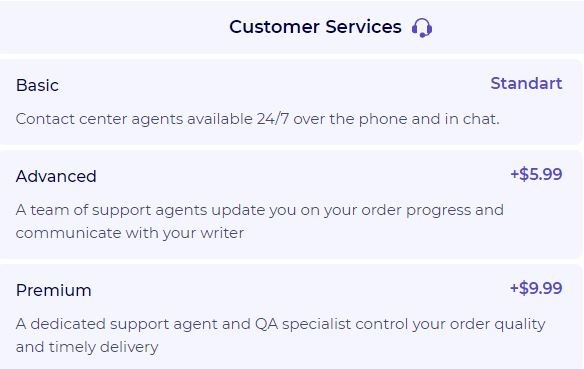 You can also pay $9.99 for premium customer service. One of the best support managers and a QA specialist will control the quality of your papers and writing progress to guarantee that your order will be completed on time. If Boomessays appreciates every customer, this feature should be free. Besides, the best writing services deliver top-notch papers on time – they don't offer you to hire specialists to control your order progress. Chances are Boomessays just want to get more money by adding such features.
The Good and Bad About the Boomessays Writing Service
Although this service is highly rated by customers according to the Boomessays reviews, many things are covered with a veil. Undoubtedly, every company has advantages and disadvantages, and Boomessays isn't an exception. So, we've collected all the pros and cons of this writing service to give a final verdict:
Pros:
Moderate prices.

Online calculator.

Samples of different paper types are represented on the website.

Every writer has a page containing important details, such as disciplines they work with, rating, orders in progress, completed orders, and customer testimonials.

Flexible discount system. A customer can get a

5%, 10%

, or

15%

discount after ordering a particular number of pages. 
Cons:
The last blog articles were published in

2017

.

Many writers are working on a few orders at a time.

Payment for advanced and premium support services. Such features should be free and available for everyone.

A plagiarism report is expensive –

$29.99

.

Some of the writers specialize in more than ten different fields. Paper quality may be poor because it's impossible to be equally good at everything

It remains unknown whether a revision is free.
Is Boomessays the Right Choice to Improve Your Academic Performance?
Boomessays is a popular writing service with numerous reviews on their website. However, we don't know when these testimonials were posted, so the current situation with the quality at this agency is unknown. Boomessays allows customers to pick writers, but it's necessary to be careful because many specialists work on a few tasks at a time. In general, this service can be a helpful solution for students, but some of the extra options cost a lot. 
FAQ
What is Boomessays?
Boomessays is an essay writing service assisting students throughout their academic careers. This agency offers writing, proofreading, and editing services. Any academic paper type can be written by a writer hired at Boomessays.
Is Boomessays legit?
There are no reasons to think that Boomessays operates illegally. No law forbids writing services to help students learn to write academic papers correctly or provide them with examples so that they could complete their writing assignments. 
How much does Boomessays cost?
Boomessays has moderate prices. The cost of an order depends on a deadline, paper size, and academic level. Here are the minimal prices for scholars and college students:
Scholars –

$12.99

.

College students –

$14.99

.
Is Boomessays scam?
We haven't found evidence proving that Boomessays cheats customers. There are many positive Boomessays reviews on their website even though it remains unknown when they were published. If you visit writers' pages, you'll also find testimonials. We've checked different forums and haven't found comments from people insisting that Boomessays took their money but didn't deliver papers.
Is Boomessays safe?
The service uses safe payment systems to protect a user's payment data and doesn't share their personal information with third parties. A customer's confidentiality is also kept.
Is Boomessays plagiarism-free?
All papers are checked by a special plagiarism detection tool. A user can pay $29.99 and get an originality report.
Are there Boomessays discounts?
Boomessays has a flexible discount system for customers. The company offers a 5%, 10%, or 15% discount, depending on the number of pages in your paper.